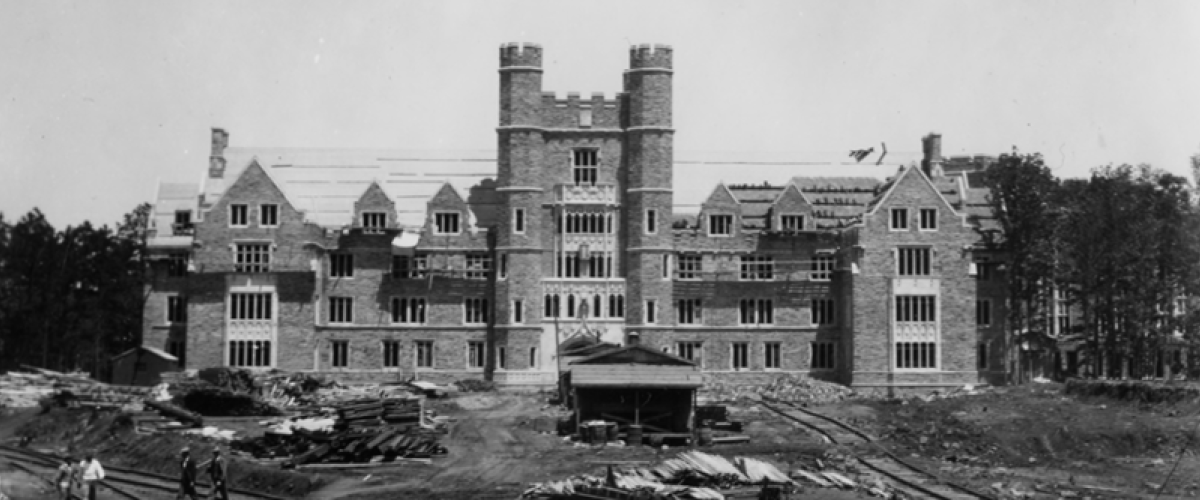 In 1925, James B. Duke created Duke University with a vision that the institution "secure officers, trustees, and faculty of such outstanding character, ability, and vision as will insure its attaining and maintaining a place of leadership in the educational world." Accepting that challenge, Duke University School of Medicine has become one of the world's outstanding medical schools. World-class research facilities in close proximity to the medical center and main university campus create an environment that is optimal for carrying out the teaching and research missions of the school. School of Medicine is proud of its past and is eager to face the continuing challenges of medical education innovation, cutting edge research, patient-centered care and leadership in the coming years.
Leaders Through the Years        Duke University Health System Timeline
---
School of Medicine Milestones: A Historical Timeline
1924

Founding of Duke University

 James B. Duke establishes The Duke Endowment and directs that part of his $40-million gift be used to transform Durham's Trinity College into Duke University.

 

1925

School of Medicine Established

 James B. Duke makes an additional bequest to establish the Duke School of Medicine, Duke School of Nursing, and Duke Hospital, with the goal of improving health care in the Carolinas and nationwide.

1927

Dean selected

Dr. Wilburt Cornell Davison elected first Dean of the Duke University School of Medicine and Hospital on 21 January.

1927-1960

1930

Medical School Classes Begin

Eighteen third year and thirty first year medical students began classes on October 2nd.

1936

UV Lamps Introduced into Operating Rooms

Duke surgeon J. Deryl Hart, MD, introduces ultraviolet lamps into operating rooms to kill airborne germs that cause post-operative staph infections, dramatically reducing the number of infections and related deaths.

1937

Nations First Brain Tumor Program founded

The brain tumor program at Duke is founded by Barnes Woodhall, MD, as one of the first brain tumor research and clinical programs in the United States. In the 1950s Woodhall becomes one of the first physicians to use chemotherapy on brain tumors. 

1937

Development of Vaccine Against Equine Encephalomyelitis

Joseph Beard, MD, and his wife and research partner Dorothy developed a killed-virus vaccine for horse encephalitis, AKA "blind staggers," using ultracentrifuges and chick embroyos. The vaccine saved hundreds of thousands of horses and protected humans, which also helping establish the notion that killed virus is effective and safe as a vaccine.

1950

Childproof Safety Caps

Duke pediatrician, Jay Arena, MD, leads the push for drug companies  to develop the childproof safety cap for medicine bottles. Dr. Arena is credited with beginning the first poison control movement in the United States, and his efforts led to the creation of the American Association of Poison Control Centers and the Duke Poison Control Center. 

1955

Creation of the Duke Aging Center

Psychiatrist Ewald W. Busse establishes the Duke University Center for Aging, the first research center of its kind in the nation. Now the oldest continuously running aging center in the United States, the Duke Center for Aging has pioneered long-term studies of health problems among the elderly.

1960

2nd Dean of the School of Medicine

Dr. Barnes Woodhall is appointed Dean of the School of Medicine

1960-1964

1964

3rd Dean of the School of Medicine

William G. Anlyan appointed Dean of the School of Medicine.

1964-1989

1965

Duke Establishes First Physician Assistant Program

Dr. Eugene A. Stead Jr., then-chairman of the Department of Medicine in the Duke University School of Medicine, started the nation's first physician assistant educational program, a two-year curriculum to train people to fill a societal need for more medical practitioners, and expand the prior education and experience of ex-military corpsmen.

1968

Enzyme Superoxide Dismutase Discovered

1969

DUKE ESTABLISHES FIRST Pathologists' Assistant Program

Dr. Thomas Kinney, Chairman of Pathology at Duke University Medical Center, saw a need for professionals similar to physician assistants in anatomic pathology, so he initiated the nation's first pathologists' assistant program in 1969. Pathologists' assistants perform tasks, under a pathologist's supervision, in autopsy and surgical pathology that had previously been performed by pathologists. 

1973

Duke Comprehensive Cancer Center Established

The Duke Comprehensive Cancer Center becomes one of the nation's first cancer centers to be established with the passage of the National Cancer Act. It is designated a "comprehensive" cancer center by the National Cancer Institute in 1973.

1978

The Ophthalmic Technician training program is started. 

Ophthalmic Technician Program trains Ophthalmic Technicians (OpTechs), who work closely with ophthalmologists, to assist in caring for patients with eye diseases or injuries
 

1981

Jane Richardson's Ribbon Diagram Published

1982

Cure for Severe Combined Immunodeficiency, Also Known as "Bubble Boy Disease"

Pediatric immunologist Rebecca Buckley, MD, uses bone marrow transplantation to cure severe combined immunodeficiency, also known as "bubble boy disease."

1985

First Human Clinical Trials of AZT

Duke becomes one of two hospitals to conduct the first human clinical trials of AZT, the first drug to substantially improve quality of life for AIDS patients.

1990

Duke Researchers Discover a Gene That Increases the Risk of Alzheimer's

Duke researchers discover a gene that increases people's risk of developing the most common form of Alzheimer's disease, showing for the first time that it can be inherited.

1993

Duke Researchers Invent a Test to Screen Newborns for 30 Metabolic Diseases At Once

Duke geneticists invent a three-minute test to screen newborns for over 30 metabolic diseases at once. Though devastating if undetected, the diseases can be controlled once identified. The test is now used throughout the country. 

1993

First Outpatient Bone Marrow Transplantation Program

Duke Comprehensive Cancer Center (now Duke Cancer Institute) develops the nation's first outpatient bone marrow transplantation program.

1994

Thymus Transplantation Used to Cure Once-fatal Complete DiGeorge Syndrome

Pediatric immunologist Louise Markert, MD, PhD, uses thymus transplantation to cure once-fatal complete DiGeorge Syndrome. 

1994

Breast Cancer and Ovarian Cancer Gene Discovered

Duke scientists help to discover BRCA1, the gene responsible for many inherited forms of breast and ovarian cancers.

1996

Duke Clinical Research Institute (DCRI) founded

Although the inception of the DCRI dates to 1969 with the formation of the Duke Databank for Cardiovascular Disease, the DCRI as it is known today was formally created in 1996, with Robert M. Califf, MD, serving as the first executive director. The DCRI works to develop, share, and implement knowledge that improves health around the world through innovative clinical research. 
 

1998

Duke Researchers Discover Detectable Marker for Alzheimer's Disease

Duke researchers are the first to use magnetic resonance spectroscopy to track levels of n-acetylaspartate (N-AA) as a marker for Alzheimer's disease, proving that such a marker exists and that it can be detected.

1999

5th Dean of the School of Medicine

Edward W. Holmes Dean of the School of Medicine and Vice Chancellor for Academic Affairs.

1999-2000

2001

6th Dean of the School of Medicine

R. Sanders Williams appointed Dean of the School of Medicine and Vice Chancellor for Academic Affairs. Dr. Williams is also the founding dean of the Duke-NUS Medical School in Singapore that was established during his tenure.

2001 - 2007

2005

Discovery of Gene that Determines Risk of Age-Related Macular Degeneration

Researchers at Duke and Vanderbilt universities discover the first major gene known to determine an individual's risk for developing age-related macular degeneration, the leading cause of visual impairment and legal blindness in the  elderly.

2006

The FDA Approves Myozyme, a Lifesaving Treatment for Children With Pompe Disease

The FDA approves Myozyme, the first lifesaving treatment for children with Pompe disease. The treatment was discovered and developed at Duke. 

2007

Duke co-founds the Clinical Trials Transformation Initiative (CTTI) with the FDA

Duke University and the FDA co-founded the Clinical Trials Transformation Initiative (CTTI), a public-private partnership designed to create new solutions for better, more efficient clinical trials; DCRI serves as the host of CTTI. 

2007

7th Dean of the School of Medicine

Nancy C. Andrews, M.D., Ph.D., named dean. Andrews, is the first woman to be appointed dean of the School and becomes the only woman to lead one of the nation's top 10 medical schools.

2007-2017

2010

DCRI receives a $95 million NIH grant for the Pediatric Trials Network (PTN)

This grant was renewed in 2018; to date, the PTN has contributed to label changes for 15 drugs

2011

Mutations Identified that Make Cells Immortal

A team of scientists from Duke and Johns Hopkins universities identify mutations in a gene that make cells immortal and appear to play a pivotal role in three of the most common types of brain tumors, as well as cancers of the liver, tongue and urinary tract.

2012

Duke Leads the Worlds Largest HIV Vaccine Trial

Bart Haynes, MD, leads the world's largest HIV vaccine trial, which provides important clues about immune system responses that could play a role in protecting people from HIV infection. 

2012

Robert Lefkowitz Shares Nobel Prize in Chemistry

Robert J. Lefkowitz MD, a Howard Hughes Medical Institute investigator, shared the 2012 Nobel Prize in Chemistry with Brian K. Kobilka of Stanford University School of Medicine, who was a post-doctoral fellow in Lefkowitz's lab in the 1980s. They were recognized for their work on a class of cell surface receptors that have become the target of prescription drugs, including antihistamines, ulcer drugs and beta blockers to relieve hypertension, angina and coronary disease.

2013

First In-Human Graft of Bioengineered Blood Vessel

Jeffery Lawson, MD, PhD, and Laura Niklason, MD, PhD, develop a bioengineered blood vessel, which Lawson grafts into an artery in a patient's arm, the first in-human procedure of its kind in the U.S.

2014

25th Anniversary of the Heart Transplant Program

Duke celebrates the 25th anniversary of the creation of the heart transplant program. By 2019, more than  1,500 patients have received new hearts through the program.

2014

Paul Hahn, MD Performed the First Retinal prosthesis system in North Carolina.

2015

Paul Modrich Receives Nobel Prize in Chemistry

Paul Modrich, a Howard Hughes Medical Institute (HHMI) investigator was one of 3 recipients of the 2015 Nobel Prize in Chemistry for mechanistic studies of DNA repair. According to the Nobel Foundation, their work has provided fundamental knowledge of how a living cell functions and is, for instance, used for the development of new cancer treatments.

2016

Duke Team Performs First Hand Transplant in NC

A Duke team, led by Linda Cendales, MD, performs the first hand transplant in NC, attaching the limb to a 54-year-old patient from Laredo, Texas, whose hand was severed in a childhood accident. 

2016

Duke Clinical Research Institute named coordinating center of ECHO

2017

8th Dean of the School of Medicine

Mary Klotman, M.D. -- a nationally renowned physician-scientist and academic leader who served as chair of Duke's Department of Medicine for almost seven years -- was named Dean of the Duke University School of Medicine and Vice Chancellor for Health Affairs at Duke University

2017 - Present

2018

Researchers Develop Poliovirus Therapy for Glioblastoma

A genetically modified poliovirus therapy developed at Duke Cancer Institute shows significantly improved long-term survival for patients with recurrent glioblastoma, with a three-year survival rate of 21% in a phase 1 clinical trial. 

 

 

2018

Breakthrough in Peanut Allergies

In a study using mice bred to have peanut allergies, Duke researchers were able to reprogram the animals' immune systems using a nanoparticle delivery of molecules to the lymph nodes that switched off the life-threatening reactions to peanut exposures.

2018

Researchers Discover Cells That Allow the Gut to Communicate with the Brain

2019

Duke Performs First HOPE Act HIV+ Live Kidney Transplant in N.C. and Region

2020

Duke Clinical Research Institute receives grants totaling more than $130 million for COVID-19 research

2021

Duke Researchers Receive Grant to Roll Out Next-Generation Coronavirus Vaccine

2022

Dr. Mary Klotman Reappointed Dean

Mary Klotman, MD, was reappointed for a second five-year term as dean of the Duke University School of Medicine, vice chancellor for health affairs at Duke University, and chief academic officer for Duke University Health System.