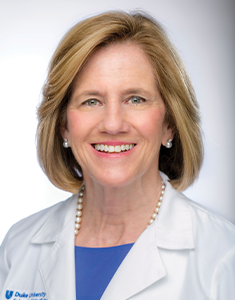 The Power of Named Professorships
Because of our outstanding faculty, Duke University School of Medicine is alive with innovation and progress, a place where advances in research and patient care are made, and health care leaders of today teach and train those of tomorrow.
As evidenced by the faculty profiled here, Duke is home to individuals recognized for their efforts to transform medicine and health through pioneering scientific research and the translation of breakthrough discoveries to the most advanced care for patients. It is home to the most skilled and compassionate physicians and to passionate educators and mentors who guide our students and trainees.
At Duke, we aim to be the destination of choice for the nation's most talented leaders and promising young faculty in biomedical sciences. Named professorships are perhaps the most valuable tool for the recruitment and retention of these high caliber individuals. They provide the brightest minds with the dedicated support needed to achieve boundary-pushing science, care for our patients and the community, and educate and train the next generation of leaders.
These professorships are among the most far-reaching philanthropic investments one can make. We are profoundly grateful to the many donors who have joined with us to advance the bounds of knowledge.