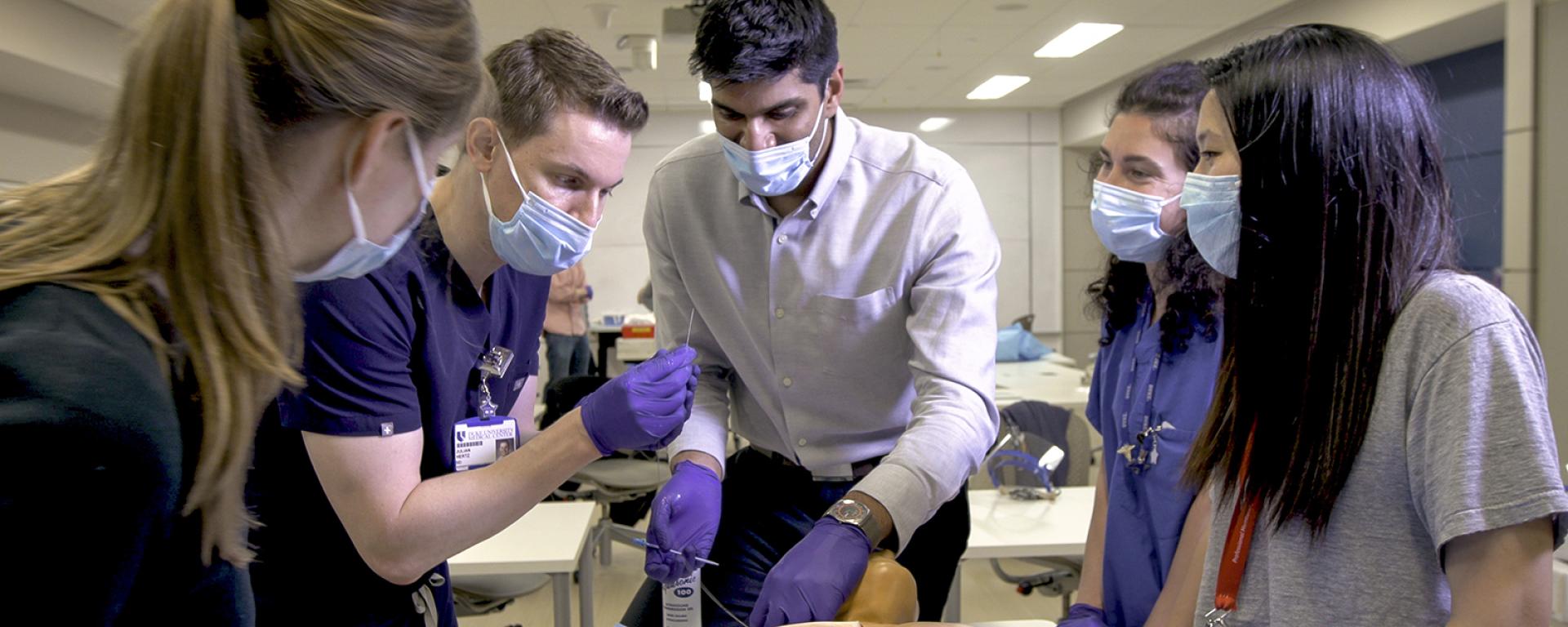 Students are at the heart of the Duke University School of Medicine.
The Duke University School of Medicine comprises a community of scholars devoted to education, research, patient care, and community partnership. The school offers a wide range of health professions programs, certificate and training programs, and biomedical sciences PhD programs which are administered in partnership with Duke's Graduate School.
Additionally, the School of Medicine offers international educational experiences through partnerships with Duke-NUS Medical School in Singapore, Duke's Global Health Institute, and Duke Kunshan University.
All of the school's educational programs are designed to provide an enriching learning environment that prepares students for the next step in their career paths.
The school also offers many Continuing Medical Education opportunities for faculty and providers, training programs in partnership with Duke University Health System and the Graduate Medical Education Office, and pipeline programs for students interested in careers in health care and biomedical sciences.
What Makes Us Unique
The School of Medicine offers an innovative curriculum for Doctor of Medicine (M.D.) students,

allowing them to study the core basic sciences for one year instead of two and giving them the opportunity to devote their entire third year to a scholarly research project.

As part of a newly developed Patient First curriculum, our M.D. students care for patients during their second year, a full year earlier than their peers.
 
Our Duke Medical Scientist Training Program (MSTP), trains highly qualified students as physician-scientists, equipping them for solving problems in human disease using the approaches and techniques of the basic biomedical and social sciences. T

he program, administered in partnership with Duke's Graduate School, leads to both MD and PhD degrees. 

Established in 1965, the Duke Physician Assistant (PA) Program is recognized as the birthplace of the PA profession. The program is consistently ranked as one of the top programs in the nation and is currently ranked No. 1 by U.S. News & World Report.

The Pathologists' Assistant Program is the first in the nation, founded at Duke in 1969.

The School of Medicine is in close proximity and offers collaborative opportunities with Duke's other professional schools, including the school of Nursing, Pratt School of Engineering, Fuqua School of Business, Divinity School, Trinity College of Arts & Sciences, Sanford School of Public Policy, Nicholas School of the Environment, and Law School

.