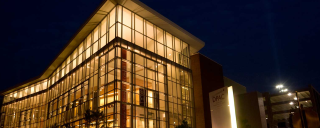 Whether you know of Durham as the "City of Medicine" or the "Bull City" it's easy to see why so many residents and businesses call Durham home.

Located halfway between the Great Smoky Mountains and the beaches of the Atlantic, Durham is a community that is home to over 300 restaurants, more than 40 annual festivals, Duke and North Carolina Central universities, Durham Bulls Triple-A baseball, art and science museums, and world-class medical facilities just to name a few. With more than 5.2 million visitors annually, Durham is the top destination of arrivals at RDU International Airport.

Durham was nicknamed the "Bull City" in the late 1800s when the Blackwell Tobacco Company named its product "Bull" Durham Tobacco. By the time James B. Duke of the American Tobacco Company purchased the Blackwell Tobacco Company in 1898, Bull Durham was the most famous trademark in the world.

The "Bull City" prospered as a manufacturing hub for the tobacco industry and textiles for many decades, but has since transformed itself into a place where shopping thrives and high-tech industry flourishes with upscale housing in the same classic buildings where tobacco giants American Tobacco and Liggett-Meyers once made this City their industrial home.
Research, Innovation and Technology
The cities of Durham, Chapel Hill and Raleigh, known as the Triangle, are a nucleus for many start ups and a vibrant hub for innovation and technology. Groups like InnovateCarolina, the Council for Entrepreneurial Development (CED) and events like Triangle Entrepreneurship Week and the Duke Start-Up Challenge provide resources and opportunities business ideas. Located between these three is the Research Triangle Park (RTP) is one of the most prominent high-tech research and development centers in the U.S. housing operations such as GlaxoSmithKline, IBM, Cisco and SAS. RTP currently employs more than 60,000 employees and more than 300 companies.

Discover Durham
Visit the Discover Durham website to learn more about the Durham scene. Find tours, food, art, culture, history and a relocation guide all in one convenient location! 
Resources for Relocating to Durham
Airport
Banking
Cable & Internet
Driver's License/Motor Vehicle Registration
In North Carolina, you are required to have a NC driver's license or state identification card before you can register your car. You must pass a written exam to be granted an NC license, even if you have a valid license from another state. Study for the exam using the NC Division of Motor Vehicles (DMV) Handbook.
Housing
Power
Public Transportation
Utilities