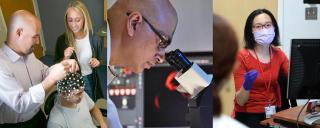 Duke University School of Medicine includes the research efforts of more than 2,500 basic and clinical faculty members in 38 departments, centers, and institutes. Their combined efforts make Duke one of the largest biomedical research enterprises in the country with nearly $801.5 million in sponsored research expenditures annually.
COVID-19 Research
During the COVID-19 pandemic, Duke University School of Medicine researchers, students, and trainees in departments, centers and institutes including the Duke Human Vaccine Institute, Duke Global Health Institute, and the Duke-NUS Medical School in Singapore have emerged as national and global leaders in research related to viral biology, therapeutic development, vaccine development, community engagement, policy development, and health disparities.
Research Operations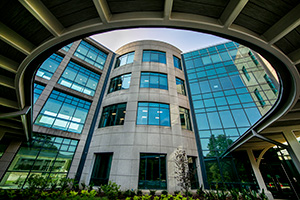 Duke Research and Discovery @RTP
In 2021, the Duke University School of Medicine opened its first research campus in the Research Triangle Park (RTP). Home to more than 300 businesses including Apple and Google, RTP is the largest research park in the United States and a premier global innovation center. Duke's 273,000 square foot facility is home to researchers in the School of Medicine who are studying infectious disease and vaccine development. The expansion into RTP was precipitated by a surge in new federal research grants awarded to Duke to fund vaccine development.
Federal Medical Research Funding
In 2021, Duke University received $467.4 million from the National Institutes of Health to advance medical research, ranking 10th in the country among universities, research institutions and teaching hospitals that are awarded the taxpayer-based research dollars. Duke was the largest recipient of NIH grant funding in North Carolina for federal fiscal year 2021, according to the Blue Ridge Institute for Medical Research, which publishes an annual analysis of NIH funding. Seven clinical departments and four basic science disciplines in the School of Medicine ranked among the top 10 for NIH research dollars.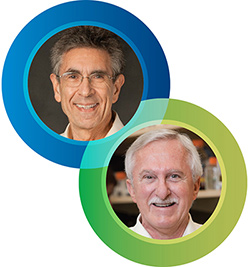 Nobel Laureates
Duke University School of Medicine is proud to claim two Nobel Laureates among its faculty. Robert Lefkowitz, M.D., professor of medicine and a Howard Hughes Medical Institute Investigator, was recognized in 2012 for his work on a class of cell surface receptors that have become the target of prescription drugs, including antihistamines, ulcer drugs and beta blockers to relieve hypertension, angina and coronary diseases. Paul Modrich, Ph.D., professor of biochemistry and a Howard Hughes Medical Institute Investigator, was recognized in 2015 for mapping, at a molecular level, how cells repair damaged DNA and safeguard the genetic information.