Duke Research and Discovery @RTP is a research hub for Duke University School of Medicine scientists devoted to the study of infectious disease. Located in the world-famous Research Triangle Park (RTP), the campus is in close proximity to more than 300 companies including science and technology firms, government agencies, academic institutions, startups and nonprofits.
Duke Research and Discovery @RTP was born in 2020 when Duke University leased a 273,000 square foot facility in the Parmer RTP research and development campus, former home to pharmaceutical maker GlaxoSmithKline. The expansion into RTP was precipitated by Duke's recent success in acquiring federal research grants and contracts totaling more than $600 million to fund vaccine development.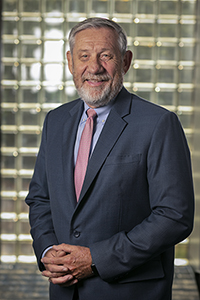 In 2019, the Duke Human Vaccine Institute (DHVI) received a large Collaborative Influenza Vaccine Innovation Centers (CIVICs) federal contract from the National Institute of Allergy and Infectious Diseases to develop, manufacture and test in humans more durable, longer-lasting vaccines against influenza. Additional grants are funding vaccine development for HIV and most recently for COVID-19. Researchers working on the Duke CIVICs initiative as well as scientists in the Departments of Surgery, Immunology, Pediatrics, and Medicine, will occupy the new facility.
In June 2021, more than half of the building's initial occupants moved into the facility, with others expected to join by early 2022. Tom Denny, associate dean for Duke RTP administration, is the director of the campus and will work with Duke and School of Medicine leadership to guide the direction for the space in coming years.