Duke University bears special witness to its intellectual commitment through its program of named professorships. Appointment to a named professorship is the highest honor the university can bestow upon a member of its faculty.
Named professorships include those endowed through the generosity of our donors, and eponymous professorships created by Duke University.  Named professorships honor faculty who are well-established members of the Duke academic community, who have also achieved distinction as creative scholars in their field or in their ability to transcend disciplines.
Eponymous professorships are created by Duke University to honor individuals who have contributed significantly to the history of the institution.
Endowed professorships are created by donors through lifetime or estate gifts.
Assistant or associate professorships recognize early career faculty who show exceptional promise in their area of expertise. An assistant or associate professorship can be established with a contribution of $2,000,000.
Full professorships honor senior faculty who are eminent physicians, researchers and educators. A gift of $3,500,000 can establish a full professorship.
Presidential Distinguished Chairs maximize the university's ability to recruit and retain extraordinary faculty in a wide range of disciplines, including those aligned with the Duke Science and Technology initiative, Duke's university-wide research initiative aimed at addressing critical global challenges by advancing research and scholarship in the fields of computing, materials science, and body and brain resilience. A President Distinguished Chair can be created with an investment of $5,000,000.
Contact Us to learn more.
Establish a Named Professorship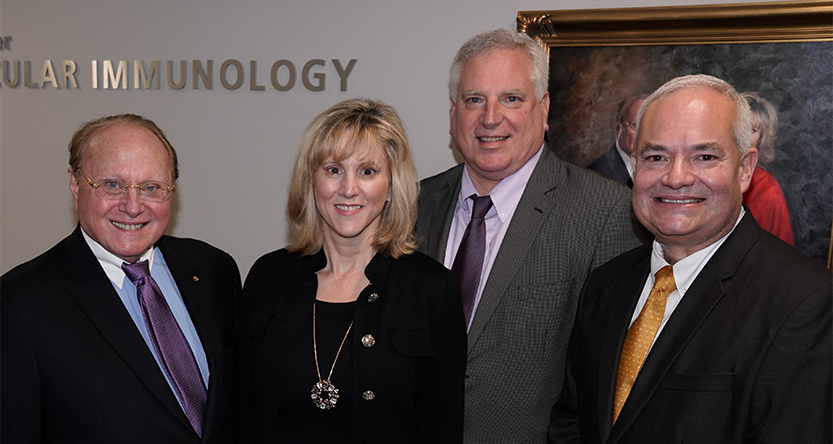 Esteemed donors Dr. C. Stephen Foster and Mrs. Frances Foster shown with Dr. Scott W. Cousins, the Robert Machemer, MD Professor of Ophthalmology, and Dr. Victor Perez, the Stephen and Frances Foster Professor of Ocular Immunology and Inflammation.