Appointment and Promotion in the Basic Sciences departments follow the guidelines set forth by the Provost office.  Detailed guidance for this process is provided by the Faculty Affairs office.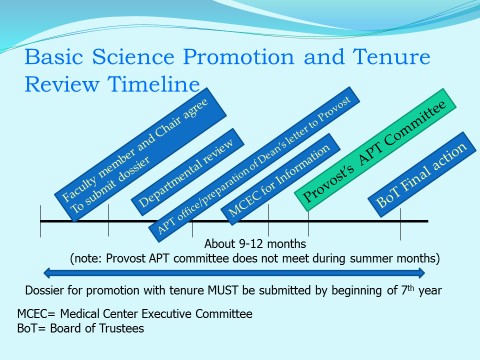 Basic Science Promotion and Tenure Review Process
The Timeline of the Basic Science APT process can range from nine to twelve months.
The Faculty Member and the Chair agree to submit dossier. After the department committee review, the dossier is sent to the APT office for accuracy review and preparation of the Dean's letter to the Provost.  The recommendation is placed on the MCEC agenda for information and forwarded to the Provost office, Provost's APT Committee for review and approval. The award of tenure or promotion to full Professor is conferred by final approval of the Board of Trustees.
Notification of a tenure decision must be communicated to the faculty member before the Latest Tenure Notification Date which is by the end of the 7th year.
Tenure/Tenure Track in the Basic Sciences
Tenure may be granted at the time of appointment or through promotion from Assistant Professor to Associate Professor. Tenure review should begin no later than the beginning of the seventh (7th) year on the tenure track, and the candidate must be notified of the result of this review prior to the beginning of the eighth (8th) year. In accordance with University bylaws, if the candidate for tenure is not notified of a decision regarding tenure by the start of his/her eighth (8th) year on the tenure track, then tenure is granted by default after completion of the eleventh year.
A report is available from dFac that departments can use to track their faculty's chronological progress toward the accrual of tenure. Circumstances that lead to the automatic (default) award of tenure are always to be prevented. Careful attention to automatic tenure award dates is needed to plan properly the steps in review processes that have been developed for evaluating the recommendation of tenure. If review is delayed due to departmental administrative reasons a waiver to delay review should be requested.
Non Tenure Track in the Basic Sciences
Regular Rank appointments within the Basic Science Departments are those having the modifying descriptor of Research in the title. These are considered to be term appointments without tenure; service in these ranks does not allow accrual of time toward tenure. These are one-year appointments, renewable annually, and expire on June 30 unless otherwise specified.
Resources