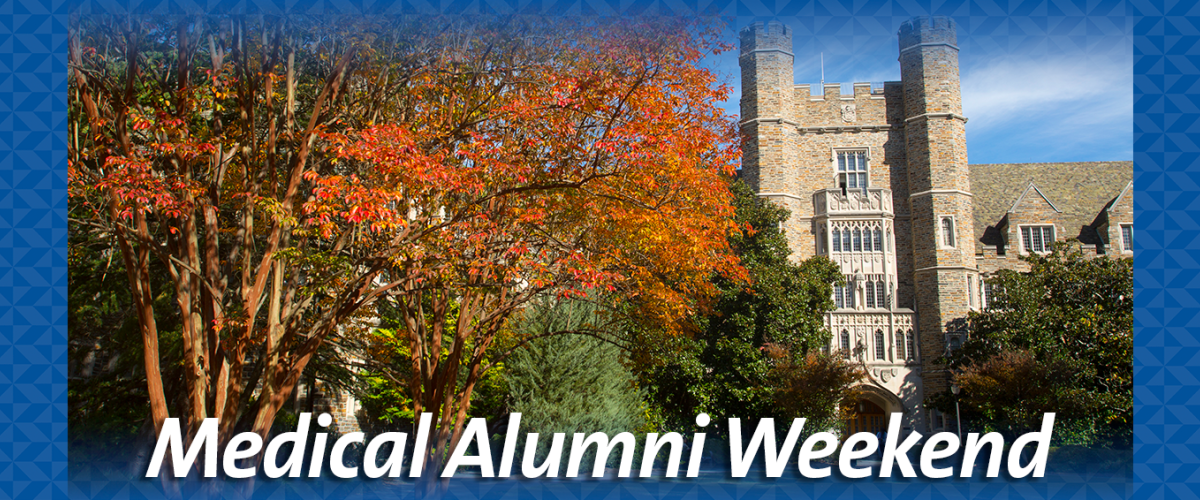 November 9-12, 2023
---
Classes celebrating a reunion in 2023 include:
20th through 50th reunion
Classes of '73, '78, '83, '88, '93, '98, '03
Half Century Society
Classes of '32 through '72
Recent Alumni
Classes of '08 through '23
Contact Tracey Griffin Himmel to join your reunion committee.
Rooms may be reserved at the Washington Duke Inn using the room block code 834594.
 
Weekend Highlights

Thursday, November 9

Friday, November 10

Department of Psychiatry and Behavioral Sciences
Grand Rounds (virtual)
Duke Medical Alumni Association
Awards Dinner

Medicine Grand Rounds
School of Medicine Walking Tour
All Alumni Luncheon hosted by the Golden Blue Devils
Davison Club Donor Reception (invitation only)
All-Alumni Welcome Reception
Class Gatherings

Saturday, November 11

Sunday, November 12

Breakfast with the Dean
Class of 1973 Medallion Ceremony
Half Century Society Dinner
Reuniting Class Dinners
#ForeverDuke: Recent Alumni Gathering
All-Alumni After Party

All-Alumni Farewell Breakfast
Medical Alumni Weekend 2022
---
Medical Alumni Weekend 2022 was held November 3-6 and celebrated the reuniting classes of '72, '77, '82, '87, '92, '97, and '02. Also included were the Half Century Society ('32-'71) and Recent Alumni ('07-'22).