Guidelines and Policies
Resources
Downloadable templates for posters, brochures, electronic letterhead, etc. Also the link to Universal Printing for SoM branded business cards and letterhead.

Get Templates
The Duke University School of Medicine Communicators Network consists of communications specialists from departments, centers, institutes, programs and essential units within the School of Medicine and specific individuals from Duke University. The primary purpose of the Network is to enhance communication between the School, the Units and the University.
The SoM communicators Network meets every other month.  Parties interested in joining the network or presenting to the network should contact Jill Boy, Associate Dean for Communications for the School of Medicine.
Duke ProComm
The goal of Duke ProComm to provide opportunities for the communications community at Duke so they can grow and develop in their current roles and gain the necessary experience for advancement opportunities when available.
The Duke.is URL shortener now allows users to customize the slub (last part of the URL) to make it more meaningful/memorable. It's available to Duke personnel with a NetID. 
Recommended questions task at project planning meetings thelp ensure diversity in stories, videos, photography, etc.
What are the demographics of the population that is most affected by the disease or health challenge that is the subject of this story?
Are there any BIPOC (Black, indigenous, and people of color) individuals whwe haven't considered and can add tthis story? Are there any other perspectives we might be missing?
Are we accurately representing the demographics of the characters of the story? (Especially in stories in which we're discussing large groups of students or patients, avoid tokenism or misrepresentation.)
Consider the target audience for the piece.

Whis the audience we're trying treach, and what is the goal of the piece?
What (if any) action are we hoping the audience will take after reading?
What are the audience's demographics (race, sex, gender, age, location)?
When distributing the content, how dwe ensure we reach populations most affected by a story topic or disease?
Keep in mind that just because the audience is of one particular demographic, that doesn't mean we will only show people of that same demographic.

Are there people you can connect with treview the story before publication tmake sure we're being sensitive tthose affected by the topic of the story?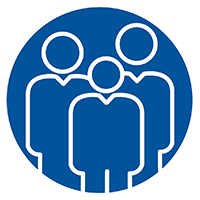 A selection of icons in the SoM color pallet, created for use on websites and in other media.
School of Medicine Photo Repository, a selection of photos taken by in-house photographers and stored in Box. 
 
Webdam is a University-wide photo sharing system that provides NetId access to free photography, video and branding assets. Search and download images and video. The School of Medicine folder contains photos and assets related to its departments/units.
 
Photo/Video Organization Guide contains best practices for assessing and organizing photographs and digital files.
 
Duke Photo/Video Style Guides
Clinical Faculty headshots
Mike Garrison, DUHS Marketing videographer/photographer

DukeHealth.org profile videos and headshot photos, for all Duke Health doctors and practitioners who see patients in the outpatient setting.
Free DukeHealth.org headshots for Duke Health doctors/APPs who're inpatient, but have clinical profiles on DH.org. Anesthesiologists, hospitalists, and the like.
Research and non-clinical faculty will need to participate in University or SOM photo days for headshots.

Photo Release form - Open areas on campus are considered public space and a photo releases is not required. However, for portraits and photos of specific people, please use the University Photo Release Form

Instructions for taking a good selfie for web profiles 

Look good, prepare your hair, clean your glasses, etc.
Stand about an arm's length away from a wall with your back square to the wall. 
Hold the phone in profile mode (vertically) in two hands, with your arms straight out. (or get someone else to do this)
Line up your eyes about 1/3 from the top of the viewfinder (if you have the grid turned on put your eyes along the top line).
Smile, and snap a photo.
Do not crop the photo as we'll need to make it fit particular dimensions.

A note about lighting: The best light is natural light; the worst is fluorescent. For a well-lit photo, take the photo outside, standing in shade cast by a solid object (wall or building).
Closed Captioning Videos
Duke University Video Resources
LinkedIn Learning
Videographers
Contact Andrea Martin for the latest information regarding vendor restrictions at Duke Health during the COVID-19 pandemic. 
Warpwire for Video Recording and Editing
Duke provides secure (NetID-based) video and audio publishing through Warpwire. With Warpwire, anyone with a valid Duke NetID can easily upload and publish video, audio, and image files and share them with Duke and non-Duke users— anywhere, anytime, on just about any modern device. Warpwire also supports the creation of RSS feeds for files it hosts that can be published to places like Apple Podcasts, Stitcher, Google Play, and TuneIn.
YouTube
Options for School of Medicine units that need a website