Duke Doctor of Physical Therapy has educated many of the nation's best clinicians, leaders, and researchers in the profession of physical therapy for 75+ years. This long history of success is no accident: we believe that it is a product of decades of strategic planning and engagement.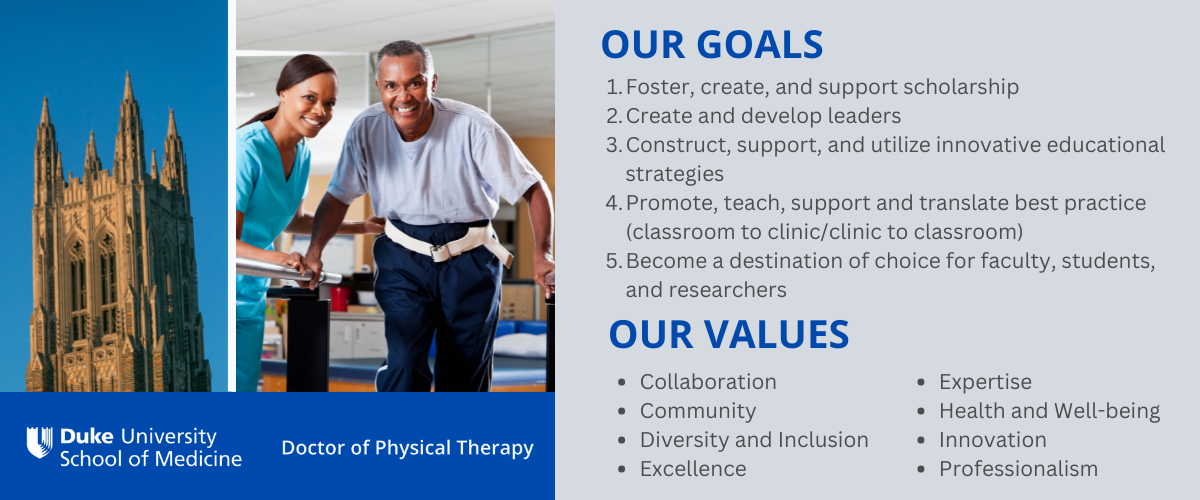 The 2017-2022 strategic plan reflects our passionate efforts in our continued contribution to the 75-year legacy of Duke DPT. This plan is a road map on how we plan to meet our own high expectations and will serve as an external symbol of how we aspire to be among the best doctor of physical therapy programs in the United States.
Listen to the audio for the development the strategic plan. View the for transcript.
Education
Theme: Preparing the Next Generation of Clinicians, Leaders, and Teachers, through Innovative Education

Executive Sponsor(s): Tiffany Hilton, PT, PhD and Kyle Covington, DPT, PhD
Implementation of a Modern and Innovative Curriculum

Provide Formal Opportunities for Students to Develop Self-selected Areas of Professional Focus

Fostering Optimal, Novel, Clinical Education Partnerships and Opportunities

Collaborating in Meaningful, Clinically-Focused, Interprofessional Education 

Developing Teachers in Our Faculty Residency Training Program
Listen to the audio from Dr. Hilton and Dr. Covington. View the transcript.
Research
Theme: Nationally Recognized Leaders in Elevating Rehabilitation Research 
Executive Sponsor(s): Chad Cook, PT, PhD and Steven George, PT, PhD
Optimizing University Partnerships to Improve Research Symbiosis

Developing Duke into a Training Site for Research 

Fostering Innovative Research Models to Optimize Success 

Improving Visibility of Scholarship at Duke DPT

Recruit High-Level Researchers

Increasing External Levels of Funding
Diversity, Equity, and Inclusion
Theme: Facilitating Diversity and Inclusion Initiatives in the Areas of Curriculum, Training and Development, and Culture of the DPT Division

Executive Sponsor(s): Carol Figuers, PT, EdD
Creating Educational Conduit Programs to Engage Traditionally Underserved Students within the Profession of Physical Therapy

Making Duke a Destination Site for Faculty and Researchers 

Improving a Common Messaging within our Curriculum

Refining the Curriculum to an Appropriate Level of Cultural Competency-based Material

Enhancing and Supporting Inclusivity Among Faculty, Staff and Students
Leadership, Advocacy, and Service
Theme: Creating the Next Generation of Leaders Through Service and Service Learning 
Executive Sponsor(s): Katie Myers, PT, DPT and Kyle Covington, DPT, PhD 
Developing Students' Leadership Skills Through Programmatic Opportunities for Clinical Practice, Research, and Professional Service 

Engaging Students in Local and National Advocacy Opportunities within the Profession

Creating Unique Service Learning Opportunities Through Collaborations both within and External to the DPT Division