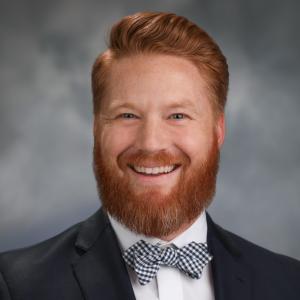 Medical Instructor in Orthopaedic Surgery, Core Faculty
timothy.faw@duke.edu
919-613-8699
Dr. Faw is a neuroscientist and physical therapist with expertise in the neurobiology of nervous system damage and treating adults with neurologic dysfunction. His research interests include cellular and molecular responses to central nervous system (CNS) damage; therapeutic strategies to promote CNS plasticity, repair, and functional recovery; and neurobiological mechanisms underlying rehabilitation and motor learning.
Education
PhD, Neuroscience, The Ohio State University, 2019
Certificate in Neurologic Physical Therapy (Residency), University of Southern California, 2010
DPT, Duke University, 2009
BS, Exercise Science, Pfeiffer University, 2005
Practice
Dr. Faw was Board Certified as a Clinical Specialist in Neurologic Physical Therapy in 2011. He specializes in rehabilitation of individuals with CNS damage (i.e. spinal cord injury, acquired brain injury, and stroke).
Research
Dr. Faw's translational research is informed by years of neurologic clinical practice and conducting foundational studies using clinically-relevant animal models of CNS injury. This research seeks to better understand the cellular and molecular responses underlying CNS damage and repair, as well as the ability of rehabilitation and/or novel therapeutics to influence these processes from rodents to humans. Cellular, molecular, genetic, and behavioral approaches performed in small animal models allow the development and testing of therapeutics for clinical translation. Moreover, the use of clinically-relevant rehabilitation paradigms and behavioral outcomes in rodents, such as treadmill locomotion, kinematics, and magnetic resonance imaging, allows for rapid translation or even parallel study in clinical populations. The overall goal of Dr. Faw's research program is to improve the ability of individuals living with neurologic dysfunction to participate in the things they find meaningful.
Publications
Awards and Honors
Travel Award, International Symposium on Neural Regeneration, 2017
Mary Lou Barnes Award, Foundation for Physical Therapy, 2017
Promotion of Doctoral Studies Level II Scholarship, Foundation for Physical Therapy, 2017
Ruth L. Kirschstein Predoctoral Individual National Research Service Award (F31), National Institute of Neurological Diseases and Stroke, National Institutes of Health, 2016
Travel Award, Neuroscience Graduate Program, The Ohio State University, 2016
Outstanding Oral Presentation, The Ohio State University IGP Life Sciences Symposium, 2016
Research Day Award, The Ohio State University Wexner Medical Center Research Day, 2016
Promotion of Doctoral Studies Level II Scholarship, Foundation for Physical Therapy, 2016
Travel Award, International Symposium on Neural Regeneration, 2015
Patricia Leahy Award, Foundation for Physical Therapy, 2015
Promotion of Doctoral Studies Level I Scholarship, Foundation for Physical Therapy, 2015
Specialization Academy of Content Experts Inductee (Neurology), American Board of Physical Therapy Specialties, 2015
Promotion of Doctoral Studies Level I Scholarship, Foundation for Physical Therapy, 2014
Florence P. Kendall Post-Professional Doctoral Scholarship, Foundation for Physical Therapy, 2013