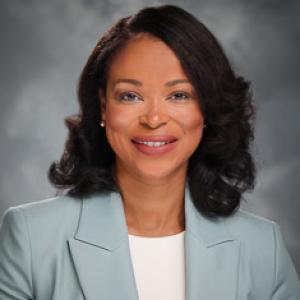 Director of Diversity, Equity, and Inclusion; Assistant Professor of Orthopaedics, Core Faculty
919-660-7684
Interprofessional Education and Care Building (IPE)
tiffany.n.adams@duke.edu
She/Her/Hers
Dr. Adams is a geriatric physical therapist with over a decade of clinical experience, practicing primarily in the outpatient setting. She also has entrepreneurial and administrative experience as co-owner of a physical therapy private practice. Dr. Adams serves as the Chair of APTA NC's Diversity, Equity, and Inclusion Committee (DEI) and is a member of the APTA's DEI Committee. She is passionate about increasing the presence and success of underrepresented minority students and faculty in the PT profession and mentoring students in leadership development. 
Dr. Adams has presented on topics such as DEI, institutional assessment, and health disparities at local, state, and national levels. Additionally, she has served as a consultant in these areas for institutions of higher education and non-profit organizations.  Dr. Adams has a bachelor of science in education with a concentration in sports medicine from the University of Virginia; a doctor of physical therapy degree from Elon University, and both a master's in business administration (MBA) and a PhD in leadership studies with an emphasis in diversity and social justice from North Carolina Agricultural and Technical State University. She has also completed multiple DEI certificate programs through the University of South Florida and Cornell University.
Education
•    PhD, Leadership Studies, North Carolina Agricultural and Technical State University, 2023
•    MBA, North Carolina Agricultural and Technical State University, 2018
•    DPT, Elon University, 2010
•    BS, Education, Sports Medicine, University of Virginia, 2007
 
Practice
Dr. Adams has been board-certified by the American Board of Physical Therapy Specialties as a Geriatric Clinical Specialist since 2017. She primarily treats older adults in the outpatient setting. 
Research
Dr. Adams' research interests include health equity and disparities; diversity, equity, and inclusion in physical therapy, healthcare, and higher education; healthcare quality improvement; and leadership development. 
Awards and Honors
Social Responsibility Research Award, Global Health Special Interest Group, Health Policy and Administration Section of the American Physical Therapy Association, 2021
American Physical Therapy Association, North Carolina Chapter, Centennial Scholar, 2021
American Physical Therapy Association, Academy of Geriatrics, Emerging Leader Award, 2020
Triad Business Journal, Forty Leaders Under 40, 2019 
Elon University, Department of Physical Therapy, Rising Alumni Award, 2018 
Six Sigma Green Belt, 2017 
American Physical Therapy Association, Credentialed Clinical Instructor Level 1, 2011
Elon University DPT Education Outstanding Clinical Performance Award, 2010 
Selected Grants
Muztaba F (PI), Deb D (co-PI), Adams T (co-PI), Smith N (co-PI). $299,695 funded. Mining Mobile Crowdsensing to Optimize Community Health Clinic Management. National Science Foundation, October 2021–September 2023