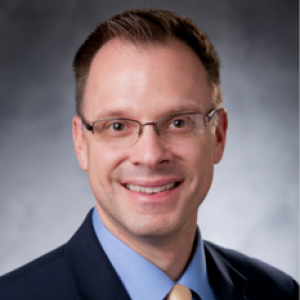 Director of Student Affairs; Associate Professor in Orthopaedic Surgery
919-681-8559
311 Trent Drive
jeffrey.hoder@duke.edu
Dr. Hoder's specific area of expertise is in adult neurological rehabilitation related to the examination and management of adults with neurological deficits. As a clinician and educator, his philosophy is to train compassionate and critical physical therapy clinical scientists to evaluate and manage individuals with complex neurological disorders. He strives to teach students to self-assess, self-correct, and self-direct to become lifelong independent learners; to guide students to become critical appraisers of medical information, research and technology; and to train students to treat individuals with the utmost respect and dignity.
His clinical areas focus on the management of adults with movement disorders, central vestibular dysfunction, and in coordinating interdisciplinary education within the emergency department. He specializes in the evaluation and management of gait and balance issues for individuals with movement disorders.
Education
DPT, University of Medicine & Dentistry of New Jersey, Rutgers University, summa cum laude, 2003

MSPT, University of Medicine & Dentistry of New Jersey, Rutgers University, 1998

BA, Rutgers College, Rutgers University, 1993
Teaching
PT 705: Neurological Patient Management I

PT 614: Movement Science II

PT 616: Foundational Physical Therapy Examination

PT 617: Foundational Physical Therapist Interventions

PT 627: Physical Therapist Interventions 1

PT 724: Evidence Based Capstone
Practice
Adult neurological rehabilitation; after-hours emergency department clinic interprofessional education; clinical research partnerships
Research
Dr. Hoder's research interests lie in determining best clinical practice for the evaluation and management of individuals with movement disorders, particularly those with Parkinson's disease and freezing of gait. He collaborates with other clinical researchers across the country and has lectured nationally and internationally on topics related to Parkinson's disease and central vestibular dysfunction.
Awards and honors
MDS Allied Health Professional Summer School: Physiotherapy for people with Parkinson's disease, Nijmegen, The Netherlands, 2013; One of two delegates selected from the United States.

Allied Team Training for Parkinson's (ATTP) certification, National Parkinson's Foundation, 2012

Parkinson's Wellness and Recovery PWR! Certified clinician, 2011

"Crystal Apple" Award for Excellence in Professional School Education, Emory University, 2009

LSVT Big Certified Clinician, 2009

Polestar Pilates Trained, 2007

UMDNJ Outstanding Alumnus, Physical Therapy Department, 2005

NYU Medical Center Physical Therapy Department Honors, Educational Endeavor, 2000, 2001, 2003

APTA Credentialed Clinical Instructor, 2002

Neuro-developmental Therapy Training (NDT Trained Therapist), 2000