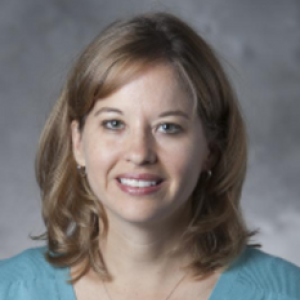 Assistant Professor in Orthopaedic Surgery
919-681-1979
311 Trent Drive
jody.feld@duke.edu
Dr. Jody Feld is an Assistant Professor in the Doctor of Physical Therapy Division in the Department of Orthopaedics and has a secondary appointment in the Division of Stroke and Vascular Neurology in the Department of Neurology in the Duke University School of Medicine. She became a Board Certified Neurologic Clinical Specialist from the American Board of Physical Therapy Specialties in May 2002. Dr. Feld's teaching efforts in the first-year curriculum are focused on gait, motor learning, and motor and postural control. In the second-year curriculum, she teaches the stroke module in the Foundational Neurologic Practice Management Course and in multiple Advanced Practice Courses in Neurorehabilitation. Her primary clinical research interests include reducing mobility disability, falls, and chronic sedentary behavior in geriatric population and in people living in the community with subacute stroke. She has also contributed to a number of Interprofessional Education (IPE) programs and Service-Learning Experiences at Duke.
Education
    •    PhD in Human Movement Science in Neurorehabilitation, the University of North Carolina at Chapel Hill, Chapel Hill, NC, 2019
    •    DPT, Stony Brook University, Stony Brook, NY, 2005
    •    MPT, Hahnemann University and Medical College of Pennsylvania, Philadelphia, PA, 1995
    •    BS, Dickinson College, Carlisle, PA, 1991
Teaching
Course Director
PT 742 C – Advanced Practice Course: Advanced Exercise Prescription in Neurorehabilitation
PT 742 D – Advance Practice Course: Facilitation of Movement for Function in Neurorehabilitation
PT 739 – Interprofessional Education (IPE) Geriatric Clinic
PT 740 – Service-Learning Experience (SLE) – Durham Neuro Camp
Course Instructor
PT 633 – Movement Science
PT 646 – Foundational Neurologic Practice
PHYASST 232 – Patient Assessment & Counseling II    
Other
Adapted Sports Experience IPE
Geriatric Ambulatory Care Clinic IPE
Practice
Neurologic physical therapy with focus on adults with neurological conditions, disease, and injury (stroke, acquired brain injury, and spinal cord injury).
Research
Dr. Feld is the site-PI for a multicenter randomized controlled clinical trial funded by NIH, StrokeNet, for upper extremity stroke recovery (TRANScranial direct current stimulation for POst-stroke motor Recovery - a phase II sTudy. TRANSPORT2; 1U01NS102353; PIs: Feng, Schlaug) examining whether there is an overall treatment effect among 3 transcranial direct current stimulation dosing groups (2mA, 4 mA, and sham) combined with modified Constraint-Induced Movement Therapy. She is a co-I on a study examining musculoskeletal and cognitive resiliency following elective surgery in older adults and quantifying the association between predictive tests and biomarkers and the resilience phenotypes funded by National Institute on Aging (4UH3AG056925-03; PI: Whitson, Colon-Emeric). Dr. Feld is a co-I on an NIH-funded study focused on better understanding potential mechanisms that explain the association between hearing loss and falls in older adults.  
Awards and honors
UNC Graduate School, Horizon Award 2020
UNC Graduate Student Transportation Grant 2019
UNC Louis and Eleanor Duquette Scholarship Award 2018 
Philanthropic Educational Organization (P.E.O.) Scholar Award 2018 – 2019
UNC Graduate School Tuition Incentive Scholarships 2017 – 2019
Foundation for Physical Therapy Promotion of Doctoral Studies II Scholarship 2017 – 2018
UNC Allied Health Sciences Graduate Student Research Ambassador Award 2017
UNC Graduate School, Donald and Alvene Buckley Doctoral Summer Research 2017
Fellowship
Foundation for Physical Therapy Promotion of Doctoral Studies I Scholarship 2016 – 2017
UNC Graduate School Doctoral Merit Assistantship 2015 – 2016
The Jan K. Richardson Excellence in Teaching Award from Duke University 2014
Doctor of Physical Therapy Division 
Alpha Eta—National Honor Society for Allied Health Professionals 2005
U.S. Department of Education Rehabilitation Training Grant 1994
Certificate of Academic Distinction, Hahnemann University 1995
Professional Distinction, Hahnemann University 1995