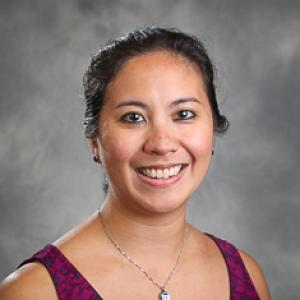 Coordinator of Alumni Engagement; Instructor, Medical Center, Associated Faculty
rcc4@notes.duke.edu

Dr. Canizares is a Board-Certified Clinical Specialist in Orthopaedic and Sports Physical Therapy who returned to Duke DPT in July 2012. She is a double Duke alumnus who has been active in the Duke Alumni Association, including being selected as one of the first young alumni representatives to the Duke Alumni Association Board of Directors. She currently serves on the Duke Alumni Advisory Council. She helped start the Duke Pre-Physical Therapy Association and does both pre-physical therapy and pre-major academic advising for Duke undergraduates. An active member and leader of the Performing Arts Special Interest Group of the American Physical Therapy Association, she has worked with several professional Broadway and dance companies. She is also an adjunct assistant professor in the Department of Evolutionary Anthropology. Currently, she is the Director of Communications for APTA North Carolina.
Education
DPT, Duke University, 2007
AB in Biological Anthropology & Anatomy, Duke University, 2004
Practice
Duke Student Health in the Duke Health Department of Rehabilitation Services; sports medicine; orthopedics; performing arts PT and dance medicine, with outreach services to the Duke Dance Department, Duke Performances, Carolina Performances, and the Durham Performing Arts Center; founder of the Duke Performing Arts Health Clinic.
Research
Dr. Canizares has presented numerous times at the International Association for Dance Medicine & Science Annual Conference. Her presentations have included an interdisciplinary case study of a dancer with hip-spine pain, posters describing the results of surveys and intake forms given to dancers regarding their attitudes about health care and beliefs about injury prevention, and a platform on factors influencing the prediction of injuries at a walk-in clinic during a summer dance intensive. She has reviewed manuscripts for the Journal of Dance Medicine &Science, Medical Problems of Performing Artists, and Sports Health.
Selected publication
Fulton J, Burgi C, Canizares R, Sheets C, Butler, RJ. Injuries presenting to a walk-in Clinic at a summer dance intensive program: A three-year retrospective data analysis. Journal of Dance Medicine & Science, Volume 18, Number 3, September 2014, pp. 131-135(5).
Awards and honors
Forever Duke Award, 2012, 2021


 

Academy of Orthopaedic Physical Therapy Performing Arts Special Interest Group Vice-President 2016-2022, Nominating Committee 2012-2015


 

Duke Alumni Association Alumni Advisory Council


 

WunderGlo Foundation Advisory Board