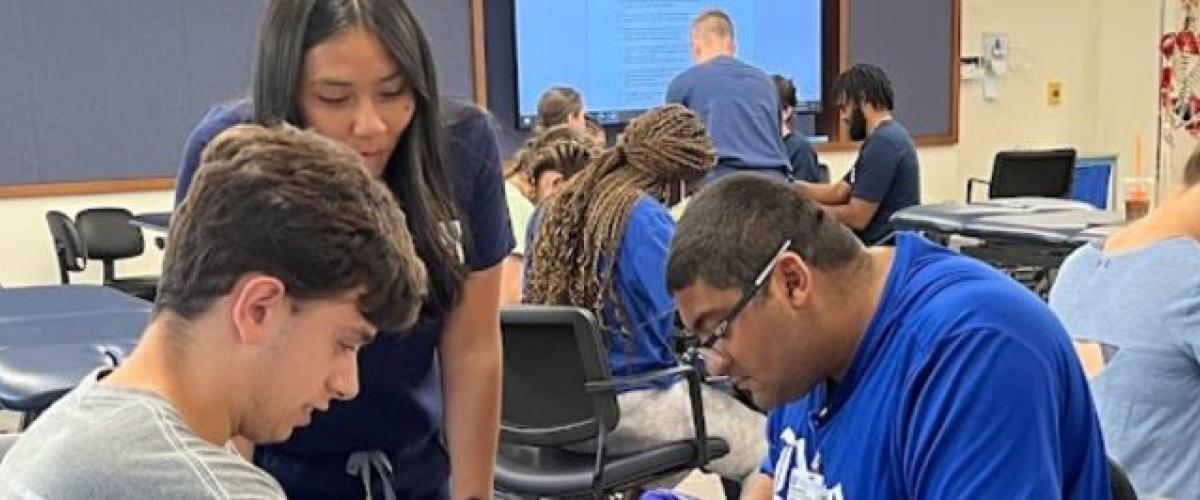 The Duke University Doctor of Physical Therapy program receives over 1000 applications each year.  In the  2023-2024 application cycle, the program enrolled 104 students. Only full-time students are accepted and credits from other DPT programs cannot be transferred. North Carolina residence does not influence acceptance or tuition. Currently, DPT students represent 28 states in the United States and seven other countries.
Apply
Applications must be submitted through the Physical Therapy Centralized Application Service (PTCAS). Learn more about the application process.
Important dates
July 1: Applications open

October 16: Application deadline
Requirements
A baccalaureate degree from an accredited college or university at the time of matriculation (the college or university must be accredited by one of the accrediting agencies found here). A bachelor's degree in natural sciences is not required; however, a strong background in natural science coursework is recommended.
 

Completion of all prerequisites prior to matriculation. See our prerequisites. All prerequisite courses must be completed at a college or university accredited by at least one of the accrediting agencies found here.
 

Three letters of recommendation, one each from:

A professor who has taught the applicant in a collegiate academic course and can attest to the applicant's academic abilities. Letters from teaching assistants, lab instructors, academic advisors, and similar positions will NOT fulfill this requirement.

A licensed physical therapist the applicant has observed and/or worked with.

A person of the applicant's choice. This can be a professor, physical therapist, academic advisor, teaching assistant, lab instructor, mentor, and similar positions. Letters from family members will not be accepted.
 

100 verified physical therapy observation hours at the time of application. The Admissions Committee encourages applicants to observe in a variety of clinical settings and specialties. For the 2023-2024 application cycle, candidates are expected to have some observation hours but are not required to have 100. Candidates should report any verified completed hours at the time of application. If observation hours are completed once the application is submitted, candidates should update the PT Observation Hours in PTCAS.
 
The GRE must be taken within five years of application. All GRE scores must be submitted to the Duke DPT PTCAS GRE code 5473. If GRE scores are sent to any other code they will not be able to be retrieved. At this point, we are not going to waive the GRE testing requirement. ETS has made accommodations for applicants who need to take the GRE in the midst of the pandemic and the travel/gathering restrictions. They have a new At Home Testing capacity. You can read about it on their here. 
 
Once an application has been verified by PTCAS, applicants will be emailed a link to pay the Duke application fee of $50.  (The fee paid to PTCAS is a separate fee that pays for PTCAS' services. This is an admission application for Duke.) Applicants can apply for a PTCAS fee waiver following the instructions found here. If PTCAS grants a fee waiver, the applicant should submit proof under the documents section of their PTCAS application, and Duke will waive the $50 application fee, too.
 

Interview by invitation.
 
International students
In addition to the requirements listed above,
All international applicants (Canadian institutions included) must have their foreign transcripts evaluated by the World Education Service and have that evaluation submitted directly to the Physical Therapy Centralized Application Service (study abroad courses do not apply if they are listed on the USA transcript).
 
Please note that the PTCAS transcript verification process can take 4–5 weeks.
 
As an international student, you may not be eligible for federal financial aid (FAFSA). However, there are education loan providers who do offer private loan funding to international students such as Discover, PNC, Advantage, and SoFi. Please see this link for information on Duke's recommended private lenders.
 
Contact us
If you have questions regarding admissions after thoroughly reviewing our website, contact the Admissions Office via email, or by calling 919-668-5206.