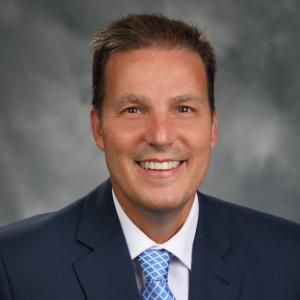 Division Chief; Professor in Orthopaedic Surgery, Core Faculty
919-660-9825
Interprofessional Education and Care Building (IPE)
todd.cade@duke.edu
Certificate-Academic Medical Leadership Program for Physicians & Scientists, Washington University, 2015
Postdoctoral fellowship, Endocrinology & Metabolism, Washington University School of Medicine, 2002 – 2005
PhD, Rehabilitation Science, University of Maryland, Baltimore, 2002
MS, Physical Therapy, University of Miami, 1994
BS, Kinesiological Sciences, University of Maryland, College Park, 1991
Practice
Cardiovascular physical therapy, neuromuscular disease, home health, Veterans' care
Research
The overall goal of our laboratory is to study innovative and precision rehabilitation strategies to enhance cardiometabolic health. Through our studies, we aim to determine how exercise mode, frequency, intensity and concomitant therapies (nutritional/pharmacologic/gene therapy) modulate physiologic and molecular mediators of cardiometabolic function, primarily focusing on substrate (e.g. amino acid, glucose, fatty acid) metabolism, energetic, and functional abnormalities in skeletal muscle and heart. We study metabolic diseases including Barth syndrome and other pediatric and adult cardiomyopathies, HIV-related metabolic syndrome, diabetes mellitus, and obesity. We are also interested in the effect of precision exercise during pregnancy on maternal and offspring health in women with obesity and diabetes. Our lab employs methodology used to measure whole-body substrate metabolism by stable isotope tracers and mass spectrometry, molecular mediators by metabolomics and extracelluar vesicle analyses, heart and skeletal muscle energetics by magnetic resonance spectroscopy (MRS), exercise tolerance assessment by graded exercise testing and indirect calorimetry, cardiac function by echocardiography, vascular function by peripheral arterial tonometry and vascular ultrasound, body composition analysis by dual-energy x-ray absorptiometry (DXA) and air displacement plethymosgraphy, muscle strength by isokinetic dynamometry, and daily physical activity by actigraphy.
Recent publications
Cade WT, Bohnert KL, Reeds DN, Peterson LR, Bittel AJ, Bashir A, Byrne BJ, Taylor CL. Peak oxygen uptake (VO2peak) across childhood, adolescence, and young adulthood in Barth syndrome: data from cross-sectional and longitudinal studies. PLoS One. 2018 May 24: 13(5): e0197776, PMID: 29795646.
Suzuki-Hatano S, Saha M, Rizzo SA, Witko RL, Gosiker BJ, Ramanathan M, Soustek MS, Jones MD, Kang PB, Byrne BJ, Cade WT, Pacak CA. AAV-mediated TAZ gene replacement restores mitochondrial and cardioskeletal function in Barth syndrome. Hum Gene Ther. 2018. 019 Feb;30(2):139-154.  PMID: 30070157 PMCID: PMC6383582
Engelstad HJ, Barron L, Moen J, Wylie TN, Wylie K, Rubin DC, Davidson N, Cade WT, Warner BB, Warner BW. Remnant small bowel length in pediatric short bowel syndrome and the correlation with intestinal dysbiosis and linear growth. J Am Coll Surg. 2018 Oct;227(4):439-449.  PMID: 30077861 PMCID: PMC6162148
Suzuki-Hatano S Saha M, Soustek M, Kang P, Byrne BJ, Cade WT, Pacak C. AAV9-TAZ gene replacement ameliorates cardiac TMT proteomic profiles in a mouse model of Barth syndrome. Mol Ther Methods Clin Dev. 2019;13:167-179. PMID: 30788385 PMCID: PMC6369239 
Haire-Joshu D, Cahill AG, Stein RI, Cade WT, Woolfolk CL, Moley K, Mathur A, Schwarz CD, Schechtman KB, Klein S. Randomized controlled trial of home‐based lifestyle therapy on postpartum weight in underserved women with overweight or obesity. Obesity. 2019 Apr;27(4):535-541.  PMID: 30900408 PMCID: PMC6526535 
Cade WT, Bohnert KL, Peterson LR, Patterson BW, Bittel AJ, Okunade AL, de Las Fuentes L, Steger-May K, Bashir A, Schweitzer GG, Chacko SK, Wanders RJ, Pacak CA, Byrne BJ, Reeds DN. Blunted fat oxidation upon submaximal exercise is partially compensated by enhanced glucose metabolism in children, adolescents and young adults with Barth syndrome. J Inherit Metab Dis. 2019 May;42(3):480-493. PMID: 30924938
Tinius RA, López JD, Cade WT, Stein RI, Haire-Joshu D, Cahill AG. Patient and obstetric provider discordance regarding weight gain recommendations among overweight and obese socioeconomically disadvantaged African American women. Women Health. 2019 May 16:1-12. PMID: 31096872
Suzuki-Hatano S, Sriramvenugopal M, Ramanathan M, Soustek S, Byrne BJ, Cade WT, Kang P, Pacak C. Increased mtDNA abundance and improved function in human Barth syndrome patient fibroblasts following AAV-TAZ gene delivery. Int J Mol Sci. Jul 11;20(14):3416. PMID: 31336787
Baumann A, Hooley C, Mutabazi V, Brown A, Reeds DN, Cade WT, de las Fuentes L, Proctor E, Karengera S, Schechtman K, Goss C, Launois P, Mutimura E, Davila-Roman VG. Dissemination and implementation program in hypertension in Rwanda: report on initial training and evaluation. Global Heart. 2019 June 14: 135-141. PMID: 31324367
McGill JB, Johnson M, Hurst S, Cade WT, Yarasheski KE, Ostlund R, Schechtman KB, Razani B, Kastan MB, McClain DA, de las Fuentes L, Davila-Roman VG, Ory DS, Wickline SA, Semenkovich CF. Low dose chloroquine decreases insulin resistance in human metabolic syndrome, does not reduce carotid intima media thickness: a randomized, placebo-controlled clinical trial. Diabetol Metab Syndr (2019) 11:61. PMID: 31384309
Cade WT, Bohnert KL, Reeds DN Bittel AJ, de las Fuentes L, Bashir A, Pacak CA, Byrne BJ, Gropler RJ, Peterson LR. Myocardial glucose and fatty acid metabolism is altered and associated with lower cardiac function in young adults with Barth syndrome. J Nucl Cardiol, 2019 Nov 8. doi: 10.1007/s12350-019-01933-3. [Epub ahead of print].  PMID: 31705425 PMCID: PMC7205570
Bittel AJ, Bittel DC, Mittendorfer B, Patterson BW, Okunade AL, Yoshino J, Porter LC, Abumrad NA, Reeds DN, Cade WT. A single bout of resistance exercise improves postprandial lipid metabolism in overweight/obese men with prediabetes. Diabetologia. 2020 Mar;63(3):611-623. PMID: 31873788 
Reynolds S, Tucker ME, Cade WT, Clayton N, Lane SJ.  Dietary intake and hedonic preferences for sodium in children, adolescents and young adults with Barth syndrome.  Int J Rare Dis Disord. 2019 2:011; doi: 0.23937/2643-4571/1710011.
Tinius RA, Blankenship M, Furgal K, Cade WT, Pearson K, Rowland N, Maples JM. Metabolic flexibility during late pregnancy is impaired in obese women and associated with insulin resistance and inflammation. Metabolism. 2020 Jan 10;104:154142.   PMID: 31930973
Roberts JD, Liu Q, Smith L, Cao C, Jackson SE, Zong X, Meyer GA, Yang L, Cade WT, Zheng X, Wu X. Association of hot tea consumption with body fat in the US population. Obesity (Silver Spring). 2020 Feb;28(2):445-451. PMID: 31970908
Cao C, Yang L, Cade WT, Racette SB, Park Y, Cao Y, Friedenreich C, Hamer M, Stamatakis E, Smith L. Association between cardiorespiratory fitness and premature death among young and middle-aged americans in recent generations. Am J Med. 2021 May 1;147(5):460-468. PMID: 33704356 
Schultz SA, Byers J, Benzinger TLS, Reeds D, Vlassenko AG, Cade WT, Goyal MS. Comparison of the Ekblom-Bak submaximal test to a maximal test in a cohort of healthy younger and older adults in the United States. Front Physiol 2020 Nov 6;11:550285.  PMID: 33240095 PMCID: PMC7677573 
Hooley C, Baumann AA, Mutabazi V, Brown A, Reeds D, Cade WT, Fuentes LL, Proctor EK, Karengera S, Schecthman K, Goss C, Launois P, Davila-Roman VG, Mutimura E.  The TDR MOOC training in implementation research: evaluation of feasibility and lessons learned in Rwanda. Pilot Feasibility Stud. 2020 May 15;6:66. PMID: 32467769 PMCID: PMC7229620
Bittel AJ, Bittel DC, Mittendorfer B, Patterson BW, Okunade AL, Abumrad NA, Reeds DN, Cade WT. A single bout of premeal resistance exercise improves postprandial glucose metabolism in obese men with prediabetes. Med Sci Sports Exerc. 2020 Oct 7.  PMID: 33044441 PMCID: PMC7969361
Cade WT, Bohnert KL, Bittel AJ, Chacko SJ, Patterson BW, Pacak CA, Byrne BJ, Vernon HJ, Reeds DN. Arginine kinetics are altered in a pilot sample of adolescents and young adults with Barth syndrome. Mol Genet Metab Rep. 2020 Nov 4;25:100675. PMID: 33204638 PMCID: PMC7649643
Tinius RA, Blankenship MM, Furgal K, Cade WT, Duchette C, Pearson KJ, Maples JM. Metabolic flexibility during late pregnancy is associated with neonatal adiposity. Appl Physiol Nutr Metab. 2021 Feb 5. PMID: 33544662. 
Cao C, Cade WT, Li S, McMillan J, Friedenreich C, Yang L. Association of balance function with all-cause and cause-specific mortality among US adults. JAMA Otolaryngol Head Neck Surg. 2021 Mar 11. doi: 10.1001/jamaoto.2021.0057. Online ahead of print. PMID: 33704356
Maples JM, Ehrlich SF, Zite NB, Pearson KJ, Cade WT, Riedinger CJ, Blankenship MM, Tinius RA. Elevated lipid oxidation is associated with exceeding gestational weight gain recommendations and increased neonatal anthropometrics: a cross-sectional analysis. BMC Pregnancy Childbirth. 2021 Aug 21;21(1):575. PMID: 34419005
Bohnert KL, Ditzenberger G, Bittel AJ, de las Fuentes L, Corti M, Pacak CA, Taylor C, Byrne BJ, Reeds DN, Cade WT. Resistance exercise training with protein supplementation improves skeletal muscle strength and improves quality of life in late adolescents and young adults with Barth syndrome: A pilot study. JIMD Rep. 2021 Aug 9;62(1):74-84. doi: 10.1002/jmd2.12244. eCollection 2021 Nov. PMID: 34765401
Tinius RA, Blankenship M, Maples JM, Pitts BC, Furgal K, Norris ES, Hoover DL, Olenick A, Lambert J, Cade WT. Validity of the 6-minute walk test and YMCA submaximal cycle test during midpregnancy.. J Strength Cond Res. 2021 Nov 1;35(11):3236-3242. PMID: 35258271
Kilgore CB, Strain JF, Nelson B, Cooley SA, Rosenow A, Glans M, Cade WT, Reeds DN, Paul RH, Ances BM. Cardiorespiratory fitness is associated with better white matter integrity in persons living with HIV. J Acquir Immune Defic Syndr. 2022 Apr 15;89(5):558-565. PMID: 34966145
Chowdhury S, Jackson L, Byrne BJ, Bryant RM, Cade WT, Churchill TL, Buchanan J, Taylor C.  Longitudinal observational study of cardiac outcome risk factor prediction in children, adolescents, and adults with Barth syndrome. Pediatr Cardiol. 2022 Mar 3. Online ahead of print. PMID: 35238957.
Ntaganda E, Mugeni R, Harerimana E, Ngoga G, Dusabeyezu S Uwinkindi F, Utumatwishima JA, Mutimura E, Davila-Roman VG, Schechtman K, Nishimwe A, Twizeyimana L, Brown AL, Cade WT, Bushaku M, De las Fuentes L, Reeds DN, Twagirumukiza M. High rates of undiagnosed and uncontrolled hypertension upon a screening campaign in rural Rwanda: A cross-sectional study. BMC Cardiovasc Disord. 2022 Apr 26;22(1):197. PMID: 35473501.
Wisch JK, Cooley SA, Yarasheski KE, Cade WT, Reeds DN, Nelson B, Alemu R, Burdo TH, Ances BM.
Socioeconomic status largely explains integrase inhibitors-related body composition differences in chronically infected men living with HIV. Antivir Ther. 2022 Jun;27(3):13596535221109748. PMID: 35730471.
Llane JP, Suzuki-Hatano S, Jain A, Perez Medina VA, Cade WT, Pacak CA, Simmons CS. Matrix produced by diseased cardiac fibroblasts affects early myotube formation and function. Acta Biomater. 2022 Oct 15;152:100-112. PMID: 36055608
Yoshino M, Yoshino J, Smith GI, Stein RI, Bittel AJ, Bittel DC, Reeds DN, Sinacore DR, Cade WT, Patterson BW, Cho K, Patti GJ, Mittendorfer B, Klein S. Worksite-based intensive lifestyle therapy has profound cardiometabolic benefits in people with obesity and type 2 diabetes. Cell Metab. 2022 Oct 4;34(10):1431-1441.  PMID: 36084645
Cade WT, Mittendorfer B, Patterson BW, Haire-Joshu D, Cahill AG, Stein RI, Schechtman KB, Tinius RA, Brown K, Klein S. Effect of excessive gestational weight gain on insulin sensitivity and insulin kinetics in women with overweight/obesity. Obesity (Silver Spring) 2022 Oct;30(10):2014-2022. PMID: 36150208 PMCID: PMC9512396 
Mittendorfer B, Patterson BW, Haire-Joshu D, Cahill AG, Cade WT, Stein RI, Klein S. Insulin Sensitivity and β-Cell Function During Early and Late Pregnancy in Women With and Without Gestational Diabetes Mellitus. Diabetes Care. 2023 Jun 1:dc221894. doi: 10.2337/dc22-1894. Online ahead of print. PMID: 37262059
Grants and Awards
Current Research Studies
Wheelchair User Physical Activity Training Intervention to Enhance Cardiometabolic Health
Funding Source: 1 R01 HD111022-01 (PI: Morgan K, Washington University, Sub-Award PI: Cade WT)
The major goal of this project is to determine the effects of a community-based physical activity program on the cardiometabolic health of wheelchair users.
Mechanisms and Treatment of Cardioskeletal Dysfunction in Barth Syndrome
Funding Source: R01 HL136759 (PI: Pacak C, University of Minnesota, Sub-Award PI: Cade WT))     
The main purpose of this study is to characterize skeletal and cardiac muscle pathology in human-derived inducible pluripotent stem cells differentiated myocytes.                       
Past Research Studies
Acute Effects of Aerobic and Resistance Exercise on Maternal Glucose Metabolism and Vascular Function in Obese Pregnancy Funding Source: National Rehabilitation Research Resource to Enhance Clinical Trials
Funding source: (REACT) P2C HD086851 (Sub-Award PI: Cade WT)                     
This study will collect preliminary data on the independent effects of acute aerobic and resistance rehabilitative exercise in obese women during pregnancy.
Characterization of the 'Metabolic Phenotype' in Barth Syndrome with Cardiac Transplantation

Funding Source: Barth Syndrome Foundation (PI: Cade WT)
The goal of this study is to characterize the metabolic 'phenotype' (cardioskeletal morphology, substrate metabolism, energetics and function) of participants with BTHS who with cardiac transplantation.
HIV- and ART-Associated Cardiometabolic Research Training in Rwanda

Funding Source: Fogarty Center D43 TW010335 01 (PI: Mutimura E, Role: Co-I)
The overall goal of this training strategy is to develop scientific leadership in HIV- and ART-associated cardiometabolic (CM) research in Rwanda through developing a dynamic team of scholars to implement well- designed contextually relevant studies, publish and present results at scientific meetings, and for networking, and develop expertise for independent research funding.
Effectiveness of Resistance Exercise Training Program in Youth with CF
Funding Source: Cystic Fibrosis Foundation (PI: Granados A, Role: Co-I)                
Effects of Resistance Exercise Training on Cardiac, Metabolic and Muscle Function and Quality of Life in Barth Syndrome: Part 2

Funding Source: Barth Syndrome Foundation (PI: Cade WT)
Planning for Clinical Gene Therapy Program for Barth Syndrome

Funding Source: Barth Syndrome Foundation (PI: Byrne BJ, Role: Co-I)
Heart and Skeletal Muscle Nutrient Metabolism, Energetics and Function in Barth Syndrome

Funding Source: R01 HL107406-01A1 (PI: Cade WT)
Exercise Training to Improve Brain Health in HIV+ Individuals

Funding Source: R01 NR015738-01A1 (PI: Ances BM, Role: Co-I)
Combining Testosterone Therapy and Exercise to Improve Function Post Hip Fracture
Funding Source: R01 AG051647-01 (PI: Binder E, Role: Co-I)
 
The Inorganic Nitrate for Exercise in Heart Failure (INIX-HF) Trial
Funding Source: R34 HL138253 02 (PI: Peterson LR, Role: Co-I)            
Safety and Efficacy of Aerobic Exercise Training in Barth Syndrome 
Funding Source: Barth Syndrome Foundation (PI: Cade WT)
Maternal Lipid Metabolism and Neonatal Heart Function in Diabetes Mellitus 
Funding Source: Thrasher Research Fund (PI: Cade WT)
Exercise and TZD Effects on Myocardial Substrate Metabolism and Function in HIV
Funding Source: K01 DK074343 (PI: Cade WT)
Lipid Kinetics During Acute Exercise in HIV
Funding Source: F32 DK066977 (PI: Cade WT)
Awards
ACSM Mid-Atlantic Chapter President's Award 2001
VA Health Scholarship Award 1993-1994