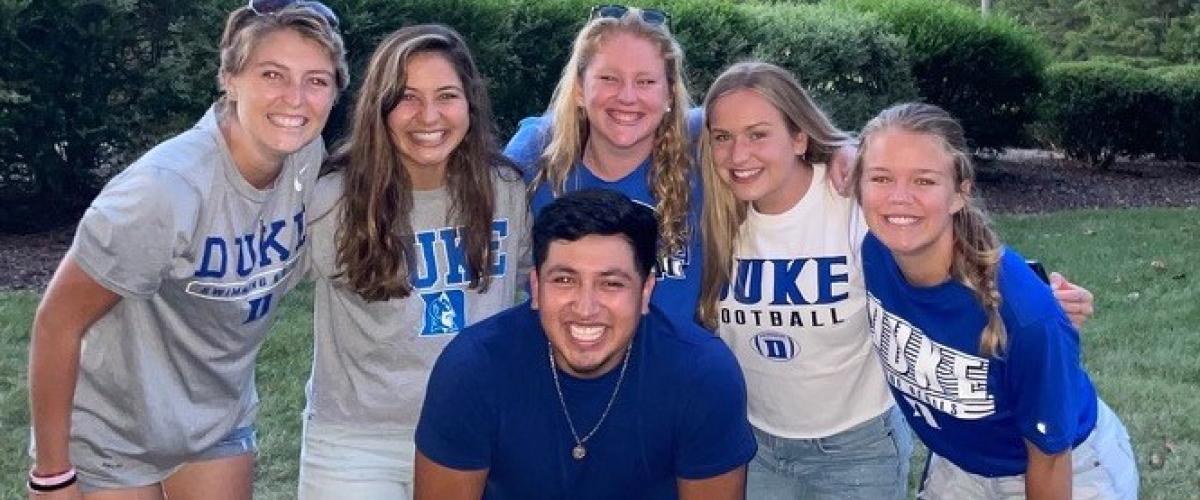 Juan Chavez, Brenna Hammer, Mallory Martlock, Margaret Pohl, and Hope Reynolds
Team-Based Learning–Hope Reynolds
As future healthcare professionals, it is imperative that we learn how to effectively communicate with a team as this is a necessary component of the patient-centered care we will rely heavily on throughout our careers. Duke DPT emphasizes the importance of teamwork through utilizing what is known as "Team-Based Learning" (TBL) where each class is split up into teams of about six students who travel through their two didactic years together. As a team, we sit together in almost every class and participate in different team-based learning activities that allow us to collaborate, work together to get the assignments done and learn from each other through hearing the different perspectives of every member on your team. Some of the assignments include group discussions, case applications, group readiness assessments (gRAs - basically a group quiz), team applications, and the occasional project assigned to be completed outside of class. These assignments usually count as a grade which encourages each of us to put forth our best effort to come up with the best product as a team, but the stakes are lower than individual graded assignments which allow the focus to remain on learning how to interact and function best as a team. 
I am extremely grateful for my TBL team because they have become five of my best friends during my first year here at Duke and they have fostered growth in me as an individual. I have always been someone who struggles with giving up control and I become pretty easily stressed and anxious with difficult school assignments where the answer is not always clear cut. In PT school, the answer is frequently not clear-cut. It is usually "it depends." But no matter how stressed out I get; my team accepts me, and we work together to decide on the best answer or decision moving forward. I am learning little by little that it is okay to give up control and to trust and rely on other members of my team. However, the most important lesson I have learned from my team is that we can have fun while we learn. Team Juan (1) is always laughing and smiling no matter how stressed we are, and I could not have made it this far without any one of them. Even though we technically only have to spend our two didactic years working together, I know that I have met some of my best friends for life through my TBL team. 
---
Summer Discovery Program–Juan Chavez
The Summer Discovery Program is a summer experience that allows students who have an interest in physical therapy to gain exposure to multiple areas of the profession. As someone who was unsure of what they wanted to do, SDP was a great experience. Throughout the week you attend mini-lectures, group activities (similar to TBL activities), and mentorship sessions, and you are also given some tips on how to make your application stand out. You are not expected to know everything they talk about in the mini-lectures, but it helps to get an understanding of the material you will be learning. You also get an afternoon of meaningful mentorship from current Duke students, alumni, and faculty. I recommend you make the most of this opportunity, I was able to have an hour-long conversation with Dr. Clandaniel and I don't think I would have applied to Duke if it wasn't for him encouraging me to go for it and sharing some words of wisdom with me!
---
Class–Brenna Hammer
Attending classes at Duke can be a little intimidating at first; we read our own professors' research, we are surrounded by amazing student colleagues, and we are held to a high standard by both the faculty and those who know about Duke's reputation. However, the faculty and teaching staff have made the transition to grad school as seamless as possible. Lectures typically last 3-4 hours and most classes have multiple instructors, so there is rarely a question or concern that someone in the room cannot address. In a room with 100 other students, it is easy to worry that you will get lost in the sauce, but if you ask for help it will be given. Class times often involve short lectures followed by team activities and class discussions. These are valuable times where you are able to brainstorm with those around you on patient cases relevant to class material; it helps to bring lecture work to a more practical perspective and keep you engaged in long classes. 
---
Simulations/Labs/Practicals–Mallory Martlock
We've had so many opportunities in realistic clinical settings throughout these first few months. Practicals and simulation labs have allowed us to put our clinical reasoning skills to the test with real-life patient cases. Practicals are an individual experience that is associated with a specific class to test our knowledge of the content we are learning. Simulation labs are a group effort in a more realistic setting where the instructors are able to alter the patient's vitals in order to put your response time to the test. Practicals and simulation labs are always exciting and have been a great learning experience that really adds to our didactic classes. We also have lab classes that are incorporated into our curriculum. These are affiliated with different courses and provide a low-stakes opportunity to practice the skills we are learning in class. It is a great time to practice with each other and facilitates learning in a low-stress environment. The faculty are very helpful and there is always someone willing and able to answer our endless questions. 
---
Clubs/Student Life/Basketball–Margaret Pohl
Being a part of Duke DPT's program provides us with the opportunities to explore different clubs and SIGs (Special Interest Groups) from our first day on campus.  Because of COVID, many have been held over zoom, but it has actually made it easier to attend a larger variety of club/SIG meetings and hear from outstanding professionals who may not be able to join us in person due to geographical location.  There are so many SIGs ranging from sports to pelvic health to neuro to oncology and more!  There is truly a SIG or club for every interest and if you find that there isn't a group for your particular interest, you can always start a SIG/club too!  In our class, there have been two new groups started, the Geriatric SIG and the Adaptive Sports Club.  Being able to explore the different areas and specialties in the PT field has been very helpful and eye-opening when thinking about my future!
Student life in the Duke DPT program differs for everyone based on individual interests. There are usually opportunities to socialize with classmates on weekends and we have been engaging in more interprofessional social events with the PA and OT students (shoutout to our social chairs). Being close to Raleigh, there are a variety of concerts at the Coastal Credit Union Music Park that encompass every genre from Pitbull to Tim McGraw to the Lumineers! Another exciting, and to many, integral, part of student life is attending Duke Basketball games. Obviously Cameron Indoor is an electric environment to watch games, but cheering on the team in the student section is a whole new level of exciting, nerve-wracking, and genuine fun. Grad students at Duke have the opportunity to enter the Grad student season ticket lottery each fall. Even if you don't win, you can still get into almost every game and there is a small campout (not as intense as undergrads) to get into the UNC game if you don't win season tickets. With this year being Coach K's last season on the bench, it was an even more exciting and special year in Cameron. Despite the loss to UNC at home this year, the entire season was exhilarating, and being in the student section right behind the baskets truly made me feel like I am a part of something special every game! There are some big celebrities who come to games (like Tyler Cameron and Matt James!) and you never know who is going to show up on a random Tuesday night. Going to Duke Basketball games is a great way to bond with classmates while standing together in a line or in the student section and show some school spirit by cheering on our team!