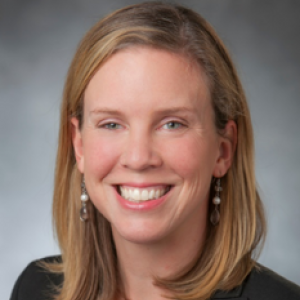 Director of Clinical Education; Assistant Professor in Orthopaedic Surgery
919-668-2638
311 Trent Drive
katherine.d.myers@duke.edu
Dr. Katie Myers has joined the Doctor of Physical Therapy Division as Director of Clinical Education. Dr. Myers has a passion for exploring innovative approaches to deliver high quality clinical education curricula, including focusing on clinical instruction and student learning. She is active in the APTA at both local and national levels.
Education
DPT, University of South Alabama, 2008
MSPT, Ithaca College, 2002
BS, Ithaca College, 2001
Teaching
PT 601, 611, 621: Clinical STEPs 1, II, III
PT 701, 711: Clinical STEPs IV, V
PT 801, 802, 803: Clinical Internships I, II, III
Practice
Acute Care, Oncology Rehabilitation
Research
The changing landscape of healthcare and the growth of PT education programs has resulted in a renewed focus on the sustainability of the clinical education component of the DPT curriculum.  Dr. Myers' interests include the application of curriculum development processes to clinical education, partnering with clinical educators to support clinical teaching needs, and exploring the concept of entry-level practice in the context of preparing graduates to enter the challenging and ever-changing health care field.
Recent Publications
Myers K, Schenkman ML. Utilizing a Curriculum Development Process to Design and Implement a New Integrated Clinical Education Experience. J Phys Ther Educ. October 2017. [in press] 
Covington K, Myers K, Rodriguez J. Exploring DPT Students' Perceptions of Team Function in a Collaborative Integrated Clinical Education Experience. J Phys Ther Educ. [in press]