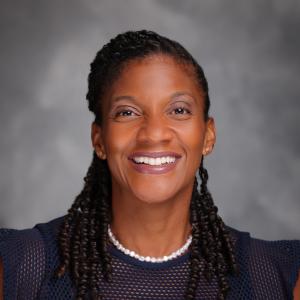 Faculty Development Resident; Instructor, Medical Center
Contact Information:
Dr. Robin Baker attended Howard University in Washington, DC, where she completed her BS in Health Sciences, with a focus on Pre-Physical Therapy and Athletic Training. She received her Doctorate in Physical Therapy (DPT) from Washington University in St. Louis, MO. After completing her DPT in 2006, Robin began working at the Kennedy Krieger Institute, International Center for Spinal Cord Injury in Baltimore, MD. Robin specialized in treating pediatric and adult patients with impairments as a result of spinal cord injury, traumatic brain injury, multiple sclerosis, and other neurological disorders. Robin has spent more than 12 years working for Restorative Therapies, Inc. in clinical education and training, product development of Class III medical devices, product testing, and product guidelines for integrated functional electrical stimulation systems (iFES). Robin has collaborated nationally and internationally with biomedical engineers, medical clinicians, and researchers to develop iFES systems for patients with a wide range of neurological diagnosis and supine ergometry systems used in the ICU to promote early mobility for patients with varying diagnosis.
Additionally, Robin has practiced in acute care, ICU, outpatient cardiopulmonary, and home health care settings.
Dr. Baker has a passion for mentoring and educating students. Her goal is to inspire diversity and growth within the classroom by employing innovative strategies to bridge the gap between underserved communities and the profession of physical therapy.
Education

DPT, Doctor of Physical Therapy, Washington University School of Medicine in St. Louis, 2006
BS, Bachelor of Science, Howard University, Washington DC, 2002
Teaching
· PT 634 – Introduction to Patient Exam, Teaching Assistant
· PT 631 – PT Professional Practice I, Teaching Assistant
· PT 635 – Cultural Determinants of Health and Health Disparities, Small Group Facilitator
· Comprehensive Assessment and Management of Practice II
· PT 646 – Foundational Neurologic Practice, Teaching Assistant
Publications

Recio AC, Mims RM, Becker D, Sadowsky CL, McDonald JW,. Use of Electrical Stimulation For the Management of Stage IV Pressure Ulcer Among Spinal Cord Injury: Adjuvant Therapies for Recalcitrant Wounds Below the Level of Injury. Paper and poster presented at the Annual Meeting of Academic Physiatrists, Colorado Springs, CO, February 2009.
Professional Activities
· American Physical Therapy Association
· North Carolina Physical Therapy Association
· APTA, Credentialed Clinical Instructor