Duke University Students at Duke-NUS
Third Year Research in Singapore
Two Duke-Singapore Student Scholar Fellowships are available to Duke students. Duke-Singapore Student Scholars are expected to spend 10 months doing mentored clinical or basic science research in Singapore.
Fourth Year Electives in Singapore
Duke-NUS currently offers 83 electives in seven broad specialties of Medicine, Surgery, Pediatrics, OBGYN, Psychiatry, Radiology and Pathology across four hospitals and five National Healthcare Institutes. If you are interested in Third Year research or Fourth Year electives in Singapore, contact Sulochana Naidoo. 
Duke Undergraduate Students
Special Admissions Pathway: The Duke and Duke-NUS Special Pathway enables Singapore Citizens and Singapore Permanent Residents (PRs) to pursue their undergraduate studies in any discipline at Duke University in Durham, North Carolina, before returning to Singapore to embark on their medical training at Duke-NUS.
---
Duke-NUS Students at Duke University
Third Year Research at Duke
The Third Year at the Duke University School of Medicine represents a unique opportunity for Duke-NUS students to broaden their backgrounds in the biomedical and social sciences; the basis of clinical medicine. The primary goal of the third year is to develop tomorrow's physician leaders through a rigorous scholarly experience in biomedical-related research. 
Fourth Year Electives at Duke
The Visiting Medical Students page contains information about applying for electives at Duke. Application information can be found under the heading "Applicant Information for International and Canadian (LCME) medical students." 
MD-PhD (PhD at Duke)
See a list of dual degree programs available at Duke.
---
Pre-Med Students at Duke-NUS
Apply to Duke-NUS Medical School
If you are interested in applying to Duke-NUS, please visit Duke-NUS Admissions.
Prehealth Experiential Programme (PrEP)
The Prehealth Experiential Programme (PrEP) is a weeklong immersion program to be held at Duke-NUS Medical School each July. Designed to provide insights to medical practice and biomedical research in Singapore, the program features seminars, workshops and visits. PrEP will encourage academic curiosity and equip participants with useful skills, experience and knowledge of Duke-NUS and the Singapore healthcare system.
Duke-NUS Alumni Clinical Observership (DACO)
If medicine is a career that you would like to pursue, the Duke-NUS Alumni Clinical Observership (DACO) is a good springboard to gain insights into the profession. Under DACO, you will be paired with a practicing doctor, who is a Duke-NUS alumnus, for a two-day taster of what their work entails. Observerships are carried out in June and December each year and are meant to be an introduction to shadowing. The intent of DACO is to encourage participants to seek subsequent shadowing opportunities on their own initiative.
---
Contact US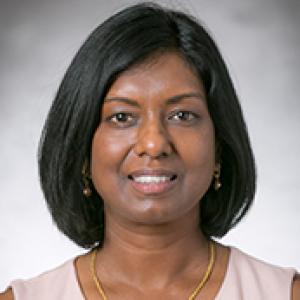 Director, Global Education for Duke-NUS
Dr. Naidoo is responsible for all areas related to undergraduate medical education between Duke University School of Medicine and Duke-NUS Medical School (Singapore), including curriculum, advising and supporting Duke-NUS students at Duke, admissions, recruitment, and compliance with accreditation requirements.