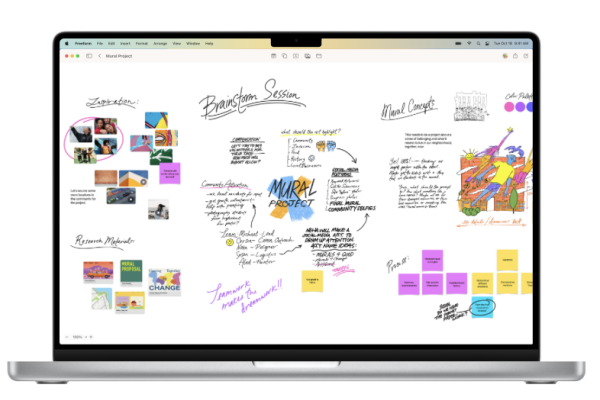 Freeform
Freeform is a new app where you and your collaborators can bring ideas to life. Insert sticky notes, share files and insert web links, documents, video, and audio from your Mac. Sketch and jot down notes with Apple Pencil on your iPad.  Invite collaborators, share a link, and start working together instantly on your iPhone. As others add their thoughts, you can see changes on the canvas - all in real time.
Macs from 2017 and later running macOS Ventura
iPad Air (3rd Generation) and later running iPadOS 16
iPhone SE (2nd Generation) and later running iOS 16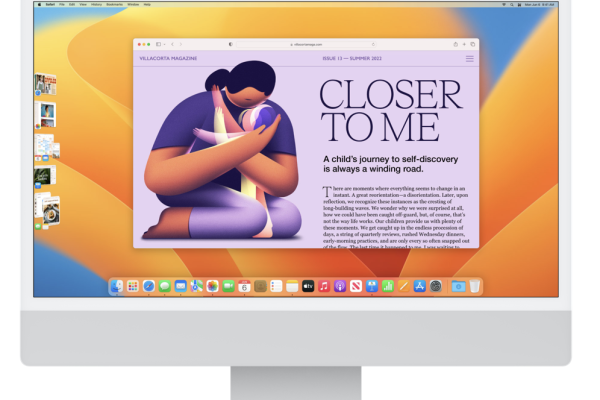 Stage Manager
The app you're working on is displayed prominently in the center, with other apps and windows arranged on the side. This makes switching between apps and windows much faster and reduces desktop clutter. Apps on the side stay updated so you can quickly glance at incoming messages and email.
Click Control Center 
 in the menu bar, then click Stage Manager.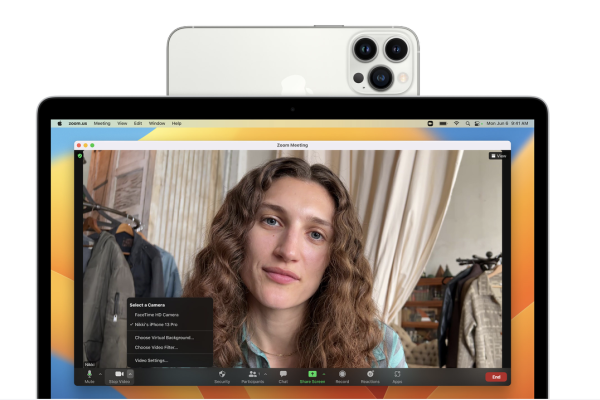 Continuity Camera
Use the powerful camera system of iPhone with your Mac to do things never before possible with a webcam. Simply bring iPhone close to your Mac and it automatically switches to iPhone as the camera input. And it works wirelessly, so there's nothing to plug in.
iPhone XR or later running iOS 16 and signed into the same Apple ID/iCloud as your Mac.
Open FaceTime or another app to use with your iPhone camera. If the app doesn't automatically begin using it, choose your iPhone camera from the app's video menu, camera menu, or other setting.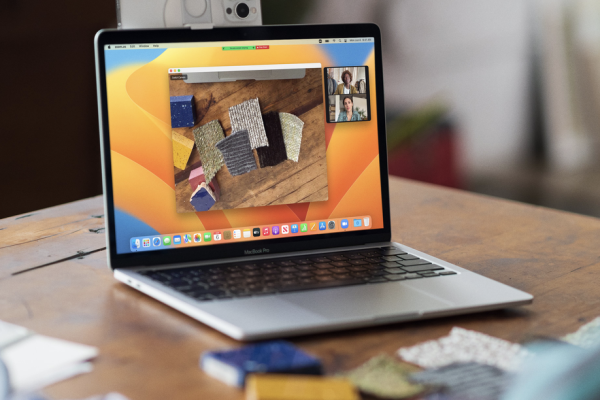 Desk View
Collaborate virtually using Desk View, which mimics an overhead camera, showing your desk and your face at the same time.
iPhone 11 or later running iOS 16 and signed into the same Apple ID/iCloud as your Mac.
With FaceTime or Zoom opened:
1. Click Control Center in the Menu Bar
2. Click Video Effects
3. Click Desk View.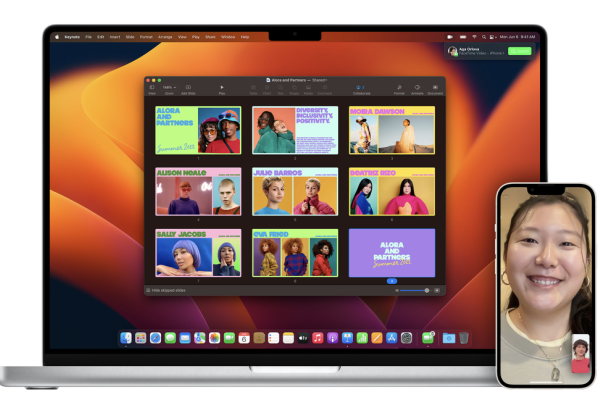 Handoff for FaceTime
Now you can move FaceTime calls between devices in any direction — from iPhone to Mac, Mac to iPad, iPad to iPhone, and more. And when you hand off a FaceTime call, your connected Bluetooth headset moves to the new device without missing a beat.
iPhone running iOS 16 or iPad running iPadOS 16 and signed into the same Apple ID/iCloud as your Mac.
Make sure your other device is turned on, then tap the screen that's showing the call.

Tap the notification to switch the call at the top left of the screen, then tap switch.

Make sure the camera, microphone, and audio settings are the ones you want, then tap switch.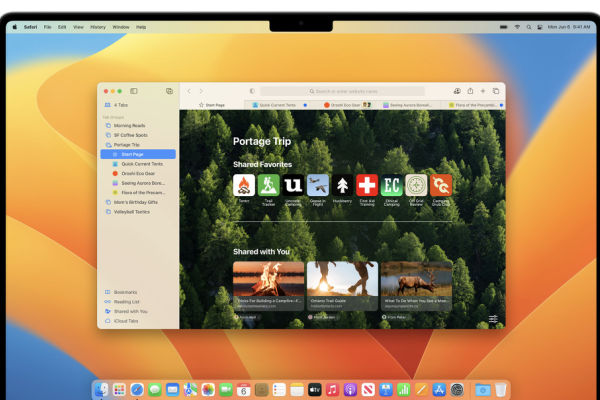 Shared Tab Groups
Share tabs and bookmarks, send messages, and start FaceTime right from Safari. Whether you're planning a trip with friends or doing a research project, you can share all the tabs in one place. And when they find something great, they can add tabs too.
Share a Tab Group
Tap  to view the open tabs in that Tab Group.

Tap  at the top-right corner of the Tab Group.

Tap Messages, then choose the person or group you want to share it with.

You get activity updates in the Messages conversation when someone makes changes in the shared Tab Group. Tap the updates to go to the shared Tab Group.
Add and remove people from a shared Tab Group
Tap  at the top-right corner.

Tap Manage Shared Tab Group, then do any of the following:

Remove someone: Tap a name, then tap Remove Access.

Add someone: Tap Share With More People, then invite them.

Stop Sharing with everyone: Tap Stop Sharing.
Start a Messages, audio, or video conversation from Safari
You can start a conversation—using Messages, FaceTime audio, or FaceTime video—with everyone that shares the Tab Group, without leaving Safari.
Tap 
, then tap message, audio, or video to start the conversation.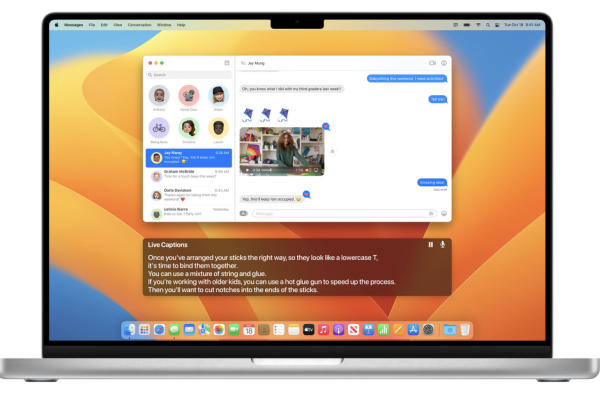 Live Captions (Beta)
Turn audio into text in real time and follow along more easily with conversations and media.
1. Click System Settings
2. Click on Accessiblity
3. Click on Live Captions (Beta)
4. Turn on Live Captions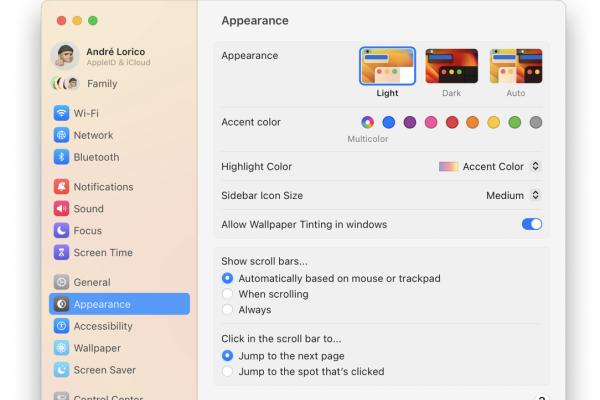 System Settings
System Preferences is now System Settings. With a new sidebar design — instantly familiar to iPhone and iPad users — System Settings makes it easier than ever to navigate settings and configure your Mac.