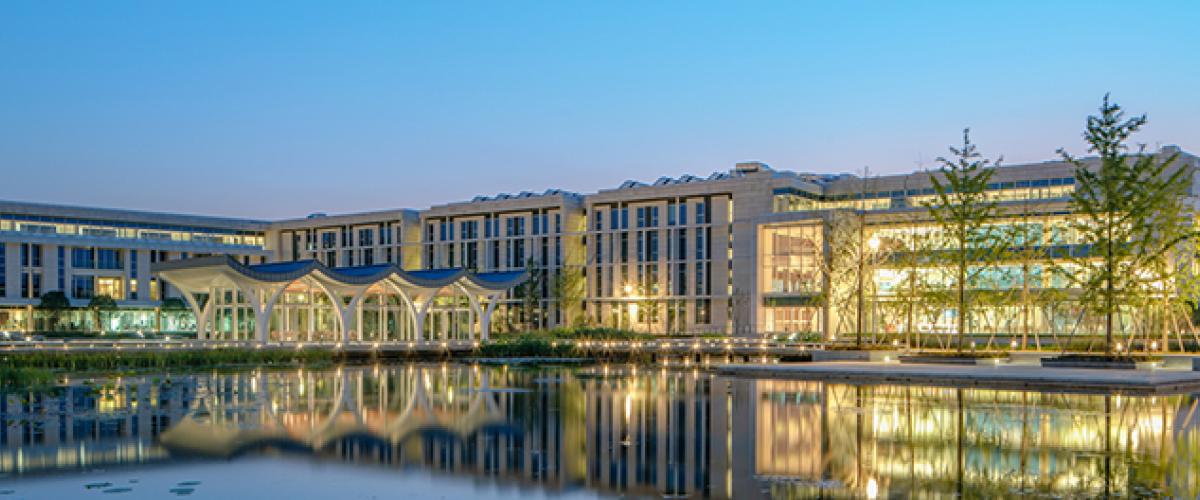 Duke Kunshan University is a Sino-American partnership of Duke University and Wuhan University to create a world-class liberal arts and research university offering a range of academic programs for students from China and throughout the world.
A non-profit, joint-venture institution, Duke Kunshan University was granted accreditation approval by China's Ministry of Education in September 2013 and welcomed its inaugural class of students in August 2014.
With the goal of spearheading the future of higher education, Duke Kunshan University is influenced and informed by both Chinese and American traditions of higher education. The shared vision of Duke University and Wuhan University is that Duke Kunshan will help address the changing needs of global higher education. Their rich heritage inspires Duke Kunshan University to pursue academic excellence and integrity and to apply classroom knowledge in service to society. Duke Kunshan University delivers academic programs designed to address society's future needs through a curriculum based in the liberal arts tradition and a commitment to problem-based learning that challenges students to apply their knowledge during the learning process.
As an international, intellectual community that encourages diversity, openness and creative learning, Duke Kunshan University welcomes outstanding students and faculty from around the world who contribute diverse perspectives and experiences to this global learning environment. The university's innovative academic programs inspire students to master academically rigorous course work, generate new ideas and develop creative solutions to the world's challenges, preparing them not just for careers in specific fields, but to become globally sophisticated leaders and citizens.
Duke Kunshan University is a place for learning, living and growing, in a setting that encourages the pursuit of knowledge within and beyond the classroom. The City of Kunshan is located in close proximity to both Shanghai and Suzhou, two of the largest and most developed metropolitan areas in China. Connected to both by high-speed rail and highways, the city of Kunshan is a center for business and high-tech research and manufacturing, and it has one of the fastest growing economies in China. 
Duke Kunshan offers academic programs and research opportunities for medical students and researchers, including: 
Master of Science in Medical Physics Program
Medical Physics Graduate Program of Duke Kunshan University is a fusion of physics and medicine for a globally minded career. The program is ultimate medical physics with comprehensive training from world-class faculty, modeled after Duke's top-ranked Medical Physics program. Students successfully completing the requirements of the program will receive a Master of Science degree from Duke University.  
Master of Science in Global Health Program
The Master of Science in Global Health program brings together interdisciplinary teams to solve complex health problems and to train the next generation of global health leaders. Modeled after the highly successful program pioneered at Duke University, this program allows all students to work with a faculty member to develop a research question and field-based project in Asia or other locations around the world.
The Global Health Research Center is a partnership between Duke Kunshan University, the Duke Global Health Institute at Duke University and its global partners to conduct cutting-edge research that addresses the future health of populations in China and the region. It serves as a hub for Duke's global health research program in China.