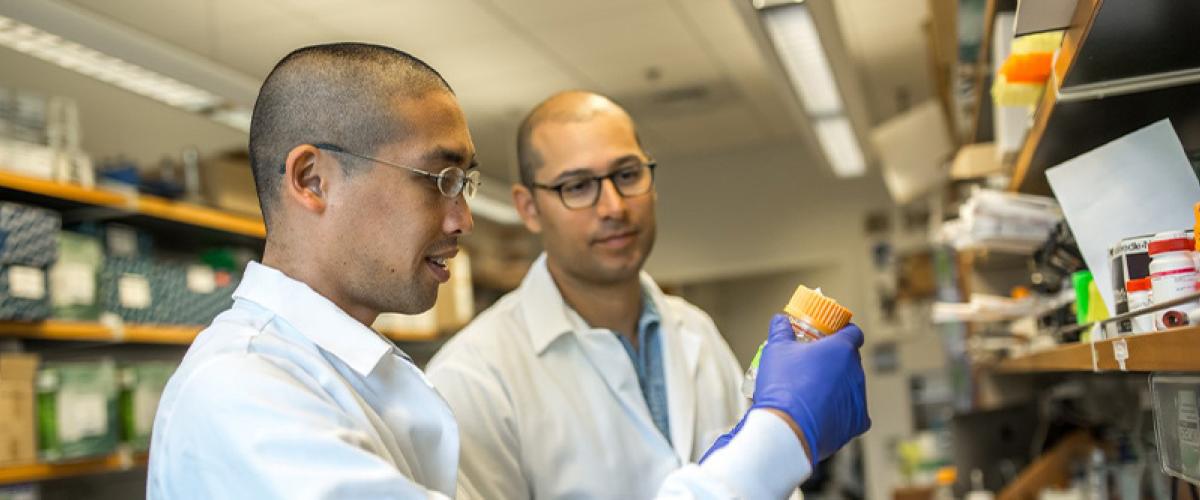 OBGE leadership, faculty, and trainees are committed to high standards for effective and transparent student mentoring.
Equipping faculty with mentoring skills and best practices enhances the well-being and productivity of our students' training experiences and contributes to the success of our T32 training grants and the biomedical research enterprise overall.
OBGE offers a peer mentoring network to help first-year School of Medicine graduate students acclimate to graduate school, address common questions, and build a professional network of colleagues. The Peer Mentor Network also contributes to the academic and leadership development of peer mentors by increasing their awareness and practice of strong time management, listening, and interpersonal skills.
Faculty Mentoring
Formal mentor education is expected for all SoM PhD program training faculty. The SoM's Office for Research  Mentoring (ORM), co-lead by Dr. Cathleen Colon-Emeric, the Associate Dean for Research Mentoring, and Dr. Gentzon Hall offers mentor trainings regularly throughout the year. OBGE has partnered with ORM to sponsor several mentor trainings annually.
Effective July 1, 2021, faculty in SoM PhD programs are expected to complete a Mentor Training Curriculum that includes foundational training and subsequent annual advanced mentor training.
Completion of mentor trainings is recognized with a mentoring badge on the profiles of faculty mentors in OBGE's T3 Faculty Research Series.
Basic Mentor Training (6 "Entering Mentoring" modules)
Advanced Mentor Training (1 advanced 60-minute module annually)
Mentor training facilitator
The Duke SoM ORM mentor training curriculum was developed and tested within the National Research Mentoring Network (NRMN), a nationwide consortium of institutions collaborating to provide all trainees in the biomedical, behavioral, clinical, and social sciences with evidence-based mentorship and professional development programming. NRMN emphasizes the benefits of diversity, inclusivity, and culture within mentoring relationships. The ORM curriculum addresses 6 mentoring competencies in the Foundational Training (Entering Mentoring section). Foundational Training is offered by ORM when new faculty are onboarded and for other faculty throughout the year. OBGE hosts training sessions twice a year (July, January) for OBGE PhD program training faculty.
Required foundational training modules (1 hr each) include:
Maintaining Effective Communication

Aligning Expectations

Assessing Understanding

Promoting Professional Development

Equity and Inclusion

Cultivating Ethical Behavior
Trainings include case-based small-group discussions, and participants share mentoring stories, challenges, and successes. Workshops are offered in a variety of formats (virtual, in-person). ORM tracks completion of training, offers annual mentee surveys to measure mentoring quality, and provides faculty awards promoting excellence in research mentoring. OBGE monitors faculty mentoring via student feedback collected in T3 at milestone events.
After completing the required 6-module "Entering Mentoring" training, faculty must take at least one 60-minute  training annually and may choose from options including such as Articulating Mentoring, Tailoring Professional Development, Research Self Efficacy, and Culturally Aware Mentoring (CIMER).
ORM continues to develop advanced training courses in response to mentoring needs and best practices. Other courses offered at Duke, such as through Office for Faculty Advancement, IDEALS, TGS, or your own program-sponsored events, may count as advanced mentor trainings. Please inquire with OBGE (obge@duke.edu) regarding specific non-ORM or non-OBGE trainings. Available advanced modules will be advertised when available and posted on the OBGE and ORM websites.
Advanced Mentor Training Resources:
Duke Office of Research Mentoring (ORM) 
Upcoming ORM Mentor Trainings
National Research Mentoring Network
Peer Mentoring Network
In 2021, OBGE developed a student peer mentor network through which established (post-preliminary exam) graduate students serve as peer mentors for first-year School of Medicine graduate students to help them acclimate to graduate school, address common questions, and build a professional network of colleagues.
2023-2024 Peer mentors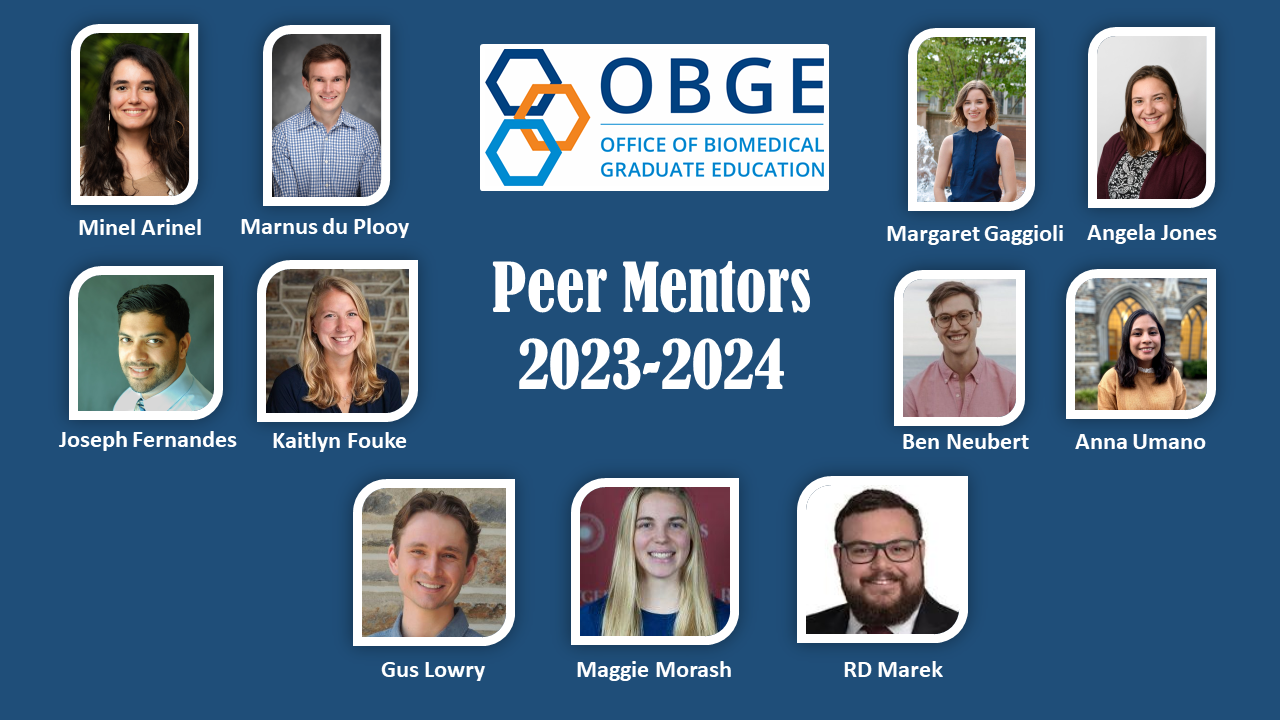 Peer mentors show both academic and personal success during graduate school; have strong leadership, time management, listening, and interpersonal skills; and are eager to share their experiences and insight with other students. Serving as a peer mentor is a commitment for a full year (~12 months), and includes these responsibilities:
Participating in BIOTRAIN 750 (Orientation and Introduction to RCR Concepts) in August

Co-facilitating Gateway Group discussions (~4 sessions, 1 hour each) with a faculty mentor for ~10-12 mentees, based on content covered in BIOTRAIN 701 "Foundations in Professionalism" course required for first-year PhD students in the Fall semester

Collaborating with other peer mentors to teach a class session (1 hour) of the BIOTRAIN 701 (Foundations in Professionalism) course focused on choosing a faculty mentor

Working with small groups of first-year students in BIOTRAIN 751 (~4 1-hour class sessions) to assist them with creating and presenting case studies

Being available to mentor assigned Gateway Group students by request throughout the year to address student questions or concerns about Duke and graduate school life
Peer mentors are selected through a short application process, which includes a statement of interest and a mentoring philosophy. Selected peer mentors undergo formal peer mentoring training during the summer using the Leadership and Management in Action Program (L-MAP) curriculum. This program was developed at Washington University, St Louis in response to issues that biomedical graduate students and postdocs encounter during their training. The goal is to learn, build, and practice skills to navigate challenges in the scientific research environment.
Serving as a peer mentor is an exciting and unique professional development opportunity. Through this process, mentors build exemplary communication and supervisory skills that help prepare them for leadership roles in the future. Furthermore, peer mentors receive BIOTRAIN 755 credit (equivalent to one RCR forum) in the Fall and a $1,000 stipend supplement in the Spring. 
APPLY TO BE A PEER MENTOR
applications reviewed in early Spring