The relationship between Mentor and Mentee can be a critical determinant for successful career development.   Effective mentoring of trainees and early career faculty is a professional responsibility, and the Office for Research Mentoring is offering a number of programs to help guide both novice and experienced mentors to expand their knowledge, and provide tools and resources to improve the mentor and mentee experiences. 
Foundational Mentor Training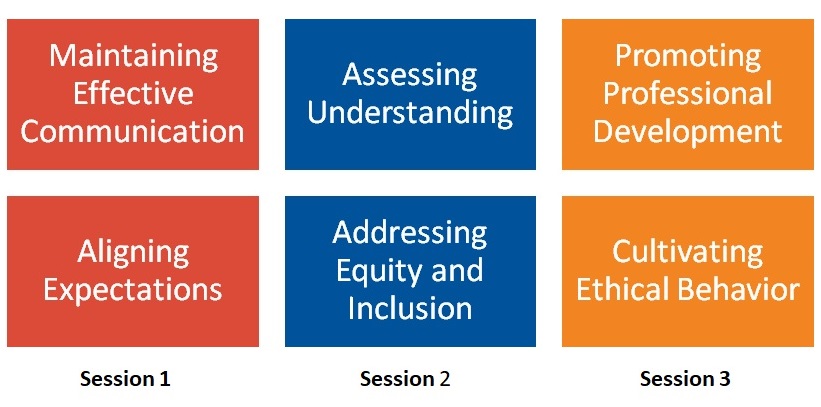 The Office for Research Mentoring is partnering with the National Research Mentoring Network to provide training for both mentors and mentees.  The course is adapted from the Entering Mentoring series developed by the University of Wisconsin and is given as a 6-hour workshop (or three 2-hour sessions as shown below) centered on group discussions and reflections. 
Mentor training includes the following objectives:
Session 1
Maintaining Effective Communication: developing skills to communicate across different backgrounds, engage in active listening, and provide constructive feedback
Aligning Expectations: effectively establishing mutually beneficial expectations for the mentoring relationship
Session 2
Assessing Understanding: using multiple strategies to assess and enhance mentee understanding of core concepts and processes
Promoting Professional Development: develop a strategy for guiding professional development and sustain a dialogue with mentees on professional goals
Session 3
Equity and Inclusion: recognize the impact of conscious and unconscious assumptions, biases and preconceptions on the mentor-mentee relationship and learn strategies for addressing issues of equity and inclusion
Cultivating Ethical Behavior: fostering excellence and integrity in research as part of the mentoring relationship
Advanced Mentor Training