Trent Semans Center for Health Education
The Mary Duke Biddle Trent Semans Center for Health Education is the main educational facility for the Doctor of Medicine (M.D.) program. The six-story, 104,000-square-foot health education building opened to students in 2013 and features a floor dedicated to simulation laboratories that can transform from mock clinical exam rooms to surgery suites and emergency rooms.
Medical education administrative offices are located on 8 Searle Center Drive, Durham, NC 27710, behind the Bryan Research building and next to the Medical Center Library & Archives.
Ground Floor
Featuring a prominent entrance on Research Drive and the Great Hall, a multi-purpose event venue with moveable interior walls, flexible seating for approximately 380 and wireless and audiovisual technology.  A large atrium offers an attractive lobby and the additional event space as well as a monumental staircase which extends 30-feet upward to the second floor.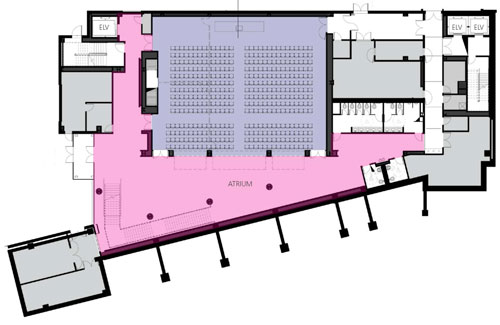 First Floor Mezzanine
With a balcony overlooking the Great Hall, this floor serves as a gallery viewing area and informal gathering space. It also houses the Media Core,The Office of Clinical Education and Learning Environment, as well as men's and women's restrooms and showers.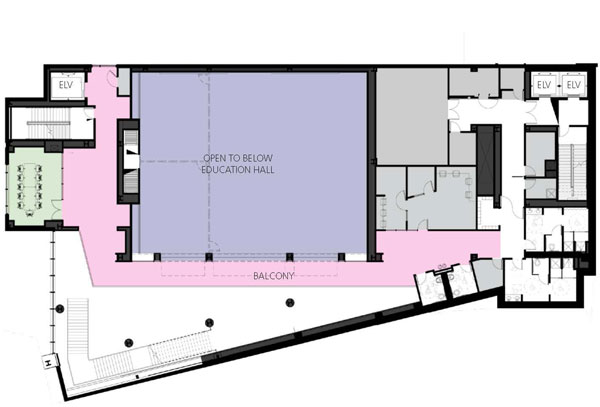 Second Floor
With a welcoming entrance just off the Duke Hospital-Duke Clinic walkway, this floor has access to Research Drive and Duke Medicine Pavilion. It offers Nosh@the Jo Rae Cafe as well as informal seating areas. Generally used for student learning and lectures, The Learning Hall, a 160-seat Team-Based Learning (TBL) Center features wide stadium-style tiers accommodating stationary tables and moveable chairs. TBL students complete assigned reading and return to the Learning Hall prepared to work in teams to solve clinical problems. They are tested before, during, and after each session, both individually and as a group, Teams stay together throughout the first year of the Doctor of Medicine curriculum.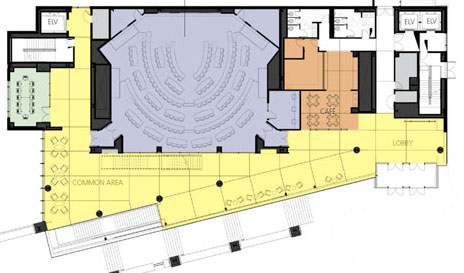 Third Floor
An open staircase leads from the second to the third floor, featuring a conference room 6 teaching laboratories, 6 small group work rooms, and 1 large classroom, all of which may be utilized as formal and informal teaching spaces.  Rooms are flexible with moveable tables and chairs and room dividing walls in some. The suite for the Office of  the Vice Dean for Education is also located on this floor.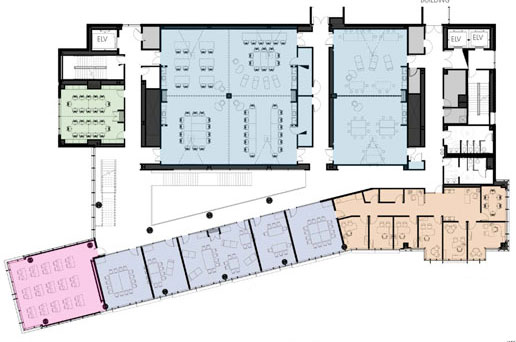 Fourth Floor
On this floor, prospective medical students will receive their first impression of Duke in the suite for the Office of Admissions for the Doctor of Medicine program. As the hub of community life in the School of Medicine, this floor features a Student Life area complete with a kitchen, TV area, lockers, meeting spaces, and quiet areas. A large rooftop terrace offers outdoor social space for students, faculty and staff. Throughout their time in the School of Medicine, Doctor of Medicine students will have access to the Student Affairs suite for group educational and social activities, as well as one-on-one academic counseling with their respective Advisory Dean. The Medical Education Information Technology Help-Desk Office is also located on this floor.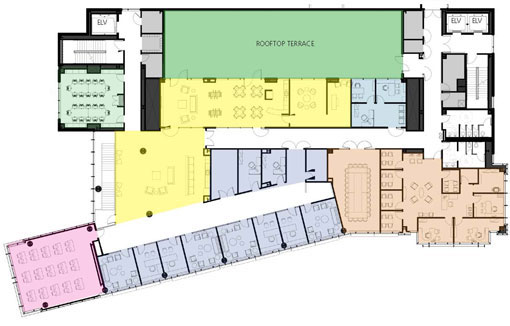 Fifth Floor
High-tech simulation facilities on this floor will be used by medical and other graduate health professions students, medical residents and faculty who will learn and practice new procedures. This floor also houses the Standardized Patient Program, where patient actors provide students with realistic clinical skills practice. The floor is designed with separate entrances, training, and assessment areas so that patient actors and students encounter each other only in the exam room setting.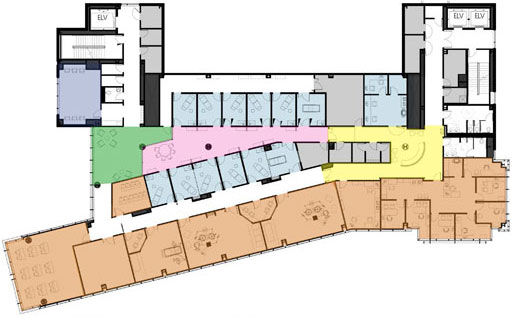 Sixth Floor
This area has 10,000 square feet of space furnished with chairs and tables as well as additional seating areas. The space will be used predominantly as study space but is also utilized for academic and extra-curricular activities and events.
The Trent Semans Center does not have dedicated parking. Users of the facility may be dropped off at the west entrance of the building on Searle Center Drive, with handicap accessibility at this entrance.
The following parking garages may be utilized for visitors attending events at TSCHE:
Parking Garage I: Trent Drive across from Duke Clinic and Duke Medicine Pavilion
Parking Garage II: Erwin Road access from Duke University Hospital
Parking Garage IX: Research Drive Garage: Research Drive and Erwin Road
Visitors are responsible for all parking expenses assessed at the prevailing rate. The Trent Semans Center does not reimburse for any parking expenses. Please be advised any vehicle parked outside the Trent Semans Center is considered parked illegally and will be subject to ticketing and/or towing at the expense of the owner. Additional information on parking services may be found online: http://parking.duke.edu/parking/visitor/index.php.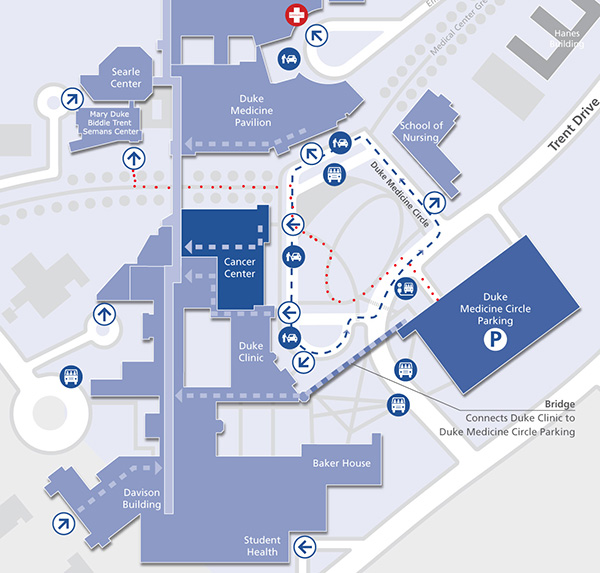 The Office of Space Management manages and coordinates room scheduling for a variety of meeting, conference, classroom, and event spaces across the School of Medicine's campus.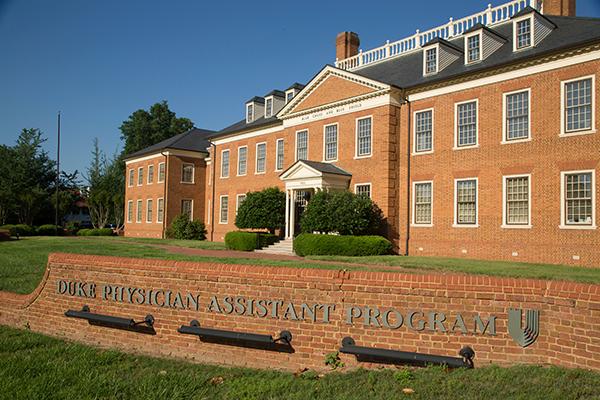 Physician Assistant Program Building
The Duke Physician Assistant Program is located near downtown Durham at 800 S. Duke Street in the former headquarters of BCBS of North Carolina. The building was completely gutted and adapted for the PA program in 2009. This 34,000-square foot building has state-of-the-art educational spaces including an electronic master classroom, small group rooms, multiple physical diagnosis suites, diagnostic methods laboratory, clinical simulators, student gathering and study spaces, conference rooms and faculty/staff offices. Parking is free and adjacent to the building.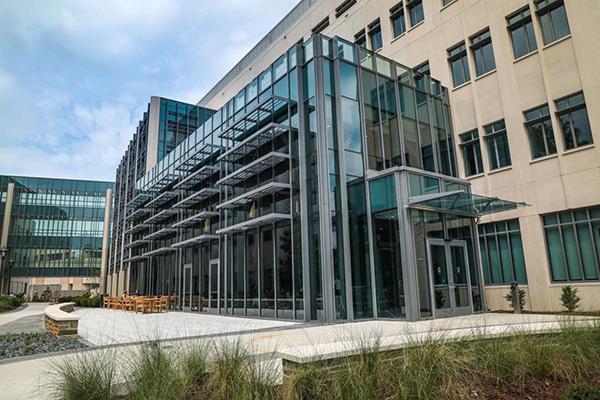 Interprofessional Education Building
In August 2019, the Interprofessional Education Building opened at 311 Trent Drive. This 105,000-square-foot facility is home to Duke Orthopaedics, Duke Doctor of Physical Therapy program, and the Occupational Therapy Doctorate program. Our DPT and OTD students collaborate with nursing students also in the building. This IPE building is a light-filled, five-story facility is shared with DPT, School of Nursing, and OTD. The building includes space for research, PhD program, post-doctoral, student services, global health, standardized patient rooms, Health Innovation Lab, a 96-seat classroom, multiple break out rooms, and faculty and staff offices.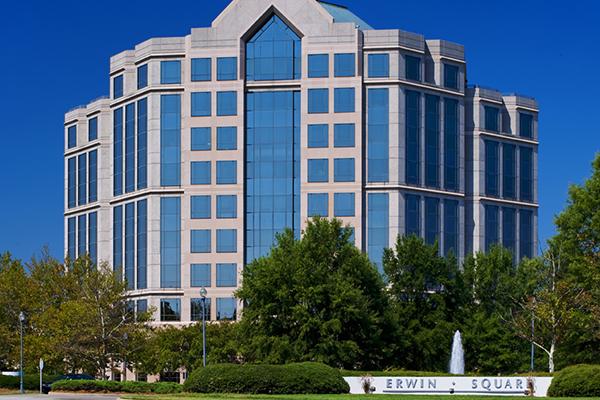 Erwin Square
Built in 1989 and renovated in 2019, Erwin Square serves as additional classrooms and labs for the Doctor of Physical Therapy and Occupational Therapy Doctorate programs. Erwin Square, located at 2200 W. Main Street, includes flexible-use classrooms and an Activities of Daily Living (ADL) suite. The ADL Laboratory is an active learning classroom space that includes a functional kitchen, bedroom, bathroom, living room, and laundry.  It allows students to seamlessly apply knowledge and skills into practice. The Clinical Skills Lab features traditional equipment found in a clinical setting including high-low tables; traction tables; therapeutic exercise equipment; and traditional clinical modality equipment such as fluidotherapy, consultation spaces, plinth tables, a walking track, and OTD and DPT equipment.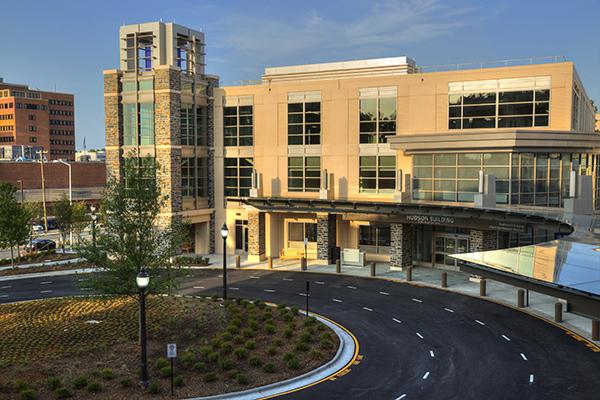 Hudson Building at Duke Eye Center
Students in the Ophthalmic Technician Program train in a new, dedicated classroom and real-world clinical training space that opened in 2016 in the Hudson building, a state-of-the-art clinical pavilion on the Duke University Medical Center campus, located at 2351 Erwin Road in Durham. The Ophthalmic Technician Program is an affordable, accelerated (one-year), comprehensive program that prepares students for the Certified Ophthalmic Technician (COT) exam. OpTechs are critical skilled allied health professionals who work under the direction of an ophthalmologist.