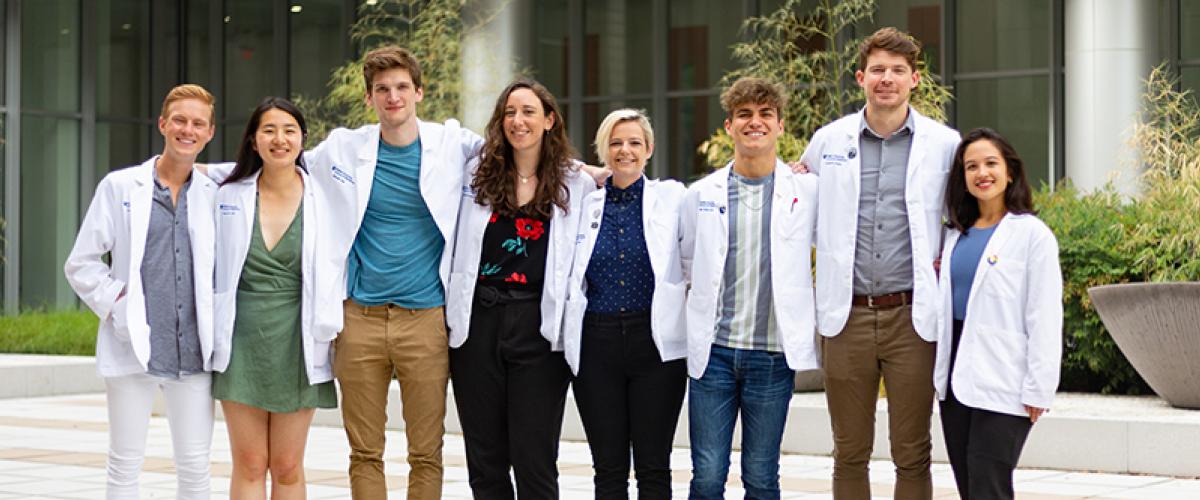 Career or Specialty Student Groups
Emergency Medicine Interest Group
We host lectures on topics relevant to EM, practical skills training like ultrasound and intubation, and events with both professional schools as well as the community.
General Surgery Interest Group
The General Surgery Interest Group (GSIG) is a student run group which connects students interested in general surgery and its subspecialties with opportunities to explore their interests and build the foundation of a successful surgical career. We facilitate mentorship, education, and community service within our membership.
Through the GSIG-run Health Careers Academy, we provide mentorship and learning opportunities for local high school students interested in pursuing careers in science and medicine. We also regularly host Stop the Bleed sessions to teach members of the Duke and Durham community how to intervene in life-threatening bleeding emergencies. Examples of educational and networking opportunities for students include: the High Yield Cases in Surgery series, our journal clubs, the annual department mixer at The Pit, and regular surgical skills sessions.
Interventional Radiology Interest Group
For students interested in Interventional Radiology - What is IR, Research Opportunities, Innovation in IR
Neurosurgery Interest Group
NSIG is dedicated to helping students interested in neurosurgery explore the field and connect with faculty mentors for their professional development. Neurosurgery Interest Group Social with Dr. Michael Haglund (11/7/18) Introduction to Neurosurgery with Dr. Nandan Lad and Dr. Carrie Muh (1/22/19) Neuroscience Research Mixer (2/13/19) Faculty Research Talk with Dr. Peter Fecci (4/2/19) Neurosurgery Resident Panel (5/15/19) Faculty Research Talk with Dr. Derek Southwell (6/5/19) Brain School Journal Club (biweekly throughout the year)
Ob/Gyn Interest Group
The Ob/Gyn interest group is for all students who would like to learn more about the field of Obstetrics and Gynecology. Our programming ranges from skills fairs to Q&A sessions with members of the department to community service events.
Ophthalmology Interest Group
The Ophthalmology Interest Group is a student-run group at Duke University School of Medicine that aims to help students explore the field of Ophthalmology through lectures held by faculty and residents, annual pig eye dissection events, hosting panel discussions about applying to Ophthalmology attended by residents and the director of Ophthalmology residency at Duke, and other opportunities for mentorship and research within the Department of Ophthalmology at Duke.
Orthopedic Surgery Interest Group
OSIG is the Orthopedic Surgery Interest Group. We will be hosting dinners, talks, and workshops covering some basic topics in orthopedic surgery that should be appropriate for everyone from first years to fourth years.
ENT Interest Group
The ENT IG focuses on fostering interest in head and neck surgery through research panels, suture workshops, subspecialty panels and physical exam/ procedural workshops. We hold 2-3 events per semester and have enjoyed turnouts of around 30 - 40 students.
Plastic and Reconstructive Surgery Interest Group
Urology Student Interest Group
The Urology Student Interest Group (USIG) is aimed at increasing opportunities for medical students to gain exposure to the field of urology. We host suturing workshops, urology-specific skills workshops, and have a urology resident shadow program. We are also involved in annual Movember fundraising.
Anesthesiology Interest Group
Purpose: To increase awareness of the spectrum of clinical practice in Anesthesiology and encourage medical students to explore career opportunities within the field of Anesthesiology. Vision: The AIG will provide a wider range of exposure to Anesthesiology than is available through the Duke School of Medicine curricular experience, with opportunities for mentorship, education, and hands-on experience with Anesthesiology faculty and residents. Activities: Airway Night, Regional Anesthesia with the Anatomy Interest Group
Careers in Internal Medicine
Careers in Internal Medicine Interest Group, CIMIGro, is a Duke School of Medicine interest group that aims to help medical students discover the vast opportunities available through Internal Medicine. We are dedicated to providing medical students with the resources and connections to thrive during medical school and prepare for successful careers in the medical community. We have several events geared to allow students to explore the various aspects of Internal Medicine. We are also launching a new mentorship program and collecting important resources to help students through this medical education journey.
Dermatology Interest Group
Group for students interested in learning more about dermatology through lectures, workshops, volunteer and research opportunities.
Family Medicine Interest Group
Our group is committed to promoting and supporting family medicine at Duke. We do this by hosting dinners with family medicine faculty, attending local and national family medicine conferences, and holding workshops on important topics in family medicine. Examples of some of these workshops for the 2018-2019 year included a procedural and skills nights as well as dinner and discussion on bias in healthcare.
Geriatrics Interest Group
The Geriatrics Interest Group provides opportunities for learning and mentorship in the field of geriatrics for students interested in the healthcare of older adults. Our previous events have included a geriatrics research fair, a lunch presentation with experts in neurology and geriatrics on dementia, and a panel on caregiving featuring patients and their caregivers, providers, and social workers from Duke Family Support.
Med-Peds Interest Group
For students interested in med-peds. We offer panels with current med-peds residents and attendings, residency application advice sessions, mentorship programs.
Palliative Care Interest Group
The Palliative Care Interest Group is a student-run club through Duke Med. We use the interest group to heavily interact with the Palliative Care department to learn more about how the training in Palliative Care can improve the clinical practice of any specialty. Topics such as doctor-patient communication, delivering difficult news, and how to engage in a family meeting are just a few topics discussed in our monthly meetings.
Pathology Interest Group
Pathology is a lot more than crime scenes and basements! The Pathology Interest Group (PIG) is an organization dedicated to exploring the opportunities pathology has to offer, from procedures to patient contact to making diagnoses. Our students look forward to new and exciting events that'll help develop clinical skills as well as a deeper understanding of the field of pathology. A few of these events include a FNA (fine needle aspiration) workshop, an autopsy shadowing session, a research fair, and review sessions to help with coursework. PIG is for anyone interested in cool disease processes, fun T-shirts, or learning about the wide world of pathology!
Pediatrics Interest Group
The Pediatrics Interest Group (PIG) is a student-run group which associated with the Department of Pediatrics with the primary goal of helping students to explore careers and provide exposure to research opportunities in Pediatrics, from primary care to sub-specialties and private practice to academics. We host meet and greets with the Department of Pediatrics, resident/faculty panels and education sessions focused on relevant pediatric topics.
Psychiatry Interest Group
The Psychiatry Interest Group allows Duke medical students to explore areas of psychiatry beyond the formal curriculum and to interact with faculty in the psychiatry department. Past events have included a discussion on opportunities for research in psychiatry, information regarding dual-board certification, a dinner at a faculty member's house, and speakers on topics such as forensic psychiatry and women's mental health. Faculty advisor is Dr. Damon Tweedy.
Student Interest Group in Neurology
Duke Med SIGN is an interest group focused on promoting and providing education about the field of Neurology! Our events include a semesterly dinner at department chair Dr. Rich O'Brien's home, lectures from Duke neurology researchers, and a research fair event hosted jointly with Psychiatry Interest Group and Neurosurgery Interest Group.
Academic Student Groups
Advanced Anatomy Interest Group
We are a student-initiated interest group with the purpose of familiarizing students with the advanced anatomic structures, relationships, and eponyms frequently encountered in the operating room through a series of regular meetings in which complex topics are broken down into component parts. Students gain practice giving short presentations on related anatomy topics with a senior surgical faculty moderator present to provide feedback and additional experiential knowledge. It is a low stakes environment to learn from your fellow peers and make connections with top surgical faculty at Duke.
Global Health Interest Group
Our group exists to address the ever-present and increasing desire of Duke medical students to involve themselves in global health. Involvement encompasses anything from learning about domestic health disparities to devoting one's future practice to improving health on a worldwide scale. Although we are but a humble association of medical students, we sincerely hope other Students feel free to approach our group leaders with any questions related to global health in general or specific activities and endeavors. If nothing more, please view us as a stepping stone to get into contact with well-informed and qualified individuals or groups. That being said, we believe that our resources and planned activities will prove both interesting and useful to Duke medical students. The Global Health Interest Group exists to: 1. advocate for increased institutional support for global health activities including third-year research projects, international clerkship opportunities, and medical service trips 2. help current medical students find mentors and projects 3. liaise with the Duke Global Health Institute (DGHI) and the School of Medicine administration to present student perspectives and increase funding 4. increase student interest and awareness of global health issues and opportunities
Mechanical Engineering Interest Group
Major Groove is Duke's only all-med student a cappella group. We've had the opportunity to perform at the Hippocratic Oath ceremony for graduating students, at local assisted living facilities and throughout the Duke Med hospital! We have even sung for the governor of North Carolina! Absolutely no previous singing experience is necessary. We welcome everyo
Bioethics Interest Group
The Bioethics Interest Group (BIG) brings together students and speakers to learn about and discuss contemporary bioethical issues, providing opportunities for students to routinely engage with key topics in healthcare policy, research, and practice from an ethical perspective. Students choose what topics to discuss and take an active role, collectively, in working through these issues with faculty and their peers. We learn about everything from resource allocation, to gene editing ethics, to the role of physician conscience, single payer healthcare, drug pricing, global health ethics, germline engineering, clinical trial ethics, and more! Faculty experts represent the Bioethics Department, Fuqua, Law School, the Duke Global Health Institute, among others, giving students an opportunity to connect with interdisciplinary faculty as well. Overall, we aim to foster discussion of bioethics topics most relevant to future providers and to promote advocacy for ethical practices in healthcare. Wherever you're at in your bioethics learning, we welcome everyone!
History of Medicine Interest Group
The History of Medicine Interest group is comprised of MS1 students who are interested in engaging with medicine's past in order that we may better understand its present and future. Further, we believe this historical imagination will help us conceptualize our vocations as practitioners in a rapidly changing world. The monthly lunch topics are chosen by students and explored with the guidance of Dr. Jeff Baker, who has been the faculty advisor for the interest group for over ten years
DukeMed Voices
DukeMed Voices is a literary arts journal curated by students at DUSOM for print and online publication. We welcome any submissions from patients, healthcare providers, families and friends who would like to share their experiences with healthcare. In the past, VOICES has published articles, essays, short stories, poetry, photography, and drawings. A wide range of topics are encouraged, and any experience that relates to your life within the medical community, whether direct or indirect, can be represented creatively in our publication.
Duke Med Yearbook
The Aescualpian, is a Duke Med tradition. Yearbooks are completely student-produced annually, and have been since the 1950s!
Duke Science Review
The Duke Science Review is an interdisciplinary, student-run journal for sharing scientific advancements at Duke with the greater university and Durham community. Our goal is to engage students across scientific and professional areas, bringing together many perspectives to enhance understanding and accessibility of new, exciting ideas being developed right here at Duke. Whether you have a unique scientific question to answer, would like to write about your own work, interview an admired faculty member, or simply open the floor for critical thought, there is a place for you in the Review!
Narrative Medicine
The narrative medicine interest group meets once a month for dinner and exploration of a diverse group of narratives from patients, doctors, nurses and family members. We discuss ways that these narratives can help shape our lives as students and future physicians through different mediums including film, poetry, visual art, and prose. Our meetings generally begin with dinner and lead into small group and then large group discussion of various pieces that compliment the theme of the meeting.
Durham Medical Orchestra
In our 10th season, the orchestra (originally named the Duke Medicine Orchestra) is a group of health care related professionals who are passionate about performing quality music to enrich the community.
Major Groove
Major Groove is Duke's only all-med student a cappella group. We've had the opportunity to perform at the Hippocratic Oath ceremony for graduating students, at local assisted living facilities and throughout the Duke Med hospital! We have even sung for the governor of North Carolina! Absolutely no previous singing experience is necessary. We welcome everyone!
Student Faculty Show
Every year, Duke Med puts on a student written, directed, and produced musical! Woohoo! Past hits have included: Into the Wards, The Gunner Games, Lube the Musical (based on Grease), and Duke's Avengers: Civil Wards. Can you sing? Can you act? Can you do neither of those things, but hope to have a Troy Bolton moment where you realize you are a star?? Come talk to us!
Affinity and Cultural Student Groups
The American Medical Women's Association (AMWA) is an organization of physicians, residents, medical students, undergraduate students, and other healthcare professionals which functions at the local, national, and international level to advocate for the advancement of women in medicine and for the improvement of women's health. We achieve this by providing and developing leadership, advocacy, education, expertise, mentoring, and strategic alliances. Some of the activities of the Duke chapter include a mentoring program between medical students and female physicians, a mentoring program between medical students and undergraduate pre-medical students, panel discussions with distinguished female physicians, community service events, and social events. 
The mission of Duke University APSA is to facilitate career advancement in the medical sciences through inter-institutional connections and expanded opportunities for aspiring physician-scientists through networking and outreach events across all levels of training.
The Duke chapter of the national Asian-Pacific American Medical Students Association (APAMSA) is a student-run organization dedicated to learning about, promoting awareness of, and improving Asian-American health issues, as well as fostering community among the student body. Since 2005, the Duke APAMSA chapter has been engaged in community outreach including holding service activities such as our annual Health Fair in the spring, and partnering with Duke Med Chinese to provide language training. This year, we aim to promote diversity within the chapter in meaningful ways, as well as to expand our faculty partnerships. We're looking for new student leaders, particularly to help organize events about HBV, mental health, and other issues in the community, and also welcome anyone to participate informally.
The Duke Chapter of AWS works to support and encourage female medical students who are interested in pursuing surgical careers through mentorship, fellowship and education. Events that we have held in the last academic year include the first annual AWS Southeast Regional Exchange (day long conference), several Challenging Situations Q&A Dinners with attendings, "Women Don't Ask" Book Discussion, HeForShe Reception, Stop the Bleed Training.
We are the Triangle chapter of CMDA, serving Central North Carolina and connecting with the entire state through ministry, fellowship, encouragement and relationships. Our chapter specifically has helped to organize Bible studies and approximately monthly dinners hosted by faculty members. The Christian Medical & Dental Associations® (CMDA) is made up of the Christian Medical Association (CMA) and the Christian Dental Association (CDA). CMDA provides resources, networking opportunities, education and a public voice for Christian healthcare professionals and students. Founded in 1931, CMDA provides programs and services supporting its mission to "change hearts in healthcare" with a current membership over 19,000. CMDA promotes positions and addresses policies on healthcare issues; conducts overseas medical evangelism projects; coordinates a network of Christian healthcare professionals for fellowship and professional growth; sponsors student ministries in medical and dental schools; distributes educational and inspirational resources; hosts marriage and family conferences; provides Third World missionary healthcare professionals with continuing education resources; and conducts academic exchange programs overseas. By being the "hands of Jesus" to needy people, CMDA seeks to fulfill His Great Commandment (Matthew 22:39; 25:36) and His Great Commission (Matthew 28:19).
Bridging language and cultural barriers, and welcoming all students to learn and apply medical Chinese, our organization (i) offers educational resources, such as lesson plans tailored to each year's cohort and guest speakers with relevant personal experiences and expertise, (ii) hosts cultural events to raise awareness among the broader Duke community, and (iii) runs an annual Health Fair in collaboration with DukeMed APAMSA and the local community.
The mission of Duke Med Interfaith is to provide a forum for inter-religious dialogue among members, as well as to promote mutual understanding of diverse faith traditions through social events, lecture series, and service in the Duke and Durham community. 
DukeMed Pride is the medical student LGBTQIA+ group. We aim to foster community and solidarity among LGBTQIA+ students, as well as to help make Duke Med a more inclusive, supportive environment.
Duke FGLIMed is a chapter of the National First-Generation and Low-Income in Medicine Association. We are committed to promoting visibility, well-being, and community among Duke medical students who are first-generation college graduates and/or from low-income (FGLI) backgrounds. A new organization founded in the 2020-21 school year, we aim to articulate the strengths, challenges, and intersectionality unique to FGLI medical students and participate in sustainable, creative solutions to maximize FGLI potential at Duke Med. We focus on creating social ties among FGLI students, breaking down the barrier of "assumed knowledge" in medicine, and participating in outreach to local FGLI students at the undergraduate and secondary school levels.
The Latino Medical Student Association is an organization founded to represent, support, educate, and unify US Latinx medical students. We hold volunteer events for our community, high school students, and Duke undergraduates. We collaborate with SNMA to interact with many different departments as well.
The Student National Medical Association (SNMA) is the nation's oldest and largest student organization focused on the needs and concerns of medical students of color. At Duke, SNMA is committed to increasing the pipeline of students of color that consider and prepare for medical and scientific careers in addition to giving back to communities of color in the Durham area. Advocacy and healthcare education are also central to SNMA's mission. Our community mentoring programs provide science appreciation and education, mentoring, and academic enrichment to elementary, junior high school, high school and college students interested in pursuing health-related careers to assure the pipeline to medicine is supported at all levels. Our SNMA chapter has several ongoing projects that reflect our mission such as: Health Professions Recruitment and Exposure Program (HPREP), Saturday health clinics in underserved neighborhoods, Annual Martin Luther King Banquet and Scholarship Informational sessions for first year medical students, Faculty and Student Joint Dinners, Annual National Conference.
Service, Advocacy, and Innovation Student Groups
Facilitated by Duke medical students, advised by faculty member Deborah Jenson, and assisted by Health Humanities Lab Manager, the group uses short excerpts of fiction, poetry, autobiography, podcasts, video, and images as prompts for sharing and writing about chronic health conditions. Students managing health conditions ranging from depression and anxiety, acne to ADD, endometriosis to diabetes and cancer, to IBS and chronic pain, to lupus and diabetes are warmly welcomed for supportive and creative dialogue on their journey to optimization both of their health and their education. As student facilitators we pick pieces, facilitate dialogue, and generate prompts for participants to write about regarding themselves and reflections on chronic health conditions.
Our group aims to provide opportunities for healthcare screening and resource education in non-clinical settings in the Durham community. Student activities would include going to local sites such as food banks where students will perform BMI, BG, HR, and BP screening. In addition, the program involves education on community based resources for members who will then disseminate these resources to community members.
The IHI Open School Duke University Chapter is a dynamic student organization that brings together graduate students from across disciplines to promote and support explorations in healthcare improvement. Our vision is to coordinate, connect, and inspire inter-professional students to learn about, engage in, and lead toward healthcare improvement across DUHS and beyond. We are dedicated to quality improvement and provide training modules and house the Quality Improvement Scholars Program. This program is a longitudinal QI project with a faculty member over the course of one year. We hold an end of year poster session for all students.
Duke University Medical Students invite Durham 3rd grade classes to participate in a one-hour educational program at the Duke University School of Medicine. Each school comes for two field trips throughout the year, focused on (1) the cardiovascular system and exercise, and (2) the gastrointestinal system and nutrition. Each field trip is an hour long starting at noon and ending at 1 pm on a Friday afternoon. It is typically comprised of a short, interactive Powerpoint lecture given by one of the medical students as the 3rd graders eat their lunches. Then we break up for the remainder of the time for small group activities led by medical student volunteers, such as learning to take pulses, use a stethoscope, or study real pig hearts! We work closely with our local elementary schools to make sure that our curriculum is age appropriate and correlates well with the elementary school learning objectives. Our goals are to nurture interest in the health sciences, teach healthy lifestyle habits, inspire students to pursue higher levels of education and to have fun!
The Duke Medical Mentorship Advisory Program (Duke MAP), provides medical students a way to help guide future physicians along their journey! We establish and encourage mentorship between the medical and undergraduate communities at Duke, as well as other medical campuses across the country. During the year we organize events including meet & greets, student/alumni panels, mock MMIs, and tours of the medical school campus. Above all we aim for simplicity and flexibility throughout the mentorship process.
Duke Med for Social Justice aims to promote social justice within the Durham and Duke communities through action, education, and dialogue. We are divided into three branches to achieve these goals. The Action Committee will organize against structural inequalities that harm the social, physical, and mental well-being of individuals. The Education Committee will educate ourselves, our classmates, and the larger Duke community on health disparities and social injustices. Finally, the Dialogue Committee will promote dialogue regarding these issues, as well as provide a platform to hold Duke accountable for creating an inclusive community for all. In past years, events have included voter registration drives, microaggression workshops, health equity research panels, documentary screenings, and more.
The Duke Navigators Project is a year-long program that aims to help health professional students gain experience working with seriously ill patients and become more comfortable with discussions about end-of-life care. The program involves PA, MD, and nursing students from Duke. We have monthly workshops occurring in the fall and spring covering various topics, including financial toxicity, spirituality, difficult conversations, and advance directives. Workshops will be interactive seminars led by leaders in their fields. Exact dates TBD, but all workshops will occur on Wednesday evenings from 6-8 pm. In addition to workshops, students will be paired with an oncologist/palliative care mentor and shadow them in clinic to see firsthand how they approach these topics with their patients. Mentors will then help students find a patient to follow and meet with regularly during their appointments for the rest of the year. The goal of these meetings is to utilize the information learned during the workshops and to gain experience with having conversations centered on challenging topics related to goals of care and end-of-life care, hopefully increasing students' comfort with initiating and navigating these interactions. Students will communicate the valuable information they gather from patients back to their provider mentor. Additionally, students are paired with a student leader who will introduce them to their mentor and help troubleshoot any logistical challenges.
The Fremont People's Free Health Clinic is Duke's only student-run free clinic and has provided health care to the rural town of Fremont, NC, since the 1980s. Every third Saturday of the month, volunteer Fremont community members, Duke medical students, and a Duke faculty preceptor travel to the clinic to provide patients with free consultations, physicals, vaccinations, basic labs, and referrals to local resources. First-years also participate in monthly class where upper level students teach motivational interviewing, social determinants of health, and chronic disease management. First-years will become trained to act as health coaches and will follow 1-2 patients longitudinally over the course of the year to help them address personalized health goals. We also hold an annual Health Fair in Fremont in the fall, where we do BP screening, BMI calculations, and health education. Other community outreach events in Fremont occur throughout the year.
Hand2Hold is a student-run group with the goal of creating 3D-printed prosthetic hands for individuals with amputations. We are currently working with multiple engineering groups on campus to optimize custom designs for several individuals. We also run educational workshops about medical engineering, hand anatomy, and 3D printing for middle schoolers in the Duke BOOST program.
HealthLit participates in community-wide literacy events, reads to pediatric patients in medical care settings, and generates new graphic medicine resources for children and their families.
The Health Literacy Initiative (HLI) is an interprofessional service program that hopes to strengthen the health literacy of Durham Public School 5th-8th graders through teaching sessions on a variety of topics (e.g., nutrition, mental health, and substance use), health-oriented field trips, and a capstone Health Fair. Duke Med students, in addition to students from NCCU and other Duke Health programs, help edit the HLI curriculum in the fall before facilitating the program in the spring.
HEY (Health Education for Youth in) Durham provides science-based health education for high school students at Durham School for the Arts. Pairs of medical students teach a student-built curriculum in a health classroom during the spring semester (approximately 12 1-hour sessions). The curriculum focuses on a broad range of health & well-being topics, such as reproductive anatomy, STIs, drugs, discrimination, sexual & gender identity, and relevant current events (e.g., MeToo, Juuls).
Medical Students for Choice is the Duke chapter in part of a national organization that works to de-stigmatize abortion provision among medical students and residents, and to persuade medical schools and residency programs to include abortion as a part of the reproductive health services curriculum. Some activities we have done this year is a panel on the state of reproductive rights in North Carolina as well as hands-on contraception and MVA workshop
Our mission is to increase outreach to, advocacy for, and education about people with intellectual and physical disabilities to foster inclusion of all community members, provide equitable care to all our patients, and ultimately to improve the quality of life of people with disabilities.
Music and Memory is a student-run organization that provides personalized music therapy to memory-impaired adults at Eno Pointe Assisted Living Center, improving well-being and enhancing quality of life. With feedback from the participants, staff, and families, we create titrated personalized music tracks downloaded onto iPods to connect patients with memories triggered by music cues. Volunteers and staff ensure patients have access to their playlists most days of the week.
Project FEED (Food Empowerment and Education Delivery) gives an opportunity for medical students to partner with nutrition interns at North Carolina Central University in delivering food to patients experiencing food insecurity and chronic illness. Students will provide in-home nutrition education and empower patients to maintain healthy behaviors.
Our group seeks to connect students in health care professions with a refugee family through the CWS resettlement agency, in order to allow students to help refugees navigate the logistics of our healthcare system. This is helpful for students as it gives them first hand experience in patient education and barriers to healthcare access. We partnered medical students, PA students, and global health students with 15 different refugee families from around the world last year.
The Root Causes student group brings healthcare students into service, advocacy, and education to improve the health of Duke patients and the wider Durham community by engaging with the social drivers of health. Root Causes has focused on several different fronts to engage health professional students in learning about and improving local food systems, with projects such as: 1.The Fresh Produce Program – a bimonthly, student-run, clinic-based free fresh produce distribution and education program for food-insecure patients; with partnerships for home delivery for patients with chronic illnesses 2.The Change Center Community Garden – a 3-year partnership with a local garden in Durham's West End neighborhood growing food for a local community 3. Food Education – events each year to educate students about issues such as nutrition and antibiotic use in food 4.Legislative Advocacy – engaging with lawmakers in Raleigh to advocate for bills to improve access to healthy foods in corner stores 5.The Duke Healthy Campus Initiative – working with Davison Council and school administrators to provide healthier food choices for our students, such as bringing a rooftop garden to TSCHE and fruits as a healthy snack option With plans to expand our focus on housing, early childhood development, and other social drivers of health, Root Cause is looking for more opportunities to get students involved, from 1 time volunteering to leading projects that we help you incubate and bring to fruition!
Our mission is to empower Latinx youth to be catalysts for progressive change on a personal and communal level through the critical exploration of health and its social determinants.
SNaHP is a student group open to all graduate students and healthcare trainees at Duke that advocates for a universal, comprehensive single-payer national health program and justice and equity in the healthcare system. We also maintain relationships with and receive mentorship from Physicians for a National Healthcare Plan (PNHP) and other community organizations advocating for a single-payer national health program. In the 2018-2019 school year, we held monthly discussion groups (SNaHPchats), brought speakers to campus, and advocated for Medicaid expansion at the state assembly, both by mail and in person.
Surgical Oncology Ambassadors Redefining Recovery (SOARR) is a medical-student run initiative to improve surgical oncology outcomes within the population of lower socioeconomic patients who have Medicaid, Duke Charity Care, or are uninsured. Patients will be identified by patient navigators, then partnered with a pair of first and third year Duke medical students. These medical students will serve as ambassadors to the patients throughout their surgical care, with the goal of providing additional support to the patients and their families as they navigate this challenging time in their lives.
Student Government and Recruitment Groups
Davison Council is Duke Med's self-run student government. Davison Council is made up of representatives from each class, as well as an executive committee made up of the president, chief of staff, treasurer, vice president of community engagement, vice president of service, and vice president of student activities. All of those positions are filled by students who are nominated and elected by their peers. All are welcome at monthly Davison Council General Body Meeting's to discuss ongoing matters relevant to the Duke Med student body!
Duke Med Ambassadors work closely with Duke Med admissions and conduct tours for prospective students on interview day.