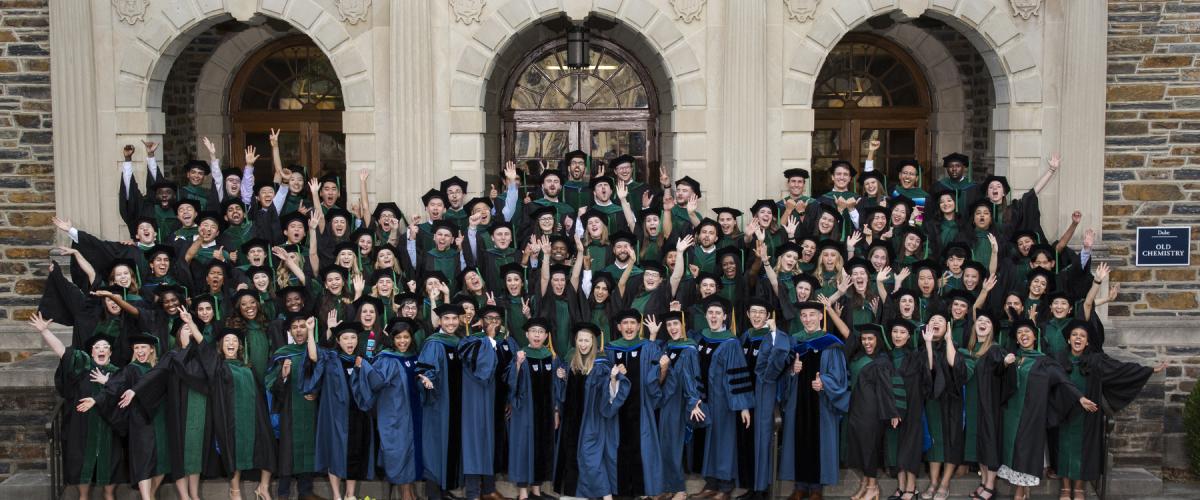 Each May, medical students earn their Doctor of Medicine (M.D.) degrees and recite the Hippocratic Oath, which binds physicians to lifelong careers treating patients.
2023 Graduation and Hippocratic Oath Ceremony Week 
Thursday, May 11th at 12pm
Celebration Luncheon 
TSCHE 4th Floor Living Room
OSA will host this luncheon for seniors to gather and reminiscence with classmates and Advisory Deans. This will also be an opportunity to receive a gift from the Medical Alumni Association and obtain a yearbook. 
Friday, May 12th at 7pm
Hippocratic Oath Ceremony
Duke Chapel
This is when seniors will obtain their Doctor of Medicine (M.D.) degrees and recite the Hippocratic Oath as they formally enter the medical profession as physicians. Duke's Hippocratic Oath Ceremony includes reciting the Hippocratic Oath and receiving your diploma. This is the main event! 
Doors will open at 6:30pm for guests, and seating is first come first serve
There is no guest limit for the ceremony, but only four guests are permitted into the reception site.
GRADUATING STUDENTS must be at the old Chem building no later than 6:30pm for the class photo
After the photo, OSA staff will line students up outside of the Chapel for the procession.
The ceremony typically lasts around 2 hours
The reception will immediately follow in Penn Pavilion
Parking is located in the Bryan Center Parking Garage located on Science Dr. 

 
Saturday, May 13th
No formal events
Sunday, May 14th
Duke Commencement Ceremony
Wallace Wade Stadium
Duke holds one university-wide commencement ceremony to celebrate the three graduating classes of that academic year (September 2022, December 2022, and May 2023).  Graduates from all ten Duke schools are invited to attend. Although most graduating medical students historically do not attend this ceremony, it is for you, and you are welcome to participate! 
When should family arrive?
Family can get reservations at area hotels, motels, bed & breakfasts. Book early! The earliest your family has to be here is mid-afternoon Friday.
What name will they put on my diploma?
The Registrar's Office will be asking you to provide your name to the UNIVERSITY MARSHAL's office that prints your diploma. The name appears exactly as the student enters it when applying for graduation on-line. Students should make sure that if they have a middle initial and wish for a period to be after the middle initial, they enter that punctuation during the application for graduation process.
Where do I get my cap, gown & hood?
For the Hippocratic Oath Ceremony, Diploma Ceremony, and University graduation--caps, gowns and hoods are rented through the Bryan Center Bookstore.  You will get information mailed to you by the University (there is a fee to rent apparel). The caps, gowns and hoods are to be picked up by you and returned immediately after Sunday's reception. (You can keep your tassels.) Go to the following link for general information:  https://commencement.duke.edu/commencement-information/apparel/.
Where do I get my Announcements and Invitations?
Graduation announcements and invitations may be purchased at the Bryan Center or Medical Center Bookstore. Hippocratic Oath and School of Medicine Diploma Ceremony invitations are provided by the Student Affairs office and will be available on Match Day.
Where are you going for your residency?
Please let us know where you matched, so that we can include this information in the Hippocratic Oath Program. The Medical Alumni Office will want this information as well, so that they can keep you informed about future events for your class.
Students:  Keep in touch!  READ your emails!  More information will follow soon.  If you have questions, please contact Student Affairs – medOSA@duke.edu or call (919) 668-1670.