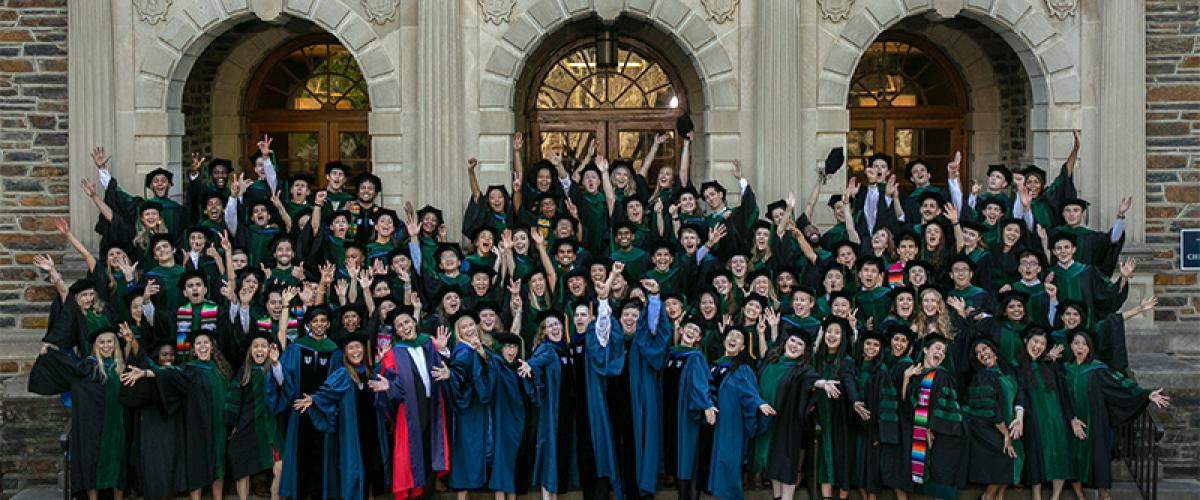 Each May, medical students earn their Doctor of Medicine (M.D.) degrees and recite the Hippocratic Oath, which binds physicians to lifelong careers treating patients.
---
2023 Ceremony & Reception
Friday, May 12th at 7pm
Duke Chapel
Doors will open at 6:30pm. 
The reception will immediately follow the ceremony. More information will be provided closer to the event. 
When should family arrive?
Family can get reservations at area hotels, motels, bed & breakfasts. Book early! The earliest your family has to be here is mid-afternoon Friday.
What name will they put on my diploma?
The Registrar's Office will be asking you to provide your name to the UNIVERSITY MARSHAL's office that prints your diploma. The name appears exactly as the student enters it when applying for graduation on-line. Students should make sure that if they have a middle initial and wish for a period to be after the middle initial, they enter that punctuation during the application for graduation process.
Where do I get my cap, gown & hood?
For the Hippocratic Oath Ceremony, Diploma Ceremony, and University graduation--caps, gowns and hoods are rented through the Bryan Center Bookstore.  You will get information mailed to you by the University (there is a fee to rent apparel). The caps, gowns and hoods are to be picked up by you and returned immediately after Sunday's reception. (You can keep your tassels.) Go to the following link for general information:  https://commencement.duke.edu/commencement-information/apparel/
Where do I get my Announcements and Invitations?
Graduation announcements and invitations may be purchased at the Bryan Center or Medical Center Bookstore. Hippocratic Oath and School of Medicine Diploma Ceremony invitations are provided by the Student Affairs office and will be available on Match Day.
Where are you going for your residency?
Please let us know where you matched, so that we can include this information in the Hippocratic Oath Program. The Medical Alumni Office will want this information as well, so that they can keep you informed about future events for your class.
Students:  Keep in touch!  READ your emails!  More information will follow soon.  If you have questions, please contact Student Affairs – Medstudaff@dm.duke.edu  or call (919) 668-1670.