The Leadership Education and Development (LEAD) Curriculum was developed as an integrated curriculum for all Duke medical students that spans the four years of Doctor of Medicine (M.D.) education, teaching emotional intelligence, integrity, teamwork, selfless service, and critical thinking.
The first two years (Foundations and Experiential) of the LEAD program includes lectures, workshops, clinical skills foundations, team-based learning (TBL) activities, and the Cultural Determinants and Healthcare Disparities (CDHD) curriculum. The third and fourth years (Electives and Capstone) provide students with opportunities to practice newly acquired skills through a variety of active leadership roles, to include being a student facilitator for the LEAD program. 
Course Director
Dean Taylor, MD 
Associate Course Director
Cecily Peterson, MD and Joe Doty, PhD
Assistant Course Directors
Tony Fuller, MD; Adia Ross, MD; Fatima Syed, MD; Chan Park, MD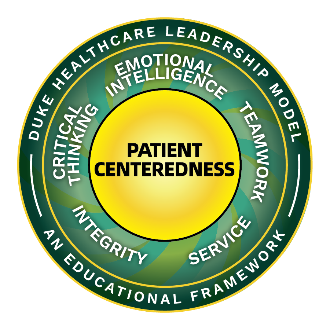 The leadership competencies from the Duke Healthcare Leadership Model and Educational Framework are the foundation for the LEAD Program and provides a framework for interpersonal and team leadership skill development. 
Patient Centered

 – Acting with focus on the values and goals of patients. 

Emotional Intelligence

 – The ability to recognize and understand thinking and emotions in yourself and others; and to use this awareness to effectively manage your behavior and relationships. 

Developing Self

-Awareness: being aware of one's own values, principles, and assumptions and how they interplay within the team dynamic.

Cultivating Personal Resilience

: ability to cope with and contextualize demanding situations.

Maintaining Personal Balance

: prioritizing activities to maintain mental and physical health as well as cultivate a positive outlook.

Cultural Humility

: the ability to maintain an interpersonal stance that is other-oriented in relation to aspects of cultural identity that are most important to the person.

Critical Thinking

 – Using all available sources of knowledge to create appropriate and effective solutions while being aware of internal and external biases. 

Teamwork

 – Collaborating and maximizing one's role to enhance team performance and cohesion. 

Integrity

 – Being honest and acting in accordance with strong moral principles in one's personal and professional life. 

Service

 – Prioritizing others' needs over individual wants and desires, while maintaining personal and professional balance. 

Advocating for patients at all levels of the healthcare system

.

A purposeful commitment to patients' health needs with learned knowledge, compassion, and benevolence

.
"The Patient" Sessions. This is a StoryCorps style discussion between a physician and a patient/family in front of the students with time for interaction with the pair after discussion.  These sessions bring to life the fact that every patient has a unique story – no two patients are exactly the same.  As such, the need for such competencies as Emotional Intelligence (which includes empathy and communications skills), Critical Thinking and Teamwork are highlighted in these sessions.

Introduction to LEAD and Team Based Learning (TBL).  These sessions introduce the LEAD Program, the Duke Healthcare Leadership Model, and the Team Based Learning process.

 
Facilitated sessions for a small group of health professional students from the MD, PA, DPT, ABSN programs in a Determinants of Health exercise in conjunction with the Health Disparities Curriculum (CDHD).  These sessions highlight the Inter-Professional nature of patient care and how patient care really is a 'team sport' (Teamwork). 


  

Gross Anatomy Team Charters – Didactic and small group discussions that focus on the how/what/why of Team Charters as a necessary part of successful patient care teams.  Competencies include Teamwork, Emotional Intelligence, and Selfless Service, and Patient Centered.

  
Gross Anatomy Peer Assessment Introduction. Didactic session on the how and why of peer evaluations (Teamwork, Emotional Intelligence, Integrity, Selfless Service).

  
  

Gross Anatomy facilitated feedback sessions.

These student

led sessions provide the TBL teams with specific and actionable feedback on team communication and performance.   

 
  

Brain and Behavior.  More TBL sessions with facilitated feedback. 

   
Body and Disease.  More TBL session with facilitated feedback.

 
Importantly, we have been intentional in not making the leadership development curriculum a 'stand-alone' experience for our students because each of the patient-centered skills/competencies we teach (emotional intelligence, integrity, teamwork, selfless service, critical thinking) are best understood in the context of experiential learning as seen in a clinical/hospital setting. 
Examples of Electives as part of the Pathway to Leadership Certification
 SIX-L – Students Invested in

eXploring

Leadership

– this is a

6 session

series diving into leadership through the Duke Healthcare Leadership Model.  They coincide with the 4th year Capstone course.  The student leaders from Capstone lead discussion groups with students from the each of the four years. These sessions have a short pre-read (maybe 30 minutes) and then start with a large group "media" selection and then the bulk of the session is small group discussion. They are provided a recommended "deep dive" reading list as well as a pre or post read for the sessions.  The specific topics are from the Duke Healthcare Leadership Model – Patient Centered, Emotional Intelligence, Critical Thinking, Teamwork, Selfless Service, and Integrity.   
Feagin Leadership Program

– this is a

nine month

developmental experience for selected 3/4th year students and residents.  The program includes 5 didactic sessions, an educational/team-building trip, team projects, executive coaching, and the Annual Feagin Leadership Forum (

www.feaginleadership.org

).

 
Of note, the Clinical Skills Foundations (CSF) Course (mentioned above) is a required, three-year longitudinal curriculum, which introduces Duke medical students to the core aspects of doctoring and provides students with the opportunities to expand their interpersonal and leadership skill development based on the Duke Healthcare Leadership Model: 
Doctor-patient communication (Emotional Intelligence) 
Basic and advanced clinical communication skills (Emotional Intelligence, Teamwork) 
Effective small group dynamics (Emotional Intelligence, Teamwork, Selfless Service) 
Expand self-learning skills (Emotional Intelligence) 

Physical examination skills