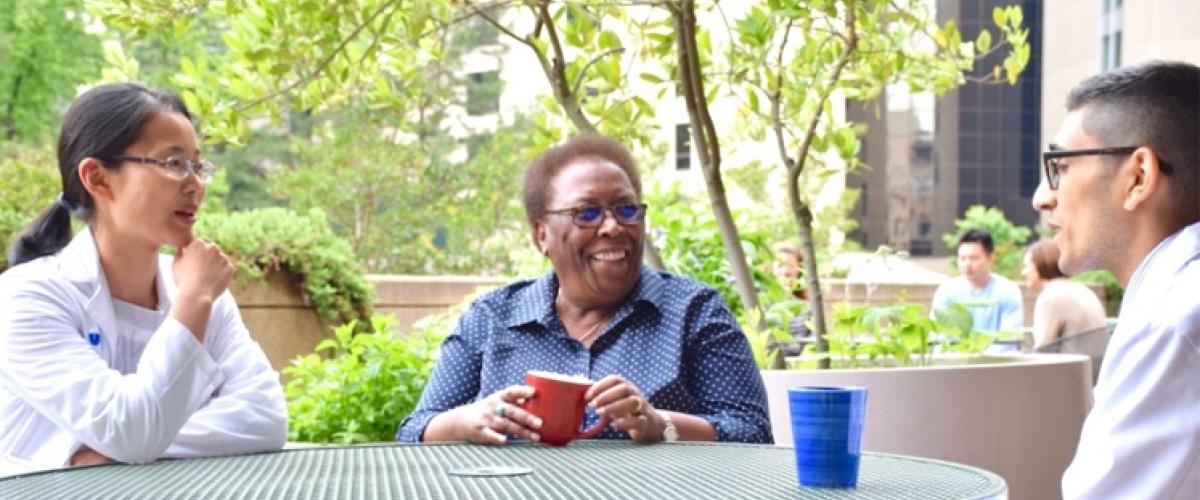 Students Visiting Patients With Chronic Illness
The Community Partners Program helps Duke University medical students understand how people and their families deal with chronic illness. It allows students to:
Understand how people live with chronic illness
Understand the challenges people may have with the health care system​
Frequently Asked Questions by Community Partners
Community Partners will meet with their group of 2-3 students 3 times with meetings scheduled at your convenience:
Fall – first visit

Winter – Jan. – Feb.

Spring – before mid-May
Visits will take place at a place you choose—and one that will allow for a private talk.  Virtual meetings are acceptable. Please note all medical students are required to be vaccinated against COVID-19.
Yes, your information is strictly private. Students will treat your information as confidentially as your physician does.
Talk with your group of students for approximately an hour on 3 separate occasions. We value your participation in this program, however, we under­stand circumstances change. You may stop participating in this program at any time. Please contact us if you no longer wish to be a part of the program.
Students will have a task for each visit such as:
Ask you to describe your health issues and concerns

Talk about how your health affects your life such as daily activities, services that you use to make your life better, and other topics about your illness you want to discuss
Your medical student group will not provide medical care or advice.
STEP 1: Please apply online at:
http://tinyurl.com/dukecommunitypartner
STEP 2: A Duke medical student will contact you to set up your first visit in the fall.
STEP 3: Sign the Partner Consent Form that the students bring to your first visit.
Questions?
Contact Course Director: Nancy Weigle, M.D.
nancy.weigle@duke.edu