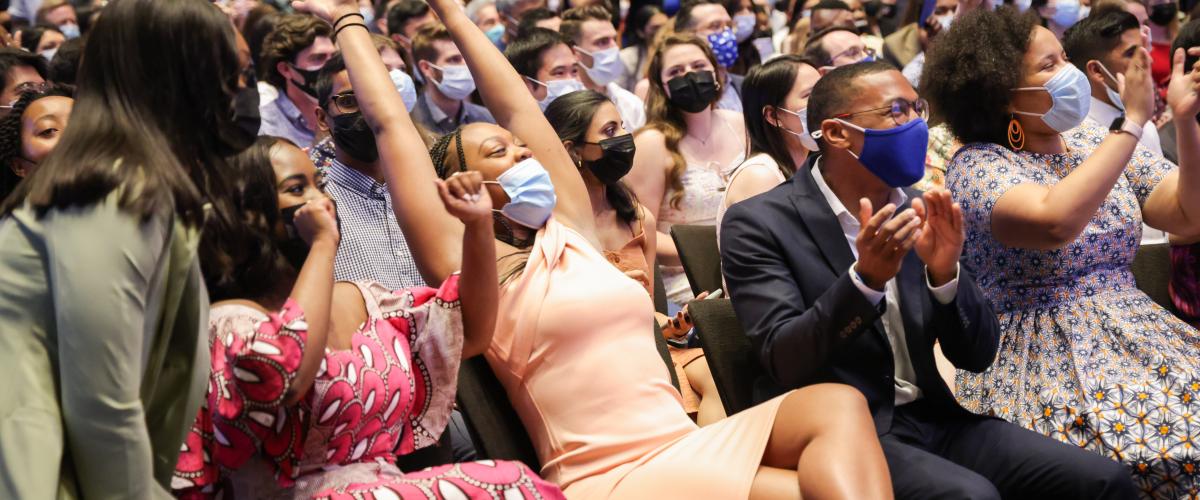 Each year, fourth-year medical students across the country view the third week of March as the start of their future. Match Day is a unified event organized by the National Resident Match Program, when fourth-year students learn where they will train for residency.
---
Match Day 2023
Friday, March 17
Great Hall in Trent Semans Center
Students are currently allowed ONE guest for the Match Day Celebration. Please stay tuned for more details and information. 
---
2022 Match Results
|   |    |
| --- | --- |
| 2 | Anesthesiology |
| 4 | Dermatology  |
| 8 | Emergency Medicine  |
| 3 | Family Medicine  |
| 26 | Internal Medicine |
| 2 | Internal Medicine-Psychiatry  |
| 4 | Internal Medicine-Pediatrics |
| 3 | Neurology |
| 1 | Neurology, Child |
| 4 | Neurosurgery  |
| 11 | Obstetrics/Gynecology |
| 4 | Ophthalmology |
| 6 | Orthopaedic Surgery |
| 4 | Otolaryngology |
| 1 | Pathology |
| 5 | Pediatrics |
| 2 | Physical Medicine and Rehabilitation |
| 3 | Plastic Surgery |
| 6 | Psychiatry |
| 0 | Radiology |
| 2 | Radiology, Interventional |
| 2 | Radiation Oncology |
| 9 | Surgery |
| 1 | Thoracic Surgery |
| 2 | Urology |
Most Matched Fields
|   |   |
| --- | --- |
| 26 | Internal Medicine |
| 11 | Obstetrics/Gynecology |
| 10 | General Surgery |
| 8 | Emergency Medicine |
| 6 | Orthopaedics |
| 6 | Psychiatry |
Most Matched Geographical Locations
|   |   |
| --- | --- |
| 30 | North Carolina |
| 13 | Massachusetts |
| 16 | California |
| 9 | New York |
| 9 | Illinois  |
Most Frequently Matched Institutions
|   |   |
| --- | --- |
| 28 | Duke |
| 11 | Harvard  |
| 6 | Stanford  |
| 6 | Northwestern  |
---
Past Match Results
---
Videos From Past Match Days