The mission of the Doctor of Medicine (M.D.) program is to prepare a diverse student body to pursue a spectrum of medical career options in order to become physician leaders who can advance biomedical research and improve local, national, and global health.
Promote the health of communities, self, and each other  

Display outstanding communication skills 

Practice professionalism through compassion, respect, and integrity  

Function effectively as a member of interprofessional teams 
Contribute to a culture of patient centeredness, safety and systems improvement 

Understand the impact of culture, society, environment and bias on health outcomes 

Integrate history, physical exam, lab tests, and diagnostic imaging into clinical decisions 

Use value-based principles and risk benefit analyses in patient care 

Develop skills for creativity, scientific inquiry, investigation, scholarship, and lifelong learning 
Engage in scientific investigation that transforms medical knowledge and clinical care 

Locate, appraise, and apply scientific evidence to patients' health problems 

Use data science and technologies to improve patient outcomes 

Participate in the education and training of future generations of physicians 

Practice leadership skills to enact meaningful change in health care systems and delivery
Early in 2015, the School of Medicine adopted the Physician Competency Reference Set (PCRS) as the MD program's Educational Program Objectives. They are the core expectations that each student is expected to meet during their medical training at Duke.
The School of Medicine's programmatic policies are essential for student success.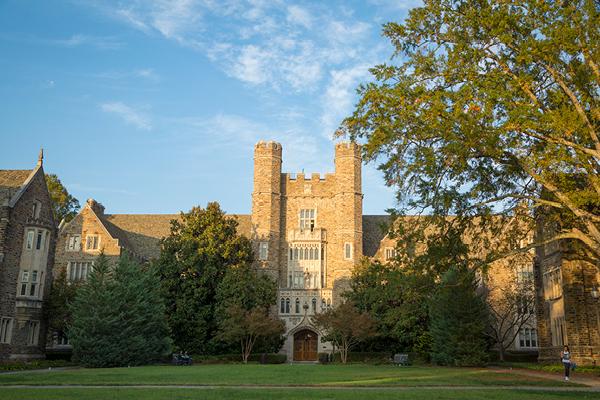 A History of Tradition and Innovation
Fifty years ago, medical education leaders at Duke began a bold experiment to increase the opportunities for medical students to tailor their education to serve their personal interests and career goals. The "elective" curriculum of 1966, while retaining considerable freedom of choice, has been reshaped over the years into one that strives to involve the student in the pursuit of the knowledge on which clinical decisions are based. In keeping with past traditions, the current Duke Curriculum Innovation Initiative (CII) aims to build on our history of success and develop a curriculum that is bold, meaningful, and progressive to prepare outstanding physician leaders to be successful in the changing healthcare landscape of the future.
Preparing the Next Thought Leaders in Medicine, Research, and Clinical Care