In 2021, the Rauch Family Foundation, established by the late Dudley Rauch, AB'63, gave $30 million to establish, the Dudley A. Rauch Medical Student Scholarship, an endowment for need-based financial aid for medical students in the Duke University School of Medicine.
During his lifetime, Dudley Rauch built strong relationships with many of the students who benefitted from his scholarship support. The School of Medicine created this video in hopes that future students would learn about the person behind their scholarship and understand his motivations for giving.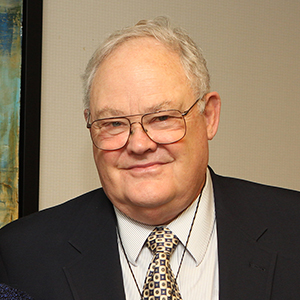 Dudley Rauch earned his undergraduate degree in mathematics at Duke in 1963 and then received an MBA at Harvard Business School. His father, Henry E. Rauch, was chairman of Burlington Industries and served on the Duke University Board of Trustees from 1964 to 1974. As vice chairman of the board, Henry Rauch worked closely with William G. Anlyan, then the dean of the School of Medicine, and played a key role in the major expansion of Duke Medical Center in the 1970s and early '80s. 
Dudley's career included working at Olga Company in Los Angeles, California, and then the Teledyne Corporation, where he held several positions in California and Alabama before transferring to Upland as president of the airplane battery division. In 1980, Dudley and his friend Samuel Salen, MD, started a company, Mobile Medical Imaging, which sent imaging equipment mounted on trucks to smaller hospitals. As president, Dudley guided the company through a successful listing on the Nasdaq Stock Exchange under a new name, Innoserv Technologies Inc. Innoserv became the country's largest servicer of imaging equipment before being sold to General Electric in 1998. Dudley then turned to a life as a private investor, philanthropist, and board member of several institutions.  
Dudley Rauch served on the Duke alumni admissions advisory committee for 15 years and, through his family foundation, provided philanthropic support to Trinity College of Arts & Sciences and several medical research areas at Duke, including rheumatology, cancer and arthritis.