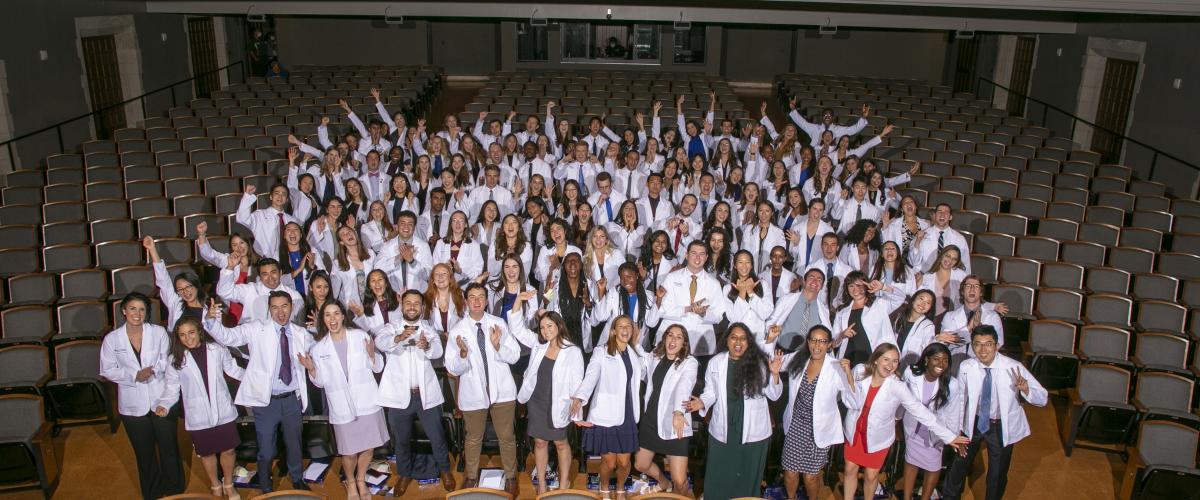 The White Coat Ceremony is a symbol of entry into the profession of medicine, and is a very important defining moment for first year medical students.
More important than the day students graduate, the day that they begin medical school marks the start of their responsibilities as a health care professional. Students accept the obligation to demonstrate respect, become a teacher, and embody humanism. The White Coat Ceremony symbolizes the first step into being a professional, rather than a step toward becoming a professional.
Oaths
As they are welcomed into the Duke community of medical professionals, students are urged to reflect upon and look forward to proclaiming the commitment to medicine and write oaths as an exercise to build camaraderie within their learning community. The oaths are read aloud at the White Coat Ceremony.
I swear by all that I hold sacred, that I will champion the values of care, collaboration, curiosity, character, and commitment while practicing the Art of Medicine.
CARE
I vow that I will be loyal to the profession of medicine and just and generous to all of its members. I will respect and show compassion to my patients and community, without judgment. I promise to be conscious of the social context in which I live, to give my patients a voice, and to be their advocate. I will care for myself in order to care for others. I will uphold my boundaries and seek help when needed.
COLLABORATION
With humility, I will collaborate with the members of the health professions community and recognize each member's valuable contributions to patient care, acknowledging my personal and professional limitations, and room for growth. I will embrace my role not only as a learner, but also as a teacher.
CURIOSITY
I will strive to bring patients hope and better lives through the continual advancement of science through research, born from an enduring love for learning. I will treat each of my patients as individuals with unique and valuable stories, in my mission to tailor my care to their goals.
CHARACTER
Into whomever's life I shall be invited, I will act to the best of my ability and judgment for the good of the sick and the well. I will exercise my Art solely for the benefit of my patients and community, remaining firm in my values and refusing to be unduly influenced or to expose myself to the perception of corruption. I will unconditionally listen to my patients and respect what they define as their own best interests. I will work to hold others and myself accountable to these values and goals.
COMMITMENT
Whatever I see or hear of the lives of my patients which ought not to be divulged, I will keep confidential and tell no one. That I may keep this oath and promise to the best of my ability and judgment to uphold these values in times of ease and challenge.
I take this oath with the resolve to maintain the same degree of commitment and enthusiasm that I have today for the rest of my professional journey.
We solemnly swear by what we hold most sacred, that we will be loyal to the profession of medicine and uphold the following values.
To our patients, we pledge to serve. We will provide equitable care with respect for individual experiences and beliefs. We promise to recognize the limitations of medicine and pursue innovation according to the needs of our patients. We strive to hold ourselves and our teams to the most rigorous moral and ethical standards. 
We will empower our patients to make informed decisions regarding their health and well-being, while preserving their autonomy and privacy. We will remain humbled by the invitation into vulnerable spaces, and promise to lead with humanity as we learn from those for whom we care. 
To our peers and mentors, we pledge to grow. We will cherish the lessons we learn from and with you. We will ensure our relationships are grounded in humility and trust. We pledge to uplift each other. Together, we will work to better the lives of our patients and the communities in which they reside. 
To our communities, we pledge to listen. We will pursue justice through advocacy and service, both for individuals and society. We will work to be leaders in the community, and share our knowledge to advance the safety, equity, and well-being of all. 
To ourselves, we pledge grace. We will look after our well-being, in order to provide the best possible care to our patients. As lifelong learners, we promise to be compassionate to ourselves as we embark on this journey. We will be patient with ourselves as we take on challenges unlike those we have faced before. 
To our support systems, we are thankful. We could not – and cannot – do this alone. We will honor where we came from and those who helped us reach this position. All that we are and all we wish to become is because of you, and for that, we are forever grateful. 
To the lives that we touch and the lives that touch our own, we pledge to uphold this oath throughout our personal and professional journeys.
I humbly commit to uphold the responsibilities of the medical profession.
I pledge to compassionately care for each patient as a whole person and to uphold patient autonomy in every interaction. In commitment to their wellbeing, I will empower patients to actively engage in their own health and that of their community.
I vow to treat all patients regardless of their identities and backgrounds while respecting the value of their differences. I will strive continuously to recognize my own bias and seek out opportunities to gain perspective. I pledge to advocate for the advancement of health equity with my patients, the community, and the profession while uplifting those who are vulnerable.
I commit to lifelong scholarship, collaboration, and leadership. I promise to educate and learn from my patients, colleagues, and community, amplifying their voices and combating misinformation. I will recognize the limits of my own knowledge and exercise humility to provide the best possible care to my patients.
I seek to constantly engage my best judgment and vow to do no harm. I will remain conscious of my privilege as a physician, and pledge to positively represent myself and my profession.
I promise to hold myself and my fellow physicians accountable to the virtues and duties demanded by the medical field.
Therefore, I devote myself to always recognizing the dignity of my patients and appreciating the gravity of my new vocation. As a steward of medicine, I wholeheartedly commit to the service of healing.
I do solemnly swear that I will uphold the following principles as I embark on the journey of medical training.
I will honor my loved ones, my mentors, and my predecessors, who have shaped me, my values, and my path. Without them I would not be here, and to them I owe my perpetual gratitude.
I will stay true to myself and my unique background. Despite the challenges to come, I will remain resolute in my worthiness.
As I begin this journey of lifelong learning…
I will honor the privilege of serving the communities of Duke, Durham, and beyond, and I promise to apply these experiences in the relentless pursuit of equity. 
I acknowledge that I must care for myself and my classmates. I will foster a collaborative environment and will treat my colleagues across the health professions as teammates.
I will uphold the sanctity of the patient-provider relationship, holding in confidence all matters with which I have been entrusted.
I will regard myself as an equal to the patient, never above or below, recognizing the common humanity that joins us together.
As I reflect on the past and look towards the future, I commit to using my training to improve the health of my communities, both local and global. 
I will recognize the role of structural inequity and personal bias in creating health disparities. I commit to addressing these issues and leaving the field better and more equitable than I found it.
I will recognize my strengths and my limitations, seeking to become better tomorrow than I am today. 
We hold one another to these principles.
We swear by all we hold sacred, special, and good to hold ourselves to the highest standards of this profession. We will honor the work of those before us while improving the field for those who will follow.-
We will conduct ourselves with empathy, humility, and grace. We will center our patients in our medical practice and recognize their inherent dignity and autonomy. We will refuse to view patients solely as their diseases, but rather as multi-dimensional individuals.  -
We will respect the privacy and the privilege of being invited into vulnerable moments of patients' lives. We will act in the best interest of our patients, accepting their various identities, both seen and unseen.-
In our rapidly changing world, we will advance scientific discovery and help society navigate its findings. We will use our privilege to advocate for and partner with patients and communities, actively working to dismantle systemic oppression. We will strive to create a world where all individuals have access to equitable health care. -
We will care for ourselves so that we are best fit to serve our patients. We will commit to lifelong learning, acknowledge our failures with genuine introspection, and have the courage to ask for help. We will uphold the value of teamwork in the mission of exemplary patient care. -
We will work passionately toward the ultimate goal of promoting health, happiness, and longevity for all.