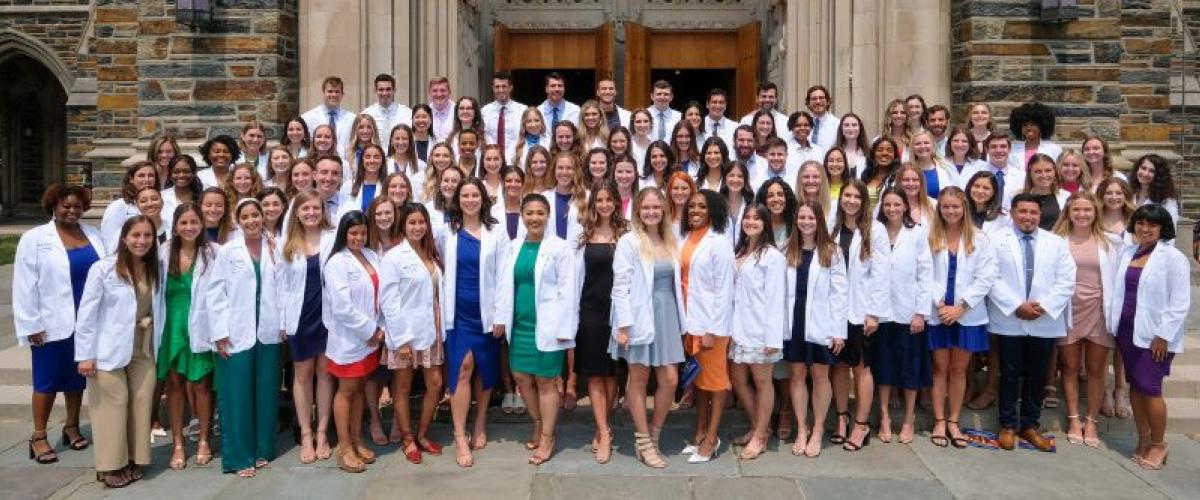 Through excellence in teaching, evidence-based clinical practice, and cutting-edge research, the Doctor of Physical Therapy (DPT) program at Duke is committed to producing the next generation of leaders in the field of physical therapy. 
Housed within the Duke Department of Orthopaedic Surgery, we are consistently rated among the best training programs in the nation, most recently ranked No. 7 in the country by U.S. News & World Report.
Each year, 200+ students work with faculty, clinical educators, and staff who are actively engaged in exploring clinically relevant research to promote the health of patients and populations. The Doctor of Physical Therapy Program at Duke University has an average graduation rate of 100% for the past 3 years (2018-2020), including both voluntary withdrawals and academic withdrawals. Our students have a 100-percent ultimate pass rate (2017-2020) on the national licensing examination for physical therapists, and the employment rate for our recent graduates is 100 percent (2018-2020).
Our program highlights include:
Innovative curriculum: Duke's three-year Doctor of Physical Therapy curriculum includes Team-Based Learning (TBL) and our Student Team Experience in Practice (STEPs ®) program, in which students go to local clinical sites to work directly with patients and clinical instructors.

Faculty expertise: Our faculty is active in research, pioneering new approaches to physical therapy. Duke DPT students work closely with faculty members on research projects, perfecting clinical skills, and pursuing their professional goals.

Clinical internships: Students get real-world, hands-on experience working in select clinical locations throughout the U.S.

Global perspective: The Duke DPT program is committed to offering global health experiences so that students can establish relationships and develop creative practice models in the field.