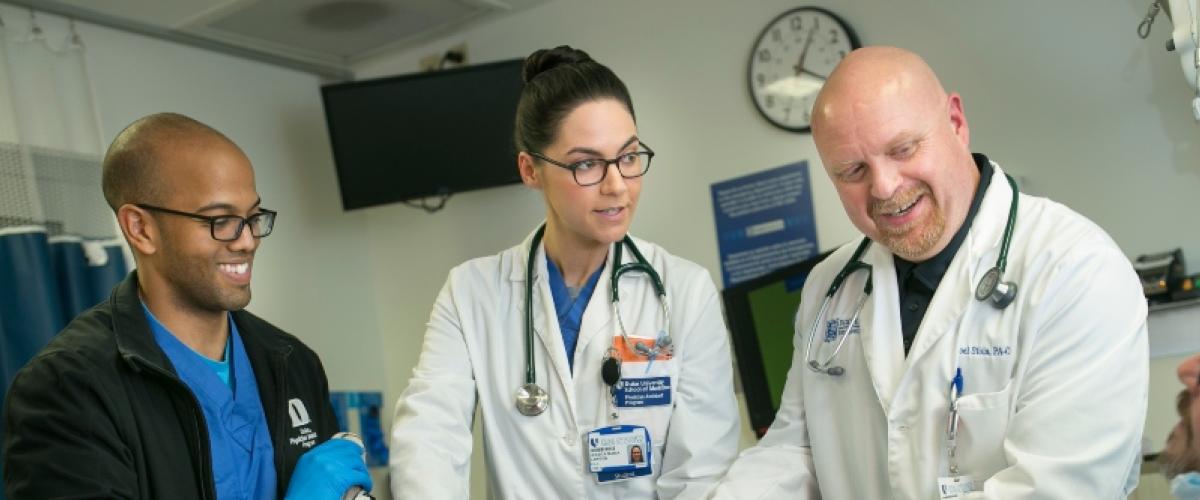 During the second year of the PA program, students complete 10 rotations. These clinical experiences are composed of eight required and two elective rotations, and a senior seminar capstone course that runs longitudinally. All students are required to complete at least one of these rotations in a medically underserved area. Reliable transportation is necessary for clinical year students. Clinical year students will return to campus throughout the second year to participate in Call Back days and evaluation exercises as part of the Senior Seminar course. Students will complete 51 course credits for the clinical year. Successful completion of the clinical year includes demonstrating achievement of all clinical year benchmarks, course requirements, learning outcomes, and program summative assessments. Successful demonstration of all clinical year course elements and competencies, as well as successful completion of program summative assessments.

Clinical Year Schedule
Duke PA program has over 200 clinical sites located in the state of North Carolina, with limited out-of-state opportunities. Faculty clinical coordinators match each student with a schedule that best meets each student's learning needs and elicits input from each student about their elective and rotation preferences. Students should plan to be out of the local area for a minimum of two rotations and housing is provided for rotations greater than 50 miles from the PA Program.
Assigned Clinical Experiences
Prospective and enrolled students are not expected to provide or solicit clinical sites or preceptors for their clinical training.  All clinical sites and preceptors are evaluated and approved by the PA Program faculty.  Students may suggest clinical sites or preceptors to faculty for consideration of new site development.  All students must adhere to assigned clinical and patient experiences in both the preclinical and clinical years of the program.   
Technology in the Clinical Year
Clinical year schedules and objectives can be accessed via the web for all second-year students. On each rotation, students are required to log each patient care experience using a web-based program. Web-based end of rotation exams are given at the conclusion of each required rotation. Students will also be required to complete evaluations of each clinical rotation site.
Courses of Instruction
Refer to the Bulletin of the School of Medicine for full course descriptions.
Required Clinical Courses
PHYASST 299. Bridge: The Path to Patient Care
PHYASST 300A and 300B. Primary Care 1 & 2
PHYASST 305. Evidence-Based Practice II
PHYASST 310. Behavioral Medicine
PHYASST 320A and 320B. Internal Medicine 1 & 2
PHYASST 340. Principles of Surgery
PHYASST 350. Emergency Medicine
PHYASST 360. Pediatrics
PHYASST 370. Obstetrics/Gynecology
PHYASST 390. Practice and the Health System III
Elective Clinical Courses
In addition to the above required core rotations, each student is required to complete two electives that can be chosen from among the following rotations. All are four weeks long. Each of these electives is 4 credits.
General Electives
PHYASST 300E. Primary Care
Topics include 1) Family Medicine or 2) Urgent Care 3) Healthcare for the Homeless

PHYASST 301. Occupational Medicine

PHYASST 302. Geriatrics

PHYASST 303. Global Health (International)

PHYASST 306. Integrative Medicine

PHYASST 307. Medical Informatics

PHYASST 309.  Public Health & Healthcare in Cuba

PHYASST 310E. Behavioral Medicine
Topics include 1) General Behavioral Medicine or 2) Pediatric Behavioral Medicine
PHYASST 311. Clinical Research
PHYASST 312. Community Health
Topics include 1) General, 2) Service-Learning
PHYASST 313. LGBTQ Health
PHYASST 320E. Internal Medicine
Topics include 1) Inpatient Internal Medicine or 2) Outpatient Internal Medicine
PHYASST 340E. General Surgery
PHYASST 350E. Emergency Medicine
PHYASST 360E. Pediatrics
Topics include 1) Inpatient pediatrics or 2) Outpatient pediatrics
PHYASST 370E. Obstetrics/Gynecology
Obstetrics/Gynecology
PHYASST 371. Maternal/Fetal Medicine
PHYASST 372.  Reproductive Endocrinology & Infertility
Medicine
PHYASST 321. Cardiology
PHYASST 322. Dermatology
PHYASST 323. Endocrinology
PHYASST 324. Pain Medicine
PHYASST 325. Hematology/Oncology
Topics include 1) general hematology-oncology, 2)  breast oncology, 3) gynecological oncology, 4) neuro-oncology or 5) hematologic malignancies and bone marrow transplant.
PHYASST 327. Infectious Diseases
Topics include 1) general infectious disease or 2) HIV.
PHYASST 328. Gastroenterology
PHYASST 329. Palliative Care
PHYASST 331. Nephrology
PHYASST 332. Neurology
PHYASST 333. Pulmonary Medicine
PHYASST 334. Rheumatology
PHYASST 336. Medical ICU
PHYASST 337. Coronary Care Unit
PHYASST 338. Radiology
Topics include 1) general radiology, 2) interventional radiology or 3) neuroradiology
Ophthalmology
PHYASST 381. Ophthalmology
Pediatrics
PHYASST 308. Pediatric Healthy Lifestyles Program
PHYASST 339. Genetics
PHYASST 361. Pediatric Cardiology
PHYASST 362. Pediatric Surgery/Cardiothoracic Surgery
PHYASST 363. Pediatric Hematology/Oncology
PHYASST 364. Pediatric Allergy/Respiratory
PHYASST 365. Pediatric Endocrinology
PHYASST 366. Pediatric Infectious Disease
PHYASST 367. Intensive Care Nursery
Topics include 1) Neonatal intensive care unit or 2) pediatric intensive care unit
PHYASST 368. Pediatric Emergency Medicine
PHYASST 369. Pediatric Orthopedics
Surgery
PHYASST 341. Cardiothoracic Surgery
PHYASST 342. Otolaryngology
PHYASST 343. Neurosurgery
PHYASST 344. Orthopedics
Topics include 1) General orthopedics or 2) Hospitalist orthopedics
PHYASST 345. Plastic Surgery
PHYASST 346. Sports Medicine
PHYASST 347. Urology
Topics include 1) General Urology, 2) Urogynecology
PHYASST 348. Pre-Operative Screening Unit
PHYASST 349. Surgical Oncology
PHYASST 352. Trauma
PHYASST 353. Surgical ICU
Topics include 1) surgical intensive care unit or 2) cardiothoracic intensive care unit
PHYASST 354. Vascular Surgery
PHYASST 355. Transplant Surgery
As a complement to the clinical rotations, students must complete courses in Basic Life Support (BLS) and Advanced Cardiac Life Support (ACLS) prior to beginning the clinical year.
Visiting Students
Limited opportunities for clinical year rotations are available to non-Duke PA students. A complete application must be submitted at least 180 days in advance of a requested rotation.  More information is available on the Visiting Students page.