The first year of the program is devoted to preclinical studies. All courses are required, no transfer credit is accepted, and no credit is awarded for pre-admission experiential learning. Students will complete 19 required courses and 58 course credits for the preclinical year. The preclinical year curriculum builds on the prerequisite coursework and clinical experiences that students have completed prior to matriculation.
Initial instruction in courses such as Basic Medical Sciences, Anatomy, and Physiology forms the foundation for the integrated medicine courses that follow.
The multi-term Clinical Medicine, Pharmacology and Diagnostic Methods courses form the backbone of the preclinical year curriculum and are presented concurrently in body system units to reinforce content and help students synthesize material across disciplines.
The multi-term Patient Assessment and Counseling courses offer instruction in history taking, physical examination, counseling, and presenting and documenting medical information.
The multi-term Practice and the Health System course covers sociocultural influences on health and health disparities, an introduction to the structure and administrative principles used in healthcare organizations, a review of professional organizations, health policy trends, third party payment, legal issues, and the unique place that PAs hold in the healthcare system.
The Evidence-Based Practice course provides a practical approach to critical evaluation of the medical literature and its application to patient care. In the robust Surgery course, students learn the concepts, skills, and medical procedures to function in primary care and major surgical areas.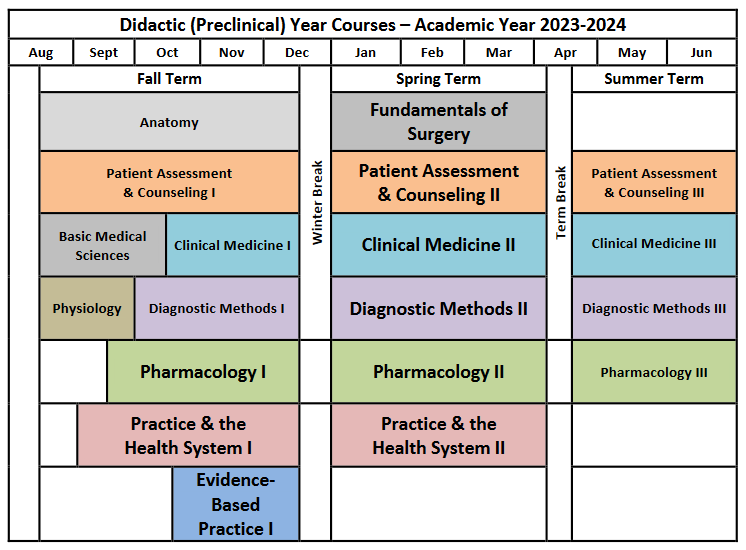 Courses of Instruction
Course credits are the recognized units for academic work in the Duke Physician Assistant Program. All courses are required, no transfer credit is accepted, and no credit is granted for past experiential learning.
Refer to the Bulletin of the School of Medicine for full course descriptions.
Required Pre-Clinical Year Courses
(Effective for 2023-2024 academic year)
PHYASST-200. Basic Medical Sciences
PHYASST-201. Physiology
PHYASST-205. Anatomy
PHYASST-210, 211, 212. Diagnostic Methods I, II, III
PHYASST-220, 221, 222. Clinical Medicine I, II, III
PHYASST-223, 224, 225. Pharmacology I, II, III
PHYASST-230. Fundamentals of Surgery
PHYASST-231, 232, 233. Patient Assessment and Counseling I, II, III
PHYASST-251, 252. Practice and the Health System I, II
PHYASST-255. Evidence-Based Practice I
Preclinical Year Electives
(Optional)
PHYASST-261. Beginning Medical Spanish
PHYASST-262. Intermediate Medical Spanish
PHYASST-263. Advanced Medical Spanish
Other Preclinical Experiences
First-year PA students join DPT and MD students in an annual Adaptive Sports Experience, where health care professions learners engage and/or participate in a variety of adaptive sports, such as wheelchair basketball, seated volleyball, bocce ball and hand cycling. The annual event promotes the interprofessional partnership between physical therapists, physician assistants and physicians while increasing awareness of potential barriers to providing quality health care to persons with disabilities, and of community resources available to meet the active lifestyle needs of patients and families with disabilities.