The Duke Physician Assistant Program alumni magazine is published once yearly and sent to alumni, donors, and friends of the program. The 2021 issue is featured below, as well as the cover stories for 2020 and 2019.
---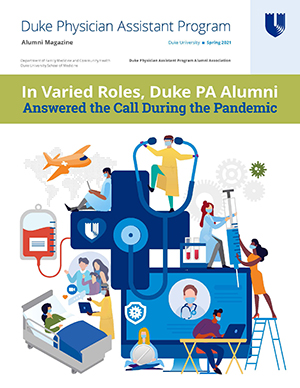 2021 Alumni Magazine
The 2021 Alumni Magazine focuses on the COVID-19 pandemic and the ways the Duke PA Program and alumni dealt with the unexpected.
Our feature story profiles alumni Alex Steele, MHS, PA-C ('02); Josh Gay, MHS, PA-C ('12); Chad Eventide, MHS, PA-C ('11): Minh Nguyen, MHS, PA-C ('13); and Susan Edgman-Levitan, PA ('77) and the tireless work they have provided to their patients and communities over the past year.
Read the Cover Story: In Varied Roles, Duke Physician Assistant Program Alumni Answered the Call During Pandemic
---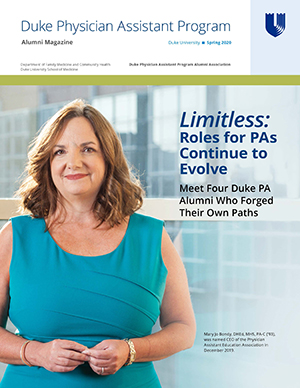 2020 Alumni Magazine
The 2020 Alumni Magazine focuses on how PA roles continue to evolve. The cover features Mary Jo Bondy, DHEd, MHS, PA-C ('93). Alumni from the classes of 1970, 1980, 1990, 2000, and 2010 are also featured.
Read the Cover Story: Limitless: Roles for PAs Continue to Evolve
---