The Duke Physician Assistant Program alumni magazine is published once yearly and sent to alumni, donors, and friends of the program. The 2021 issue is featured below.

Summer 2022 Alumni Newsletter
In many ways, this past year has been a study in finding a new normal.
After a joyous return to Duke Chapel to see off our class of 2021 graduates, we started the 2021-2022 school year by dipping our toes back into in-person classes. The annual AAPA conference was back on in Indianapolis, and students could once again volunteer, in person, in the community.
This newsletter recaps some of the program's recent successes hopes for the future as we move forward into a new school year.
---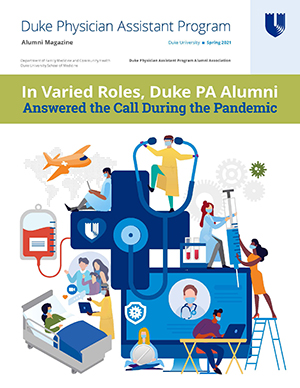 2021 Alumni Magazine
The 2021 Alumni Magazine focuses on the COVID-19 pandemic and the ways the Duke PA Program and alumni dealt with the unexpected.
Our feature story profiles alumni Alex Steele, MHS, PA-C ('02); Josh Gay, MHS, PA-C ('12); Chad Eventide, MHS, PA-C ('11): Minh Nguyen, MHS, PA-C ('13); and Susan Edgman-Levitan, PA ('77) and the tireless work they have provided to their patients and communities over the past year.
Read the Cover Story: In Varied Roles, Duke Physician Assistant Program Alumni Answered the Call During Pandemic
---