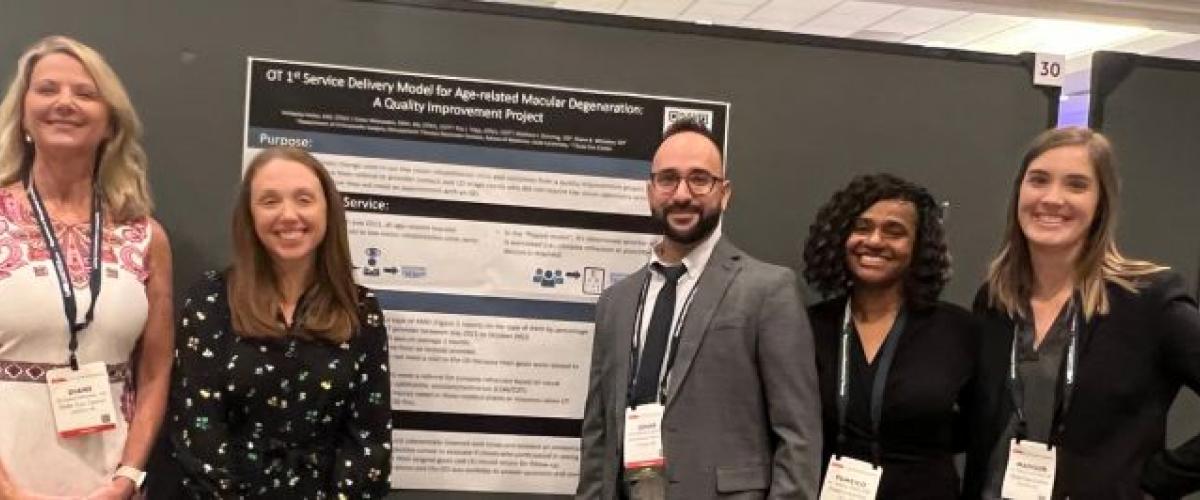 Students enrolled in the OTD program have the opportunity to earn certificates that prepare them with in-depth knowledge in specific areas of interest.
Among the options are:
The Low Vision Rehabilitation Certificate is based within the Doctor of Occupational Therapy program and is one of just three in the nation approved by the Academy for Certification of Vision Rehabilitation & Education Professionals (ACVREP).  The program prepares OTD students to serve a growing population of older adults whose visual changes impact safe participation in daily life activities.  Students learn to work inter-professionally through unique learning and research experiences with the Duke Eye Center's Vision Rehabilitation Clinic, Duke Eye Stroke Clinic, and other established field experience partners. OTD students in good academic standing take one 14-week course, along with a 12-week fieldwork assignment and/or a 14-week capstone experience. The program is designed to position students to take the ACVREP exam to become a Certified Low Vision Therapist (CVLT). The Low Vision Rehabilitation certificate can be earned at no additional cost, but the number of students enrolled per year is limited.
Graduate and Professional Innovation& Entrepreneurship Certificate is designed for aspiring innovators, entrepreneurs, and founders from across Duke's graduate and professional programs can complement their course of study, support their career goals, expand their networks, and work on ideas that make real-world change. The I & E certificate is open to all Duke graduate and professional students enrolled in a full-time, in-person program at Duke that allows elective courses. However, the OTD curriculum includes two elective courses that customize the certificate for occupational therapy. OTD students can earn the I&E certificate at no additional cost.
The Certificate in Theology and Health Care-OTD Path (CTHC) is a certificate program offered in partnership with Duke Divinity School designed to equip Duke OTD students with the training to engage their work from a theological perspective. The certificate includes courses that address questions of suffering, illness, ethics, and vocation in health care from a theological perspective. OTD students who enroll in this certificate formally matriculate as Duke Divinity students and earn course credit that can be applied to a future graduate degree program. Download this information sheet for more details on the application process, tuition, and courses. 
Learn more about other Graduate Certificate Programs.