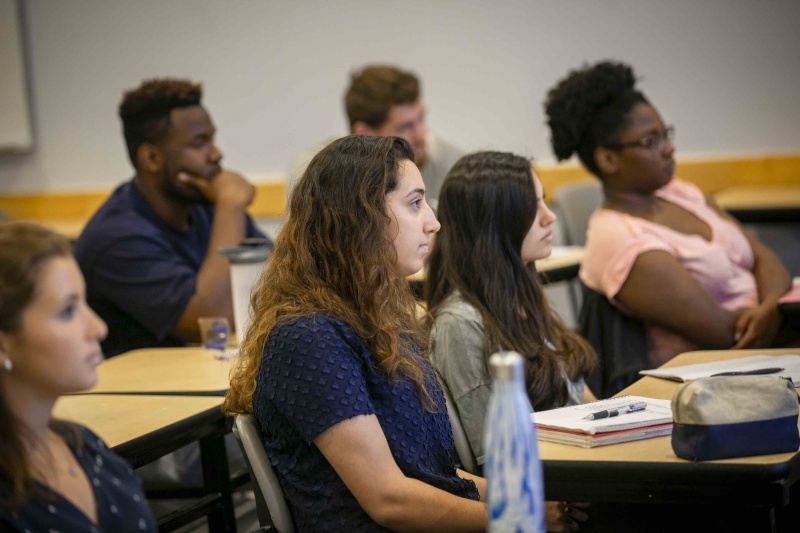 A curriculum is more than a constellation of courses you take to earn a degree. A curriculum is a whole blueprint for learning. Its design has an important infrastructure consisting of a vision, mission, aim, program outcomes, and learning assessment plan. This infrastructure then gives rise to content, instructional strategies, learning resources and experiences. Each element of the design must speak to the other elements.
A curriculum design, then, is a living ecosystem situated in the larger ecosystems of its institutional, professional, and divisional contexts. Curriculum design begins by exploring key features of the larger ecosystems that will influence what the curriculum stands for. To begin the exploration, Dr. Barb Hooper, Division Chief and educational expert in occupational therapy assembled a curriculum design team of occupational therapy practitioners, entrepreneurs, educators, and scholars. The team analyzed data from multiple stakeholders, including leaders at Duke, leaders in occupational therapy around the world, leaders in US occupational therapy education, practitioners, and the expertise of the curriculum team.
The team found that Duke values innovation, leadership, collaboration, and diversity. We learned that occupational therapy around the world is increasingly focused on addressing the occupational needs of communities and populations; demonstrating the impact of occupational therapy service is also a rising emphasis.
The team further considered education theories and models to guide learning occupational therapy at Duke. The curriculum draws upon integrative learning, transformative learning, and idea-based learning. These approaches to learning are captured in an educational model for occupational therapy developed by Dr. Hooper, the Subject-centered Integrative Learning Model (SCIL-OT). The SCIL-OT model forms the basis for the curriculum design. The model helps faculty and students stay focused on the enduring idea at the core of occupational therapy, human occupation is a source of health, well-being, and flourishing. The selection of the SCIL-OT as the curriculum design indicates the view of occupational therapy and occupational therapy education we uphold at Duke.