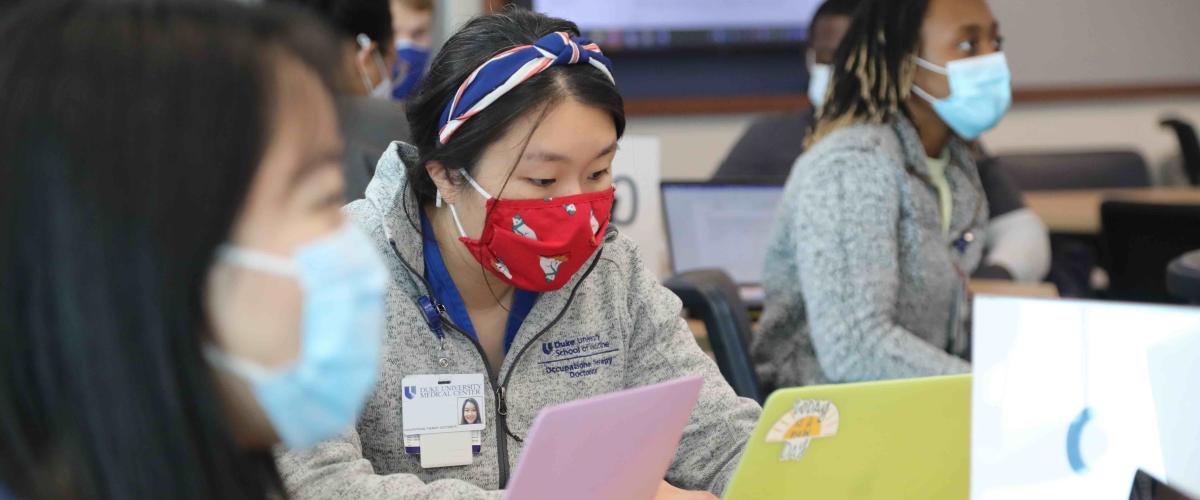 The Duke OTD envisions an inclusive world where all people flourish through access to and participation in meaningful, health-supporting occupations, the activities of everyday life.
The Duke OTD program is hosting Information Sessions for students entering in August 2022. We look forward to welcoming a cohort marked by a wide representation of disciplinary backgrounds and walks of life.
The Duke OTD is taking the following actions to create an inclusive and equitable admissions process:
No GRE or other standardized tests
No observation hours
No prescribed pre-requisite courses
Virtual interviews
Vision and mission-driven selection criteria
Implicit bias training of all application reviewers and interviewers
---
HOW TO APPLY
The Duke OTD admissions process will be managed through the Occupational Therapy Centralized Application Service (OTCAS). If you are using OTCAS to apply to other programs, please note that Duke has specific requirements for the Letters of Recommendation/Evaluation and for Pre-requisites. Only those applications that follow the Duke-specific instructions will be considered complete in OTCAS.
Once an application has been verified by OTCAS, applicants will be emailed a link to pay the Duke application fee of $50. (The fee paid to OTCAS is a separate fee that pays for OTCAS' services. This is an admission application fee for Duke.) Applicants can apply for an OTCAS fee waiver following the instructions found here. If OTCAS grants a fee waiver, the applicant should submit proof of the waiver via email to OTD_admissions@duke.edu and Duke will also waive the $50 application fee.
---
ADMISSION TIMELINE
Duke Application Submission Deadline (OTCAS verification may occur after submission date): February 1, 2022
Interviews (invitation only): Ongoing December–April 2022
The application review process will begin as soon as applications are verified in OTCAS and deemed complete. Verification can take several weeks after submission.
Notifications: April and May 2022
Email OTD_admissions@duke.edu with any questions.

Apply to Duke OTD

A criminal background check (CBC) is not a component of the application, interview, or the admission decision-making process. However, it is a mandatory component of the post-acceptance matriculation process. All admitted students will undergo a criminal background check (CBC) involving federal, state, and local records that extend back a minimum of five years. Matriculation into the program is contingent upon review and acceptance of the applicant's CBC report. A felony conviction may impact your ability to take the certification exam or attain a state license. For more information, contact NBCOT.