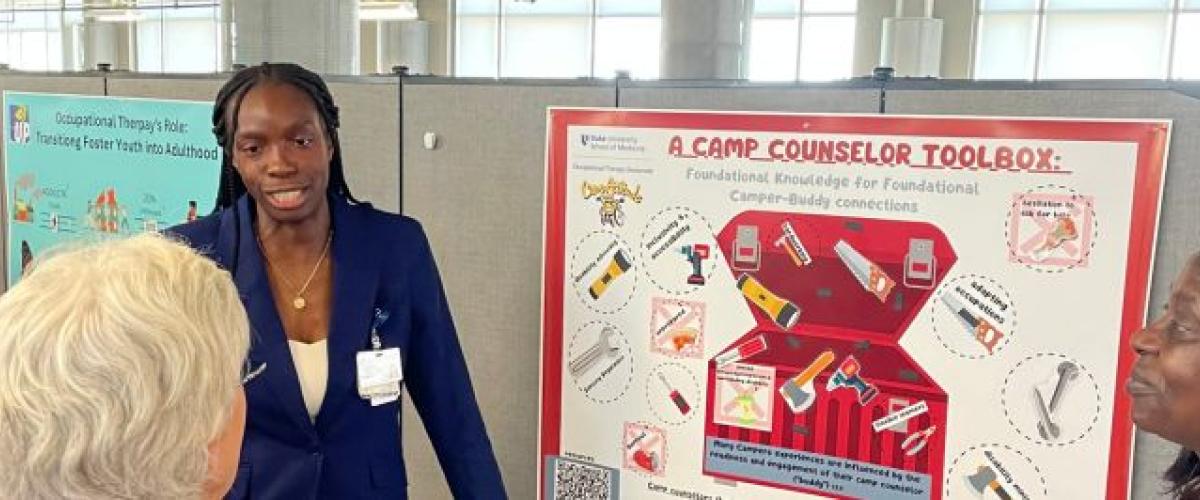 Thank you for your interest in supporting the Duke Occupational Therapy Doctorate program! The Duke School of Medicine and Department of Orthopaedics are actively working to increase contributions in support of student scholarships.
The Duke OTD program envisions an inclusive world where all people flourish through access to and participation in meaningful, health-supporting occupations, the activities of everyday life.
Duke OTD is committed to weaving students' personal and professional development together to shape leaders with a focus on eliminating human suffering caused by barriers to occupation. In order to welcome and form a cohort of students from as many walks of life as possible, the Duke OTD has taken the following actions to create an inclusive and equitable learning community.
Your support can make a difference to the Duke OTD Program:
Provides scholarships for current students in the program.

OTD Annual Fund: these unrestricted dollars touch every area of the OTD program and ensure state-of-the-art education and training for future occupational therapists.
We are grateful for your support of Duke OTD and for your partnership as we educate future leaders in health and medicine. We are making forward progress because of your meaningful generosity.
Ways to Give
Click here to donate.
 
Mail a check to the Office of Alumni and Development Records, where all charitable contributions to Duke University and the Duke University Health System are processed. Please make all checks payable to Duke University and write Duke OTD in the memo line.
Address
Alumni and Development Records
Duke University
700 W. Main Street
Suite 110
Durham, North Carolina 27701
919-684-2338 (Phone) | 919-684-8527 (Fax)
Questions? Please contact John McCall at john.mccall@duke.edu to answer any questions regarding your gift or contributions that you would like to make.
Every gift makes a difference. Thank you for your support!