Contact Information
Duke Research at Pickett Road
3024 Pickett Rd.
Durham, NC 27705
About Us

Our mission is to support high-quality clinical research at Duke by providing a comfortable and accessible research space, and an efficient, diverse, and inclusive research team.
Duke Research at Pickett is a free-standing research facility supported by the Research at Pickett Road Core Team. Space for research activities and core services are available at a fee-for-service cost to investigators across Duke.
Why Choose the Core Services Team for Research?
Flexibility: you can have as little or as much support as your project needs each day, week, or month
Cost Efficiency: you only pay for time spent on your project, not for estimated effort
Predictable Pricing: you pay the same price regardless of which staff member takes care of your service
Team Approach: 2-3 staff are trained on every project to ensure seamless coverage if someone is sick or out of the office
---
How We Work with Teams and CRUs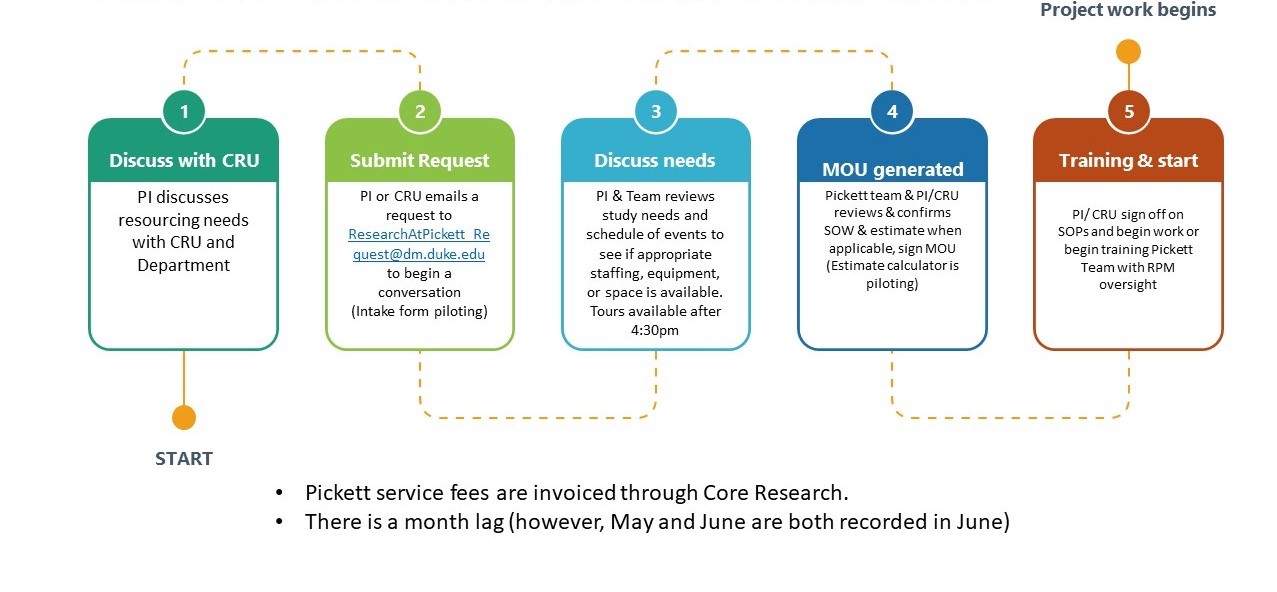 The Duke Endowment Grant
In June 2021, Dr. Susanna Naggie, Vice Dean for Clinical Research, and a team of Duke research leaders were awarded a 2.6 million dollar Duke Endowment grant to establish a community-engaged research hub at the Duke Research at Pickett site over the next 3 years.
Community Partnerships
Goals of the Pickett Community Partnered Research Initiatives
Promoting integrated research communities and enabling innovative partnered approaches to prioritize and solve health problems.
Increase community engagement (a space for education, outreach, and advisory boards)

Increase diversity in clinical research populations

 Support junior investigators (voucher funding from grant)

Training site for interns from local Durham and North Carolina colleges
Research at Pickett Road Community Room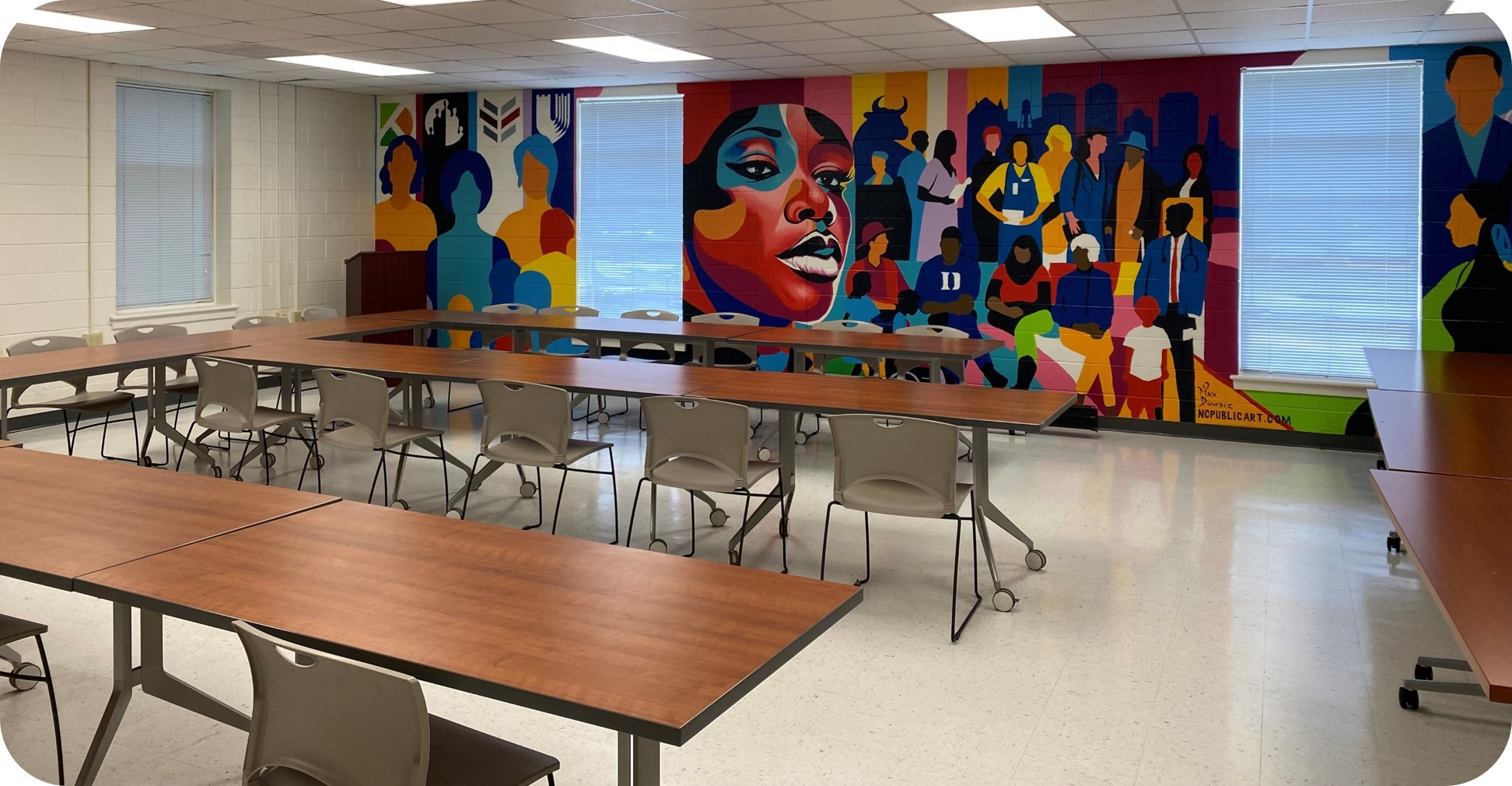 Duke Research @ Pickett Road is a free-standing research facility designed to promote integrated research communities and enable innovative partnered approaches for prioritizing and solving health problems. Our Community Room is a welcoming and flexible environment that encourages idea-sharing and teamwork. Our lobby is a sweeping light-filled inviting space. The Community Room and lobby may be reserved by Duke community members and partners for events and meetings.  Please complete the online room reservation form or call (919) 613-1200 for assistance in completing the reservation form. Fees may be required depending on the proposed usage.
Guidelines For Using Community Room
Research at Pickett is a part of the Research Equity and Diversity Initiative (READI). Learn about the READI initiative here.

Research at Pickett Road
Why Choose Research at Pickett?
Meeting Space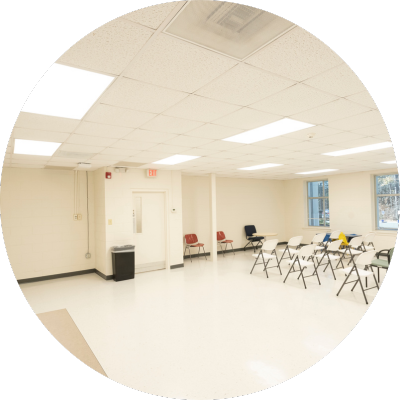 Our meeting space is designed with the needs of research teams in mind. It's a flexible environment that encourages idea sharing and teamwork. With state-of-the-art technology and comfortable seating, you'll have everything you need for productive and inspiring sessions. Join us at Pickett Road and experience the power of collaboration firsthand.
Easy Access
Duke Research at Pickett Road is a facility that provides the space, equipment, and staffing needed to meet a variety of clinical research study needs. Located in a former Duke Health clinic building, the site is a welcoming space for research participants with free surface parking, a drive-through entrance, and 30 exam rooms. 
Equipment 
Research at Pickett maintains shared equipment for all study teams using the facility at no additional cost. Gloves and non-surgical face masks are available for all teams using the facility. A standard list of supplies including IV lines, gauzes, bandages, etc. for research participants are included when using the Service Center.
Available Equipment
Vital signs machines
Otoscope
Glucometer
Dash monitors
ECG Machine
Infusion pumps
Stadiometer
Scales
Suction pump
AED
Oxygen
Emergency Medications
A supply of emergency medications based on the Duke University Hospital hypersensitivity protocol is available for teams using the facility. The hypersensitivity protocol is available in your MaestroCare build.
Biospecimens 
Samples drawn at the facility may be processed onsite in our BSL2+ laboratory by the Duke Research @ Pickett Core team or sent to the SSCRS BSL2+ laboratory. DUHS Clinical Lab and LabCorp drop boxes are also available on-site.
Services
Duke Clinical Research at Pickett Road is a clinical research site that provides the space, equipment, and staffing needed for clinical research study visits.
Service Center Model
The Duke Research at Pickett Core Team provides a variety of research services. Whether you need a research location and staff to take care of your whole study, just a space for study visits, or additional support for your research team, we're here to help!  Some examples of services are included below:
Coordination related to participant screening and randomization

Consenting, visit conduct, and study documentation

Data management and query resolution

Sample collection, including phlebotomy

Spanish translation and interpretation services

Questionnaire administration

Follow-up phone calls
All studies served by the Research at Pickett Core Team are done in close collaboration with the Investigator's CRU.
Duke Research at Pickett is a research-only facility.  We cannot provide services for any standard of care activities.
Invoicing
Research at Pickett is a Duke School of Medicine service center with approved rates. CoreResearch@Duke is used for invoicing. Research at Pickett will charge for all actual services performed and our staff record the services provided daily. If any pass-through costs are required, Research at Pickett will request permission to purchase in writing (email is acceptable) with the PI and the grants manager prior to charges being incurred.
Interested in Pickett Road for your next study?
Staff
Medical Director
Shruti M. Raja, MD, MHS is an Assistant Professor of Neurology at Duke University School of Medicine, Medical Director/Interim Faculty Director of the Duke Early Phase Research Unit, the phase 1 and proof-of-concept clinical trial unit, and Medical Director at Research@Pickett. She is an expert in the design and conduct of early phase clinical trials in all therapeutic areas and is a principal investigator on government and industry-funded studies.
Operational Leaderhip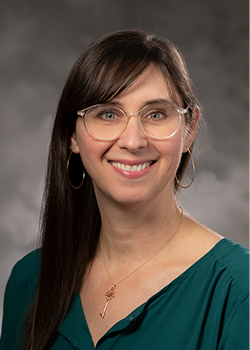 Stephanie Freel, Director of Outreach, and Mentorship
| | |
| --- | --- |
| Debbie Freeman, Research Practice Manager | Maria Manson, Research Practice Manager |
Research at Pickett Team
| | | |
| --- | --- | --- |
| Sally Taylor, Clinical Research Coordinator | Folayan J. Morehead, Clinical Research Nurse Coordinator, Sr. | Brisa Barajas Gomez, Clinical Research Coordinator |
| Gloria Pinero, Clinical Research Coordinator | Jessica Wilson, Clinical Research Coordinator | Jackie Jordan, Clinical Research Coordinator |
| Beverly Rodgers, Clincal Research Specialist, Sr | Barbara Estay, Clinical Research Specialist, Sr | Adrienne Minor, Clinical Research Coordinator |
| Ekene Ozobia, Clinical Research Nurse Coordinator | Erin Frost, Clinical Research Coordinator |   |
Policies and Procedures
Research @ Pickett Policies
Click here to see Research @ Pickett policies
Research @ Pickett Handbook
Click here to access the handbook
Scheduling a Participant Visit
The building is staffed Monday through Friday, 7:30a-4:30p. Subject visits outside of these hours should be arranged through the Clinic Manager.
All visits are subject to room, equipment, and staff availability. Weekday visits can generally be accommodated with 24-hour notice. Weekend, holiday, and after-hours visits require a 4-day notice if you are planning to use Research at Pickett staff members. The Clinic Manager will provide a 2-day notice if we are unable to cover a study visit due to staffing limitations. The building will be closed during holidays concordant with the Investigational Drug Services and Core Processing Labs.
Arrival Instructions for Participants
Duke Research at Pickett Road
3024 Pickett Road
Durham, NC 27705
When you arrive: 
Park in a numbered parking space
Call 919-613-1200
Please wait in your car. A staff member will come to your car to take your temperature and provide a mask
A staff member will escort you into the building
History
Originally established in October 2020 by the Duke School of Medicine to enable rapid investigation of COVID 19 outpatient trials, both the facility and staffing service core are now open to researchers and their studies across any therapeutic area. In developing the research facility and team, we have focused on easy and comfortable access for research participants, a diverse workforce, and quality processes. We are dedicated to maintaining a research environment that can optimally service our research and participant communities.
---
A Timeline of the Research at Pickett Road Facility