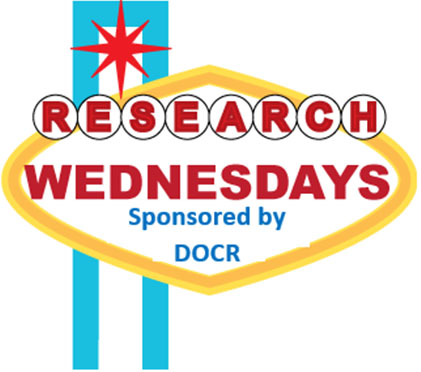 The Duke Office of Clinical Research (DOCR) sponsors the "Research Wednesdays" series featuring important topics presented by subject matter experts in each field.
Research Wednesdays are held the 2nd and 4th Wednesdays of the month
Research Wednesdays series is held via Zoom:  1:00 pm – 2:00 pm
Zoom meeting details will be sent to the DOCR listserve the Monday prior to the session
To be added to the DOCR listserve, email docr-training@dm.duke.edu
In support of improving patient care, the Duke University Health System Department of Clinical Education and Professional Development is accredited by the American Nurses Credentialing Center (ANCC), the Accreditation Council for Pharmacy Education (ACPE), and the Accreditation Council for Continuing Medical Education (ACCME), to provide continuing education for the health care team.
Educational Credits
Notice from the Duke Continuing Education Office Regarding JA Credit: 
The SMS text confirmation function continues to have system problems and is not functioning properly.  It is being worked on and we hope it will be resolved soon.  Learners should log into their accounts to verify credits are reflected on their transcripts.  Obtain transcripts by going to the Ethos website: https://ja.dh.duke.edu/, My Account, My Activities
Alternative Method for SMS Attendance Documentation:
Learners with an account can submit attendance for an RSS by using the following steps:
Log in to the site using either NetID (Duke Staff) or OneLink

Enter the SMS code for attendance confirmation

Click Submit (you will receive a message: Your attendance has been recorded)
Learners without an account should follow directions to Create Account and Activate Profile before using the 4 steps above.
Please check out our website at https://ja.dh.duke.edu/ for further information and details. 
Category 1: Duke University Health System Department of Clinical Education and Professional Development designates this educational activity for a maximum of 1.0 AMA PRA Category 1 Credit(s)TM. Physicians should claim only credit commensurate with the extent of their participation in the activity.
Scheduled Topics
10/11/2023 | Cybersecurity Awareness Month Updates
10/25/2023 | Equity, Diversity, and Inclusion
11/08/2023 | Reproductive Language Changes
11/15/2023 | Time:  4:00 PM  Vice Dean for Clinical Research Annual Updates
12/13/2023 | ModuleBio
01/10/2024 | DUHS IRB Updates
Research Wednesdays Online
Past Research Wednesdays presentations are now available online.  The online version does not offer JA credit.  
09/13/2023 |

You Are What You Breathe: How to Measure Energy Needs Using an Indirect Calorimeter

| View | Slides
08/23/2023 | Research Computing Services & the New Federated Clinical Analytics Platform (FCAP) | View | Slides
04/12/2023 | Maestro Care Updates | Slides
07/27/2022 |

The Voice in Your Head isn't Always Kind: Evidence-based Self-Compassion in Healthcare

| View | Slides
06/22/2022 | Honest Broker/Imaging De-identification and Multi D | View | Slide Set 1  | Slide Set 2  | Slide Set 3

03/09/2022

| How to Successfully Navigate the Multi-Generational Workplace | View

01/12/2022 | Innovation Co-Lab/3-D Printing | View

11/17/2021 | Investigational Drug Service | View

08/11/2021 | Vice Dean of Clinical Research Annual Updates | View

02/24/2021 | iRIS Updates | View | Slide set 1| Slide set 2

7/8/2020   | Social Media Research Marketing Policy and RIC Centralized Social Media Marketing Support Service | View | Slides

6/24/2020 | Caring for Your Data: resources and tools for managing clinical research data | View | Slides

2/12/2020 |The DUHS IRB in 2020 | View | Slides | Slides sIRB Process for DCRI
5/8/2019 | Radiology Updates | View | Radiology Review PDF | Upcoming Changes in CAMRD PDF
4/24/2019 | Compliance, External Study Monitoring and Remote Access Monitoring | View | Slide Presentation 1 | Slide Presentation 2
12/12/2018 | Financial Perspectives for Research Studies, Office of Research Contracts | View | Slides
11/28/2018 | iRIS Updates and Engagement Policy Update, DUHS IRB | View
7/11/2018 | OnCore Updates | View
5/9/2018 | iRIS Training | View
4/11/2018 | 3-D Printing | Story
3/28/2018 | Trial Innovation Network, cIRB processes, and Duke Trial and Recruitment Innovation Center | View | Slides
3/14/2018 | Medical Center Library and Archives + OnCore Updates | View | DUMCLA Slides
10/25/2017 | EPIC Upgrade |  View
10/11/2017 | Information Security Office |  View
9/27/2017 | Research Data Visualization | View
9/13/2017 | ACE/DEDUCE |  View
8/23/2017 | Office of Research Contracts | View
8/9/2017 | OnCore Update | View
7/26/2017 | Emergency IND/Single IND & Single IRB | View
7/12/2017 | ORI Updates | View
For previous Research Wednesdays, please contact DOCR-training@dm.duke.edu.