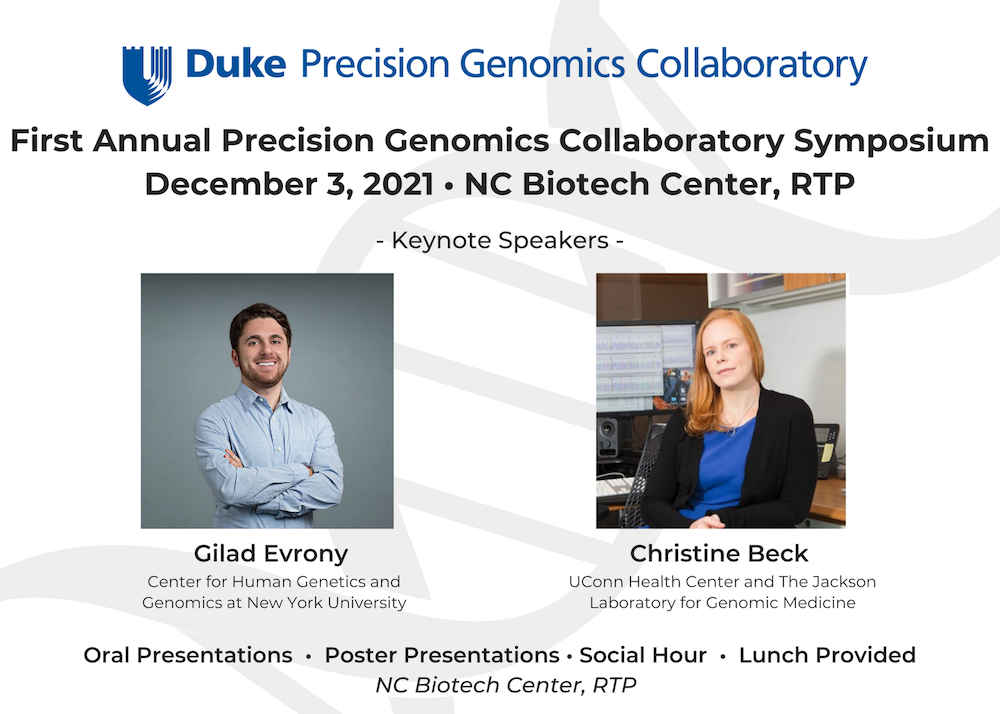 The first annual Duke Precision Genomics Collaboratory Scientific Retreat was a day-long retreat held on Friday, December 3, 2021, at the NC Biotechnology Center in RTP.
Our keynote speakers were Gilad Evrony of the Center for Human Genetics and Genomics at New York University and Christine Beck of University of Connecticut Health Center & The Jackson Laboratory for Genomic Medicine.
Dr. Evrony uses genomics to study brain development in humans. His lab also develops genomics technologies that can be rapidly and reliably employed in clinical medicine. 
Dr. Beck uses genomics, bioinformatics and molecular biological techniques to investigate the ways in which repetitive DNA elements, such as transposons, affect human genomes.
Graduate students, postdoctoral and junior investigators were invited to apply to give 10 minute oral presentations. We also held a poster presentation for young investigators to showcase their research. 
Agenda
| | |
| --- | --- |
| 8:00 – 8:30 AM | Coffee |
| 8:30 – 8:40 AM | Welcome | Svati Shah & Doug Marchuk |
| 8:40 – 8:50 AM | Genetics and Genomics at Duke: Challenges and Opportunities | Colin Duckett |
| 8:50 - 9:00 PM | Overview of the Precision Genomics Collaboratory | Svati Shah |
| 9:00 – 10 AM | Keynote Speaker | Gilad Evrony |
| 10:00 – 10:20 AM | Break |
| 10:20 – 12:00 | Moderated Short Talks |
| 12:00 – 1:00 PM | Lunch – Posters available for viewing |
| 1:00 – 2:00 PM | Keynote Speaker | Christine Beck |
| 2:00 – 3:40 PM | Moderated Short Talks |
| 3:40 – 4:00 PM | Break |
| 4:00 – 4:30 PM | Discussions: The Future of Genomics in the Duke School of Medicine |
| 4:30 -5:30 PM | Poster session and Happy Hour |