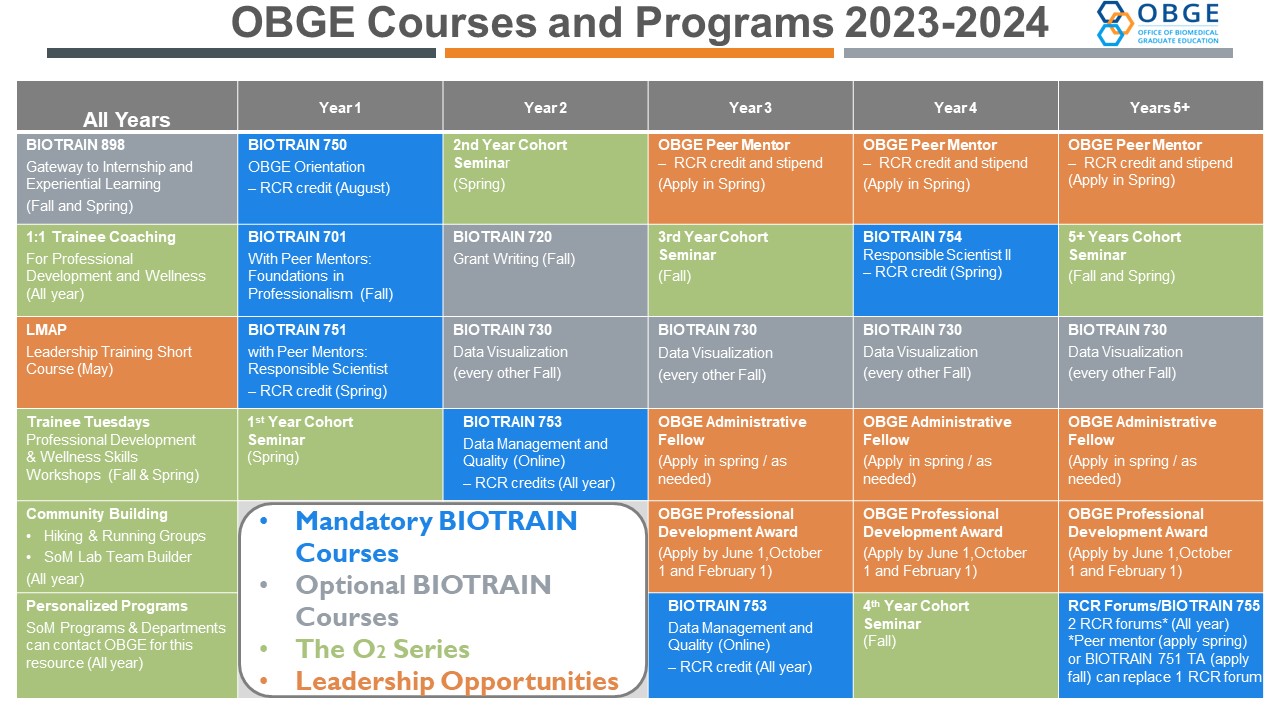 The O2 Series is (O2 stands for 'OBGE Offerings') student-centered programming that offers PhD Trainees the 'oxygen' they sometimes need to feel supported. The O2 series directly aligns with the NIH's vision of a culture of wellness. Our goal is to offer programming in which students can participate when it is convenient and to come together to grow in wellness and professional development as a community.

 The O2 Series was designed specifically for biomedical PhD students and is intended to:
Assist students in their learning

Build community and resilience

Support overall well-being
Each O2 program is offered at intervals regularly throughout the year to allow students choice and convenience. Visit each link for details:
1:1 Trainee Coaching - Available for OBGE students all year and is tailored to the achievements students are wanting to make in their wellness and professional development. OBGE coaching is confidential and can be done in-person or on Zoom. There isn't a minimum or maximum number of sessions. 

Trainee Tuesdays – Virtual workshops for SoM PhD students at the beginning of each semester at 10am and 3pm on Tuesdays. The topics are a blend of wellness and professional development such as: dealing with stress & anxiety, goal setting, networking, active listening, job search strategies, tips for overall well-being, and more. Hop on the call for a quick dose of wellness.
 
Cohort seminars - In-person seminars for each OBGE cohort throughout the academic year. Learn some tips and tools to help you navigate where you are in your graduate school journey. 
 
Apply for an OBGE Professional Development Award – These competitive awards are designed to support biomedical PhD students' professional and skills development. Eligible students will have participated in O2 series or other OBGE-sponsored opportunities. Submissions accepted three times per year. 
Hiking and Running Groups - For all SoM students - student-led groups that build community while exercising. 
Strengths Assessment Team Builder for SoM Labs – Faculty can contact Kristin Russell for a Strengths Assessment kit to be used as a team builder in the lab. Labs or departments must purchase the Clifton Strengths Assessment codes at $20 each. Contact kristin.russell@duke.edu for the kit that includes a15 minute overview video, group discussion questions, a printable activity sheet, and a guide with optional ideas.
We welcome feedback!
If you have any questions or comments about the O2 series, please email kristin.russell@duke.edu. Ongoing reminders for O2 series programming are sent to students throughout the semester via email and featured in the OBGE monthly newsletter.