---
The Duke University School of Medicine has a strong tradition of genomic discoveries. The Precision Genomics Collaboratory brings together all of the units in Duke focused on genomics research to create a multi-disciplinary community able to tackle challenges in the ever-evolving genomics landscape.
---
Large-scale genome-wide association study of coronary artery disease in genetically diverse populations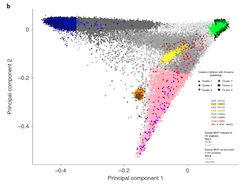 Elizabeth Hauser was part of a large, international collaboration that conducted a genome-wide association study (GWAS) of coronary artery disease (CAD) incorporating nearly a quarter of a million cases, in which existing studies are integrated with data from cohorts of white, Black and Hispanic individuals from the Million Veteran Program. This study highlights the value of diverse populations in further characterizing the genetic architecture of CAD.
Read full text in Nature Medicine