This online forum was held on April 17, 2020, and was designed for laboratory-based scientists and features presentations and panel discussions by Duke investigators engaged in research relevant to SARS-CoV-2 and COVID-19. The content is intended to enhance understanding of what is currently known and unknown in coronavirus biology, including viral entry replication and exit, in vitro and in vivo models of infection, immunopathology, mechanisms of tolerance, potential therapies, risk factors, and other topics. Attendees asked questions for panelists' consideration via the chat or Q&A function of Zoom.
This event is sponsored by Colin Duckett, PhD, Vice Dean for Basic Science, Duke University School of Medicine. The organizing committee includes Raphael Valdivia, PhD; Stacy Horner, PhD; Micah Luftig, PhD; Francis Chan, PhD; Hashim Al-Hashimi, PhD; and Georgia Tomaras, PhD.
Event write-up: School of Medicine hosts virtual COVID-19 research day to facilitate quick faculty collaboration during pandemic
Sessions can be accessed with a Duke NetID and password.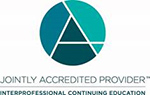 CME Provided. Please register for CME prior to watching the video sessions. Once you have watched the video session(s), please go back to this page and complete the post evaluation and attest to your credit. You will then have the option to print a certificate.
CME Credit Statement: Duke University Health System Department of Clinical Education and Professional Development designates this educational activity for a maximum of 8.50 AMA PRA Category 1 Credit(s)™. Physicians should claim only credit commensurate with the extent of their participation in the activity.

JA Accreditation Statement: In support of improving patient In support of improving patient care, the Duke University Health System Department of Clinical Education and Professional Development is accredited by the American Nurses Credentialing Center (ANCC), the Accreditation Council for Pharmacy Education (ACPE), and the Accreditation Council for Continuing Medical Education (ACCME), to provide continuing education for the health care team.
Agenda
---
Opening Remarks - Mary E. Klotman, Dean, Duke University School of Medicine
Housekeeping remarks - Raphael Valdivia, PhD
---
Keynote 1: "Overview of COVID-19: I told you so, but don't believe it myself"  
Chris Woods, MD
---
Session 1: "Mechanisms of viral entry, replication and dissemination: opportunities for therapeutic intervention"

Moderator: Stacy Horner, PhD
Speakers: Stacy Horner, PhD, Nick Heaton, PhD
Panelists: Sallie Permar, MD, PhD, Micah Luftig, PhD
---
Session 2:  "Innate and adaptive immunity to Coronaviruses" 

Moderator: Georgia Tomaras, PhD
Speakers: Ed Miao, MD, PhD (Immune response to Acute Viral Infection: General Concepts), Stacy Horner, PhD (Innate Immune Sensing and Evasion by SARS-CoV2), Amanda MacLeod, MD (Innate Antiviral Protein Responses at (Muco) Cutaneous Sites: Implications and Unanswered Questions for SARS-CoV2), Francis Chan, PhD (Cell injury in coronavirus infection), Ashley Moseman, PhD (Neuroinvasive Upper Respiratory Infections), Georgia Tomaras, PhD (Antibody Mediated SARS-CoV2 Immunity)
---
Session 3:  "In vitro and in vivo models of Coronavirus infections: opportunities for screening of therapeutics"

Moderator: Micah Luftig, PhD
Speakers: Micah Luftig, PhD​
Panelists: Kevin Saunders, PhD (Identification of potential therapeutic and prophylactic SARS-CoV-2 antibodies), Priya Acharya, PhD (Structural determination of SARS-CoV-2 spike for vaccine and therapeutics development), Aravind Asokan, PhD (An AAV toolkit for Covid therapeutic discovery), Brook Heaton, PhD (Identification of novel human restriction factors for SARS-CoV-2), Purushothama Rao Tata, PhD  (Scalable ex vivo human lung models for studying Covid-19 pathogenesis and therapeutic discovery), Hashim Al-Hashimi, PhD (Targeting highly conserved regulatory RNA elements in SARS-CoV-2 using small molecules), Amanda Hargrove, PhD (RNA-targeted small molecules to probe SARS-CoV2 RNA structure and function), Tim Haystead, PhD (Development of Broad Spectrum Coronavirus Inhibitors)
---
Session 4: "The spectrum of host response to SARS-CoV-2: lessons from the lab and clinic"

Moderator: Francis Chan, PhD
Speakers: Dee Gunn, MD (Coronavirus-induced cytokine storm and immunopathology)
Panelists: Chris Kontos, MD (Cardiac and vascular manifestations of COVID-19), Hiro Matsunami, PhD (Loss of smell caused by COVID-19), Dennis Ko, MD, PhD (Human genetic resistance to pandemic infections)
---
Session 5: "Disease, screening and public health considerations"

Moderator: Hashim Al-Hashimi, PhD
Speakers: Tom Denny, Greg Gray, MD
Panelists: Tara Spector, MD, Michael Datto, MD, PhD
---
Keynote 2: "SARS-CoV2 Vaccine Development"    

Barton Haynes, MD
---
"Facilitating Coronavirus Research at Duke, and modeling for laboratory re-entry"

Colin Duckett,  PhD, Vice Dean for Basic Science, Duke University School of Medicine
---
Focused discussions in follow up to Sessions 1-3
Moderators: Stacy Horner, PhD, Georgia Tomaras, PhD, Micah Luftig, PhD
---
 Focused discussions in follow up to Sessions 4-5

Moderators: Francis Chan, PhD, Hashim Al-Hashimi, PhD
---
---