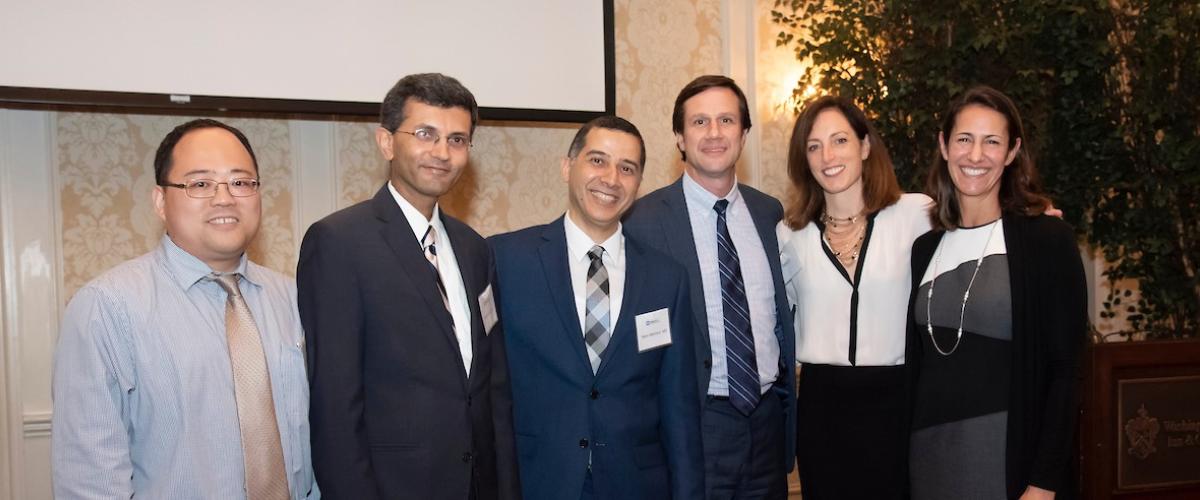 Duke Clinical Leadership Program
The Duke Clinical Leadership Program (DCLP) was founded by the Chancellor for Health Affairs in 2010 to help expand leadership capacity within DukeHealth. The program provides faculty with an opportunity to deepen their awareness of healthcare operations and to develop relevant leadership skills. The program is run by the School of Medicine Office for Faculty with the enthusiastic support of health system leadership. Program fellows are introduced to leaders from the Health System, School of Medicine, School of Nursing and Fuqua School of Business. 
Applications for DCLP 2024 have closed. Applicants will be notified of their application status no later than mid-December.
DCLP consists of ten sessions over the course of six months and addresses topics such as:
Strategy and Health Policy

Funds Flow and Operations at Duke

Negotiation

Leveraging Leadership Styles

Managing Personnel

Navigating Difficult Conversations
In addition to classwork, fellows are assigned to group projects at the beginning of the program. The project portion of the curriculum is designed to focus on team development and effectiveness. Through the project work, fellows have an opportunity to implement the skills they've learned in the classroom and to gain strategic insight into how to move a project through a highly matrixed system.
Project Goals:
Learn how to determine the scope of a project with deliverables that are achievable in a certain time period  
Learn to move a project through a complex, matrixed organization  
Increase interaction with colleagues and leadership from across the institution  
Serve as a mechanism to further develop the skills learned in the didactic curriculum 
Learn to pursue solutions to problems that are outside your personal interest or area of expertise.   
Learn to work efficiently with a team composed of individuals with differing backgrounds  
All dates 8:00am - 12:15pm and held at Erwin Square Training Room 252 unless otherwise noted.
1.    1/30/24
2.    2/13/24
3.    2/27/24
4.    3/12/24 (full day, 8am-4:30pm)
5.    3/26/24 
6.    4/9/24
7.    4/30/24
8.    5/7/24
9.    5/21/24
10.  6/4/24
11.  6/18/24 Graduation (4-6pm, Great Hall of Trent Semans Center)
Program fellows are required to attend all dates. In addition to the session days, fellows will need to meet with their group and other leaders to push their projects forward. Please be prepared to allow roughly 2-4 additional hours per month for individual or group project work.
The DCLP Graduation is a celebration of the completion of the didactic sessions. In addition, the group projects are presented before peers and leadership. The Thomas M. Gorrie Clinical Leadership Impact Award recognizes the most successful project team. 
The Graduation will be held Tuesday, June 18, 4-6pm. Attendance is mandatory for program fellows.
Mid-career Duke faculty members with clinical responsibilities who have the support of their Department Chair or Division Chief. The program is geared towards faculty who are interested in, are being considered for or are entering a clinical leadership role in their departments. 
Applications from faculty throughout Duke Health entities are encouraged (School of Medicine, School of Nursing, DUHS, Duke Raleigh, Duke Regional, Duke Primary Care, etc.). In keeping with Duke's institutional values of diversity and inclusion, we are committed to recruiting a diverse pool of applicants including women and those of underrepresented racial and ethnic backgrounds.
Applicants will be required to obtain a letter of support from their department chair, division chief, center/institute director, or equivalent leadership figure to complete the application. 
Participants will be competitively selected. Applications are online and request the following information: 
Basic demographic information
CV/NIH Biosketch
Short essays (300-500 words) addressing topics such as why the applicant would like to participate in DCLP and their approach to teamwork and challenges in their daily work environment. 
Letter of nomination from the applicant's department chair, division chief, center/institute director, or equivalent leadership figure
Commitment to attend all program meetings (see dates above)
Applications for 2024 have closed.
For more information about DCLP, please contact the School of Medicine Office for Faculty at facdev@dm.duke.edu